Why Is The Car Here?
8
0
Views:

1526
Comments:

2
Uploaded:

Oct 13, 2005 02:33
Already the last picture of this album.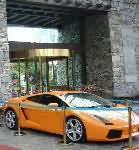 General
Replay this Album
View other albums
Large Size

Save to Favorites
This Lamborghini sports car was seen parked just outside the revolving door of Jiuzhai Paradise Hotel. It has no number plates. Wonder why it is there?