Guizhou..May Holiday
Guizhou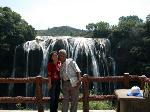 Having become a kite-flying enthusiast over the past year and my work allowed me the week off, I decided to take the necessary steps to attend this event. I contacted the Guizhou government by telephone through my interpreter, Mary Wang. After I explained to Mary that I had received permission to write this story for Kiting Magazine, she passed the information on the Guizhou folks and they were delighted to issue press credentials to both of us. The festival is an effort to promote tourism in poor Guizhou province and my story to appear in Kiting magazine will publicize the event to American kite fliers.

Mary and I purchased hard sleeper tickets in my hometown of Kunming and boarded the train at 19:30 hours on the 27th of April. We arrived in Guiyang, the capital of Guizhou the next morning at 08:00.

The next two days were spent visiting scenic spots in Guizhou province in hopes that we would encourage others to visit. With this in mind, those readers who anticipate an overseas trip, please plan to attend the Guiyang Baiyun kite festival during early May every year. The local scenery is indeed breathtaking and you won't find friendlier folks anywhere! The Chinese Kite Association even offers to pay your hotel and food while you are attending the event. They also provide free transportation. The contact address is listed on the AKA website events calendar.

First we visited an aluminum factory complete with electric smelter, then a wire cable factory and finally an American/Chinese joint venture memory chip/device factory which was really impressive with it's modern everything.

The official opening ceremony was held on the evening of April 30th at a stadium the size of the baseball or football field in a medium sized American city. There were a few welcoming speeches followed by fireworks and performances by singers and dancers from several south Asian countries. The event was as spectacular and entertaining as any outdoor concert in the USA. I estimate the attendance at 50,000.

During the night, a cold front came in and changed the wind from pleasant kite flying to cold bluster. Fortunately, the competition had ended and exhibition flying was scheduled. Both fliers and spectators were thin due to the weather so we spent the large part of the morning visiting the Baiyun kite museum and attending a colorful show illustrating the culture of China's many minorities. We were grateful for an afternoon off to simply lounge around the hotel.

The final evening we attended the closing ceremony held at the classy and modern civic hall in Baiyun, where the awards were presented. Robert Yen accepted the trophy for the American team and Eve Hanney for the British. Finally there was an incredible show of the Chinese talent in tumbling, balancing acts and dance.