2013 Beijing Temple Fair
I am a local in Tianjin. In past several years, I had been working in Beijing. Unfortunately, I never visit the Temple Fair. What a pity! I was planning to watch a movie in the morning and then visit the temple fair held at the ancient cultural street. But my friend told me that temple fair there was boring. Then I came up with a new idea 'why not visit the temple fair in Beijing?' Ok, I bought Tianjin-Beijing train ticket on 12306.cn and booked the return ticket too.
During every Spring Festival Holidays, the temple fairs will be held at many places in Beijing, such as Chaoyang Park, Ditan Park and Changdian. I am going to visit the temple fair held at Ditan Park.
Although I could get to Beijing in 30 minutes by bullet train, I still got up very early in the morning. My original plan was to have breakfast at the Mc Donald's at Tianjin Railway Station. But I changed my mind to eat at KFC because the breakfast at Mc Donald's was so damn expensive.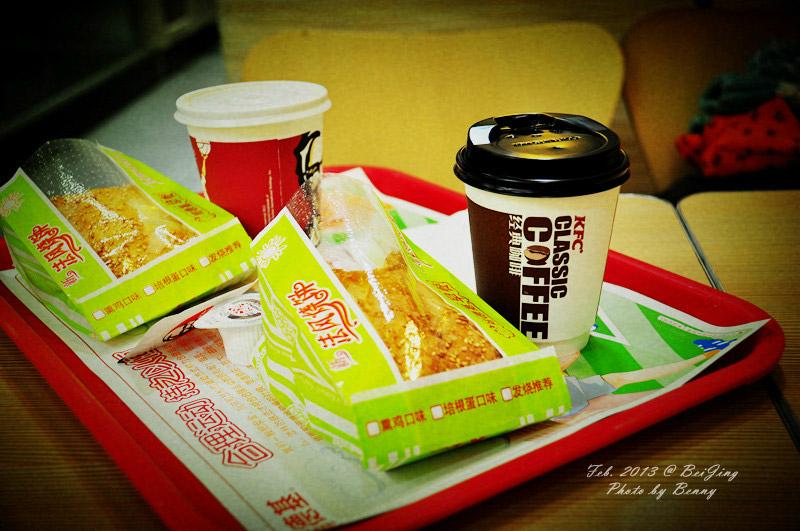 01
Well, I was told that I could swipe my ID card to pass the barrier and board the train. Why not give it a try? I queued up in front of the barrier and waited for ticket checking. 10 minutes later, I heard the broadcast saying 'Passengers who take C2004 from Tianjin to Bejing please get ready for ticket-checking'. The ticket-checking started 5 minutes later. Those who held tickets had to insert their tickets into the slot. At the same time, the ticket was scanned and then the barrier was open. Passenger walked through immediately and took away their ticket. What did I do? I stuck my ID card to the inductive zone and the barrier automatically opened. Then I passed through quickly.
C2004 arrived at Beijing South Railway Station on time. Passengers' tickets had to be checked again before they left the station. Same procedure. I successfully went out and headed to the subway station. There I took line 4 to Xuanwumen station and changed line 2 to Yonghegong station. Then I followed the signs to reach the Ditan Park.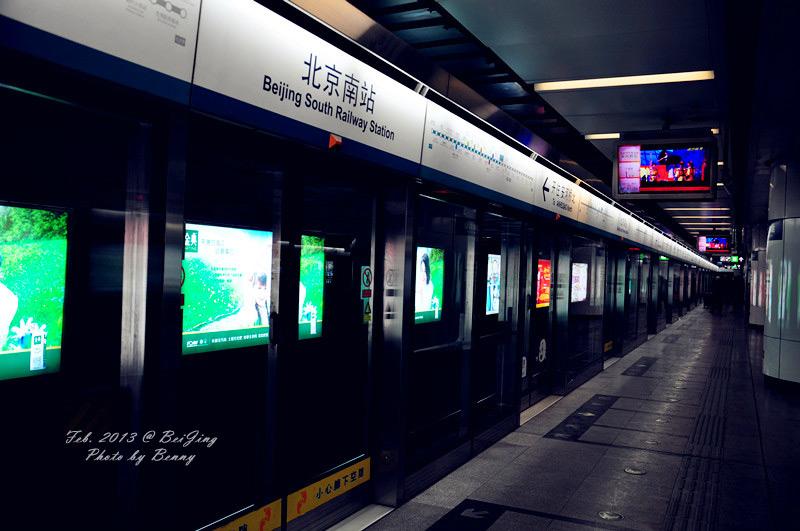 02
When I arrived at the south gate of the Ditan Park, I heard 'Visitors have to enter the park from the East Gate'. Why? The South Gate was too crowded. Actually, the East Gate was crowded too. I was pulled to the ticket barrier at the East Gate. The security officer checked my ticket and let me go inside.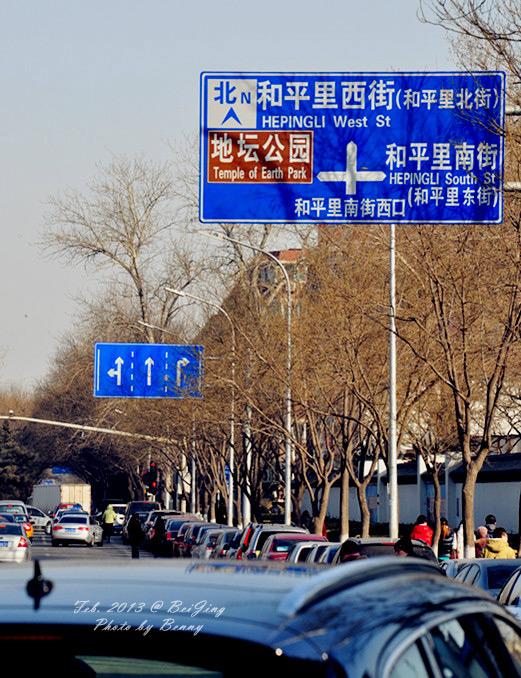 03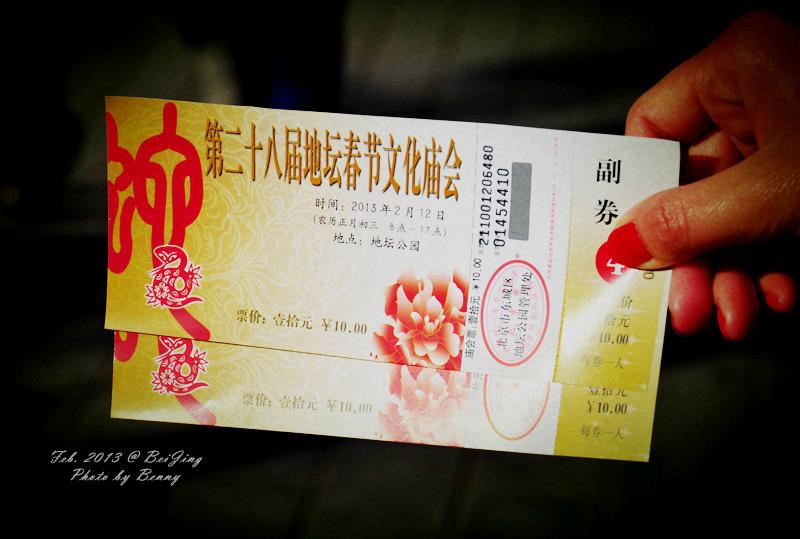 04
The Ditan Park Temple Fair was resumed in 1985. It has been held 28 years. Ditan Park just covers 0.14 square miles. However, more than 700000 visitors visit this park during the temple fair every year. You can imagine how crowded it is! Well, there are many stalls in the park. All vendors take this opportunity to make some money. But they have to pay for the expensive rental first. It is said that the rental for a stall has exceeded 300000 yuan this year.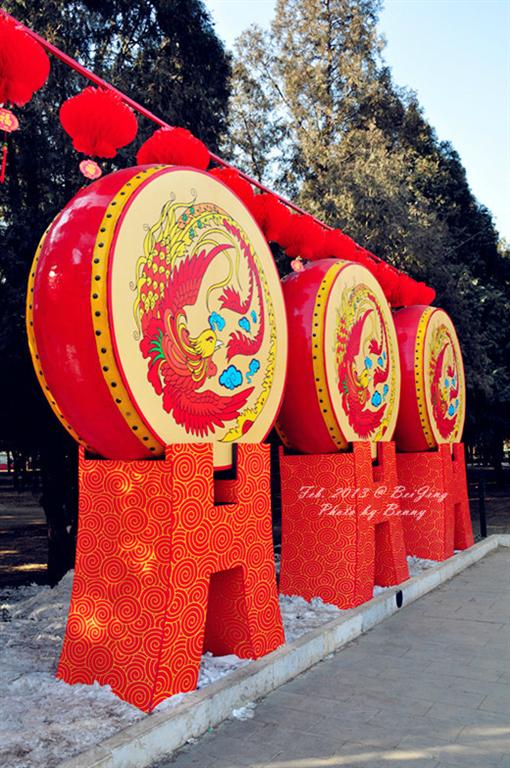 05
Although there are many stalls, many of them sell similar toys, souvenir and snacks. Remember not to buy anything from the vendors close to the entrance gate. They charge you more money.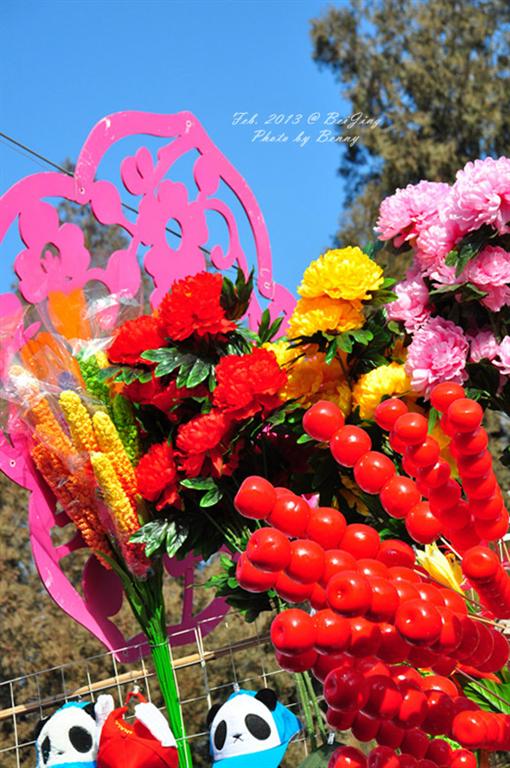 06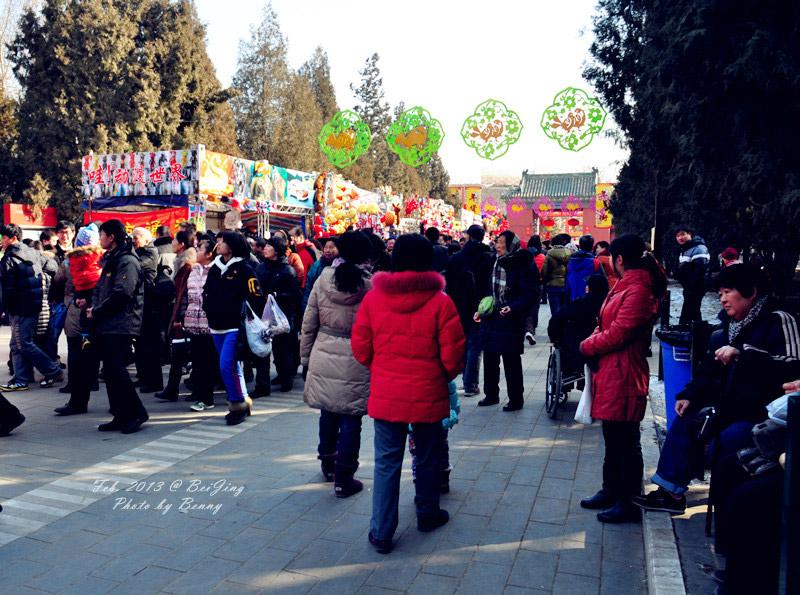 10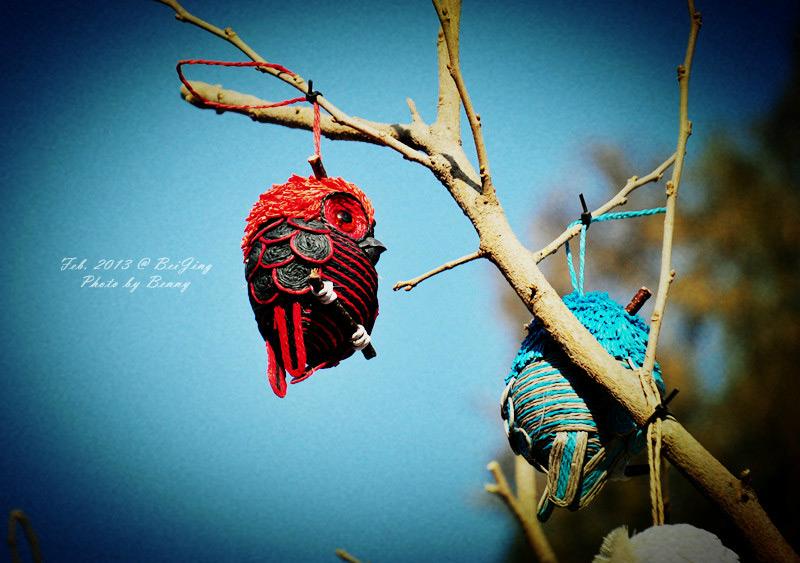 07
Nine Squares & Eight Diagrams Formation. It was created by Zhuge Liang. In the Romance of the Three Kingdoms, Zhuge Liang defeated Wu' 100000 soldiers with the help of the formation.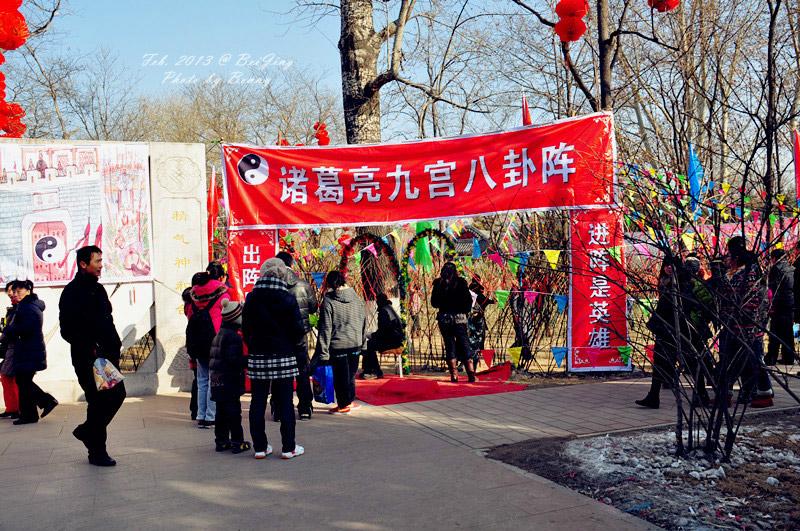 08
The elderly has much interest in the temple fair. I saw many old men and women having fun at the temple fair. And some thieves were busy stealing things from the visitors. Take care of your valuables especially when someone squashed in next to you.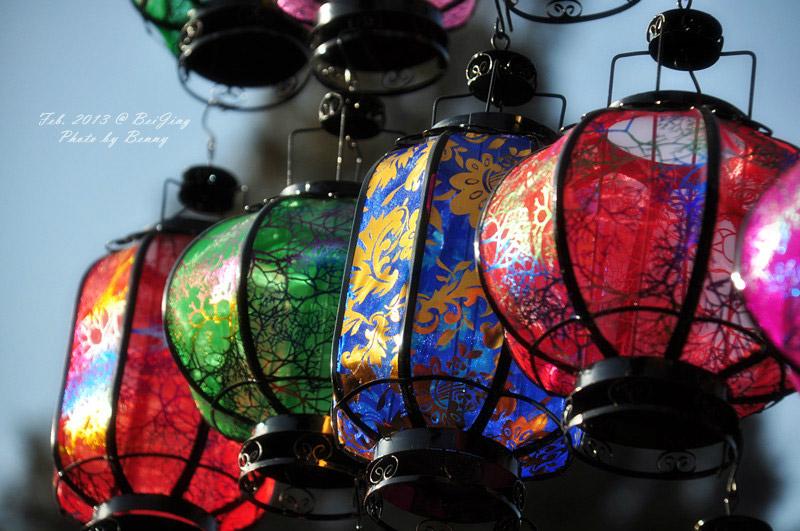 09
Although it was a sunny day, the temperature was low. The male and female performers bore the low temperature and gave folk show performances to the audience.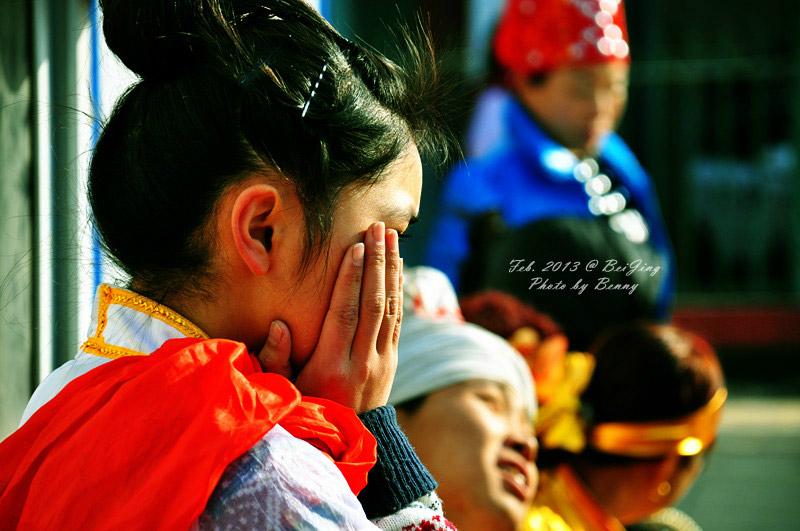 11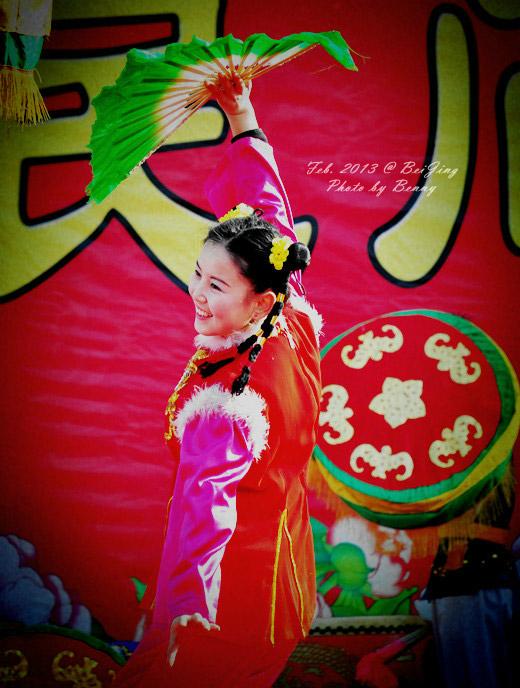 12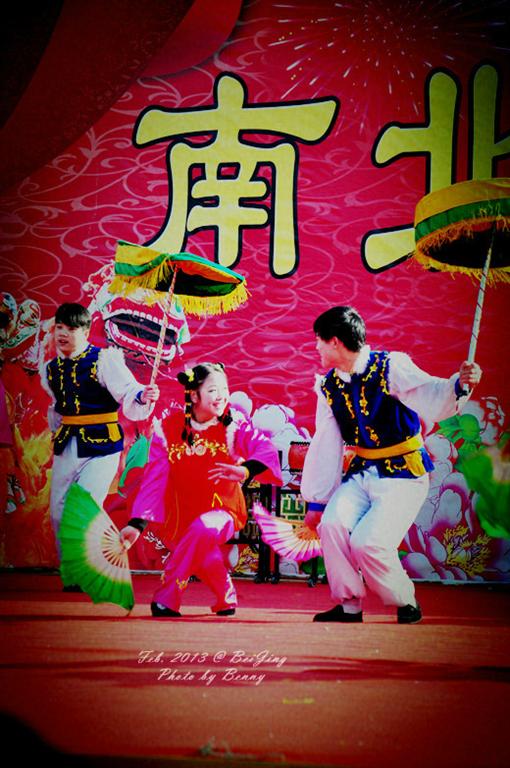 13
What? I couldn't believe that I saw the emperor here. What was he doing? 'Worshipping his ancestors', the man next to me said. 'They are not professional actors. Every year, there will be a selection. Everyone can join the selection and the winners are given the opportunity to give performance to the audience at the temple fair.', he continued.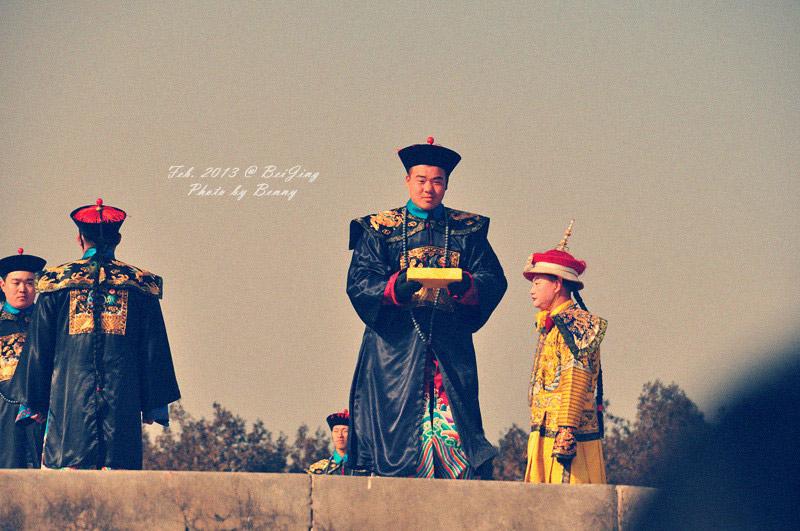 22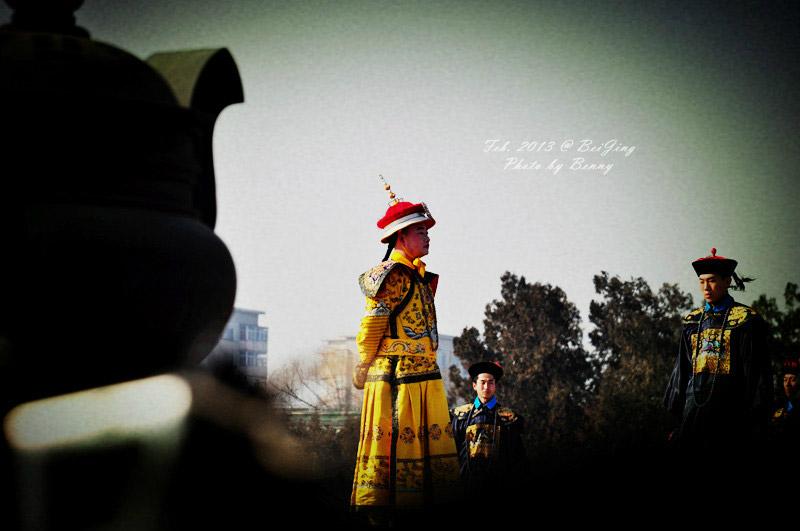 23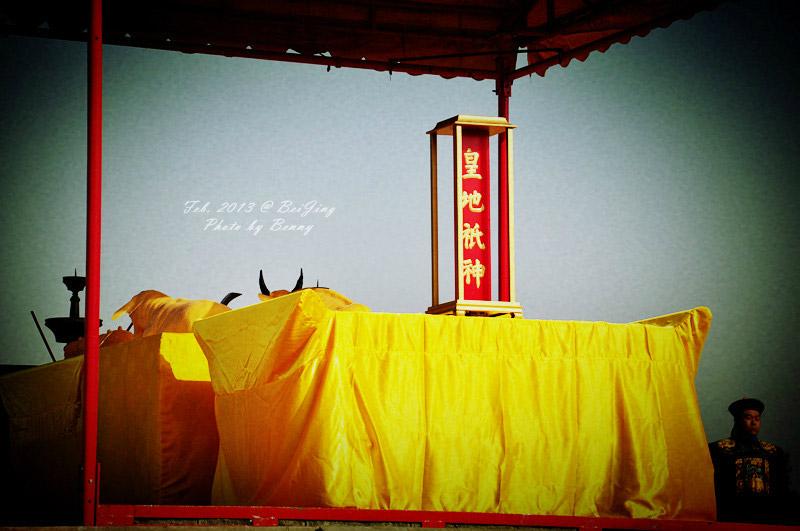 21
Dough Figurines. These hand-made figurines are very expensive. Sadly, I couldn't see how they are made out.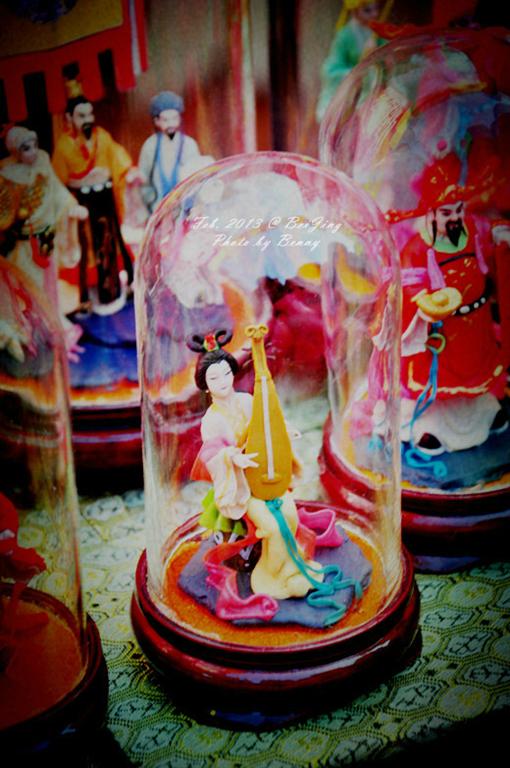 24
Colorful clay masks. It is a famous handicraft article in Fengxiang, Shaanxi Province.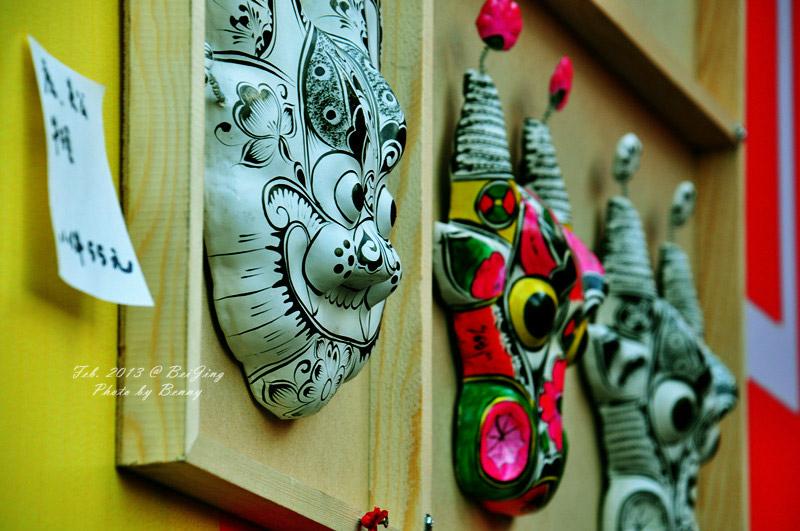 25
I had much fun at the temple fair and then realized that I didn't have lunch yet. Why not taste some snacks? I walked a few minutes and decided to dine outside the park. The snacks were very expensive. Fried lamb shashlik (CNY 25), quick-boiled ox/lamb tripe (CNY 25), Hot drinks including milk tea, ginger juice and coffee (CNY 10 per cup), salty crispy chicken dices (CNY 25)… Considering of the high rental they paid, I could understand why their snacks were so expensive.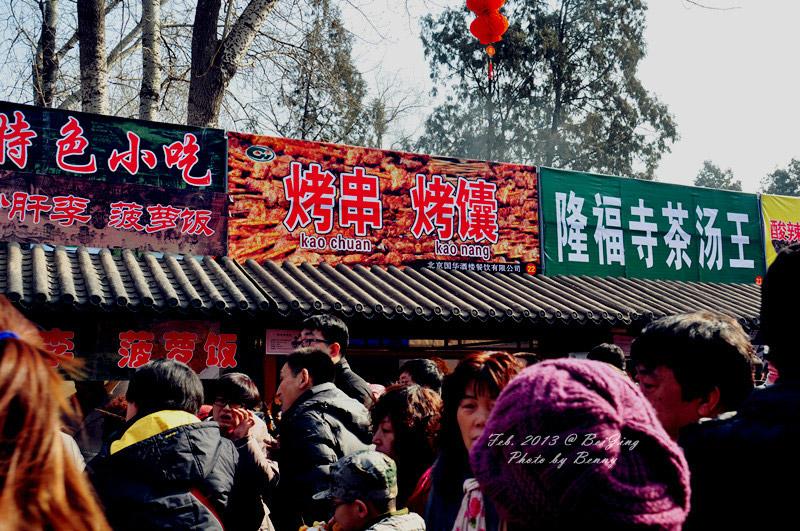 30
Visitors who really want to taste Beijing local snacks can walk from the West Gate to Ren Cai Mansion. There they can easily find authentic snack streets. If they have time, they may visit the Southern Gong and Drum Lane. There are many kinds of snacks too.
Puppet Shadow Show. It was probably the most interesting performance at the temple fair. What? I couldn't believe that PSY was performing his horse-riding dance.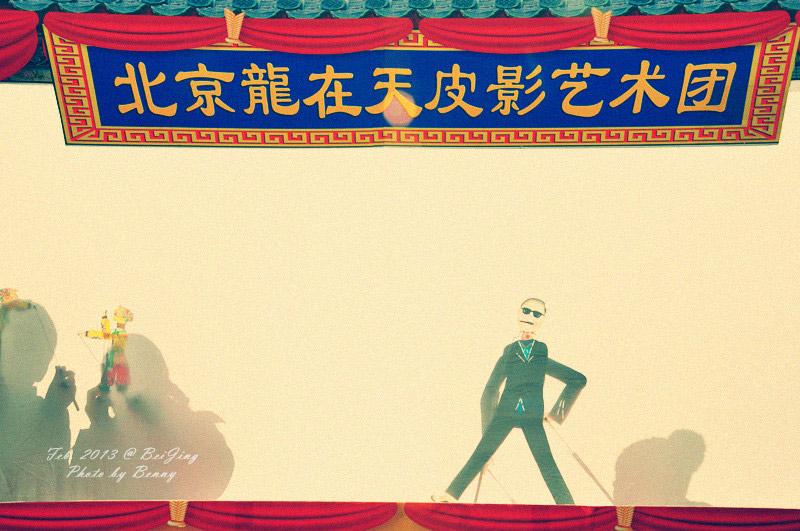 34
Visitors enjoyed themselves at the temple fair. However, the firefighters couldn't. They were ready at all times for any sudden incidents.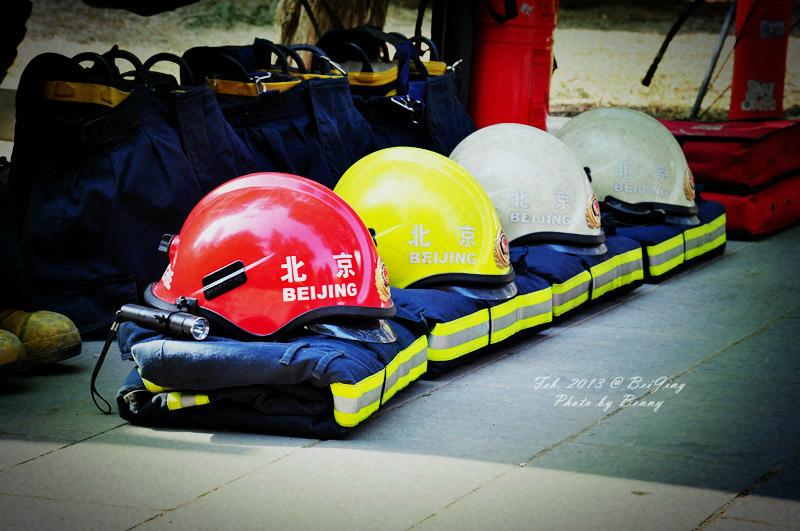 35
2.
Beihai Park
COOKY24 from United States
Nov 19, 2012 19:55