Off the beaten track in Zhangye | 张掖
Gansu Province | The Silk Road
Grab a map and take a look at Gansu Province: it looks like a chicken, running full pelt, head held out at the end of a long neck, wings flapping. Its beak neatly jabs the boundary between Qinghai and Xinjiang in the west; its feet tread the Qinghai/Sichuan border to the southwest, Sichuan and Shaanxi to the southeast; its tail curls into tiny Ningxia in the north, and its neck borders the whole length of Inner Mongolia. This scrawny-looking province is squeezed between the heights of the Qinghai-Tibetan plateau in the south, and the endless Gobi desert in the north. Its "neck" being a narrow tract of land called the Hexi Corridor, that joins the capital city Lanzhou in the east to Dunhuang in the west.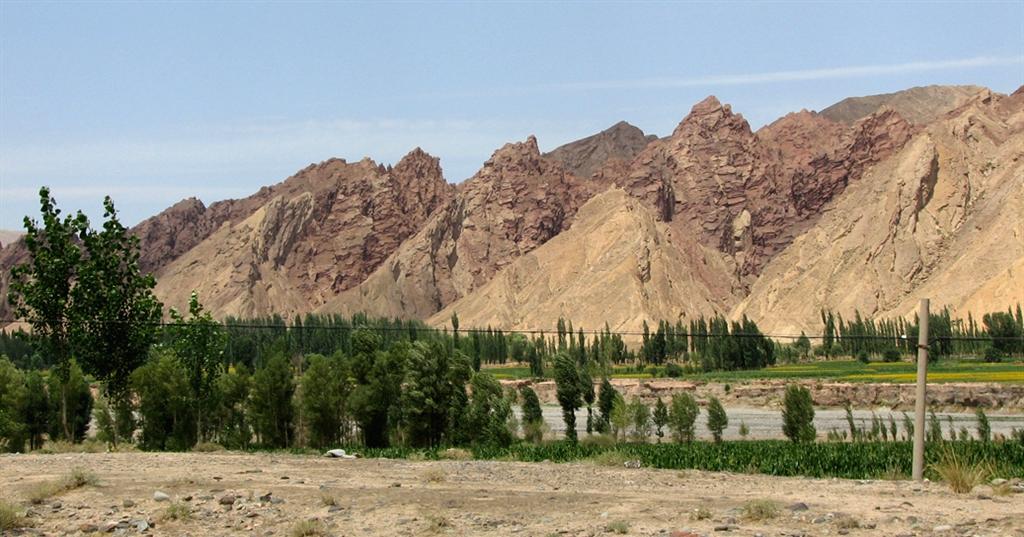 Nowadays, the map shows the Hexi Corridor traversed by China's Mother Road, National Highway 312, indicated by a bright yellow vein, but of course it's more famous for being part of a trail altogether more ancient: The Silk Road. The Silk Road wasn't just one road, but a series of routes that stretched from China to the Mediterranean, linking up lands as diverse as Siberia, India and Persia. Although Chinese silk left the West smitten, it was by no means the only commodity that was traded, and everything from precious stones, metals, spices, wool and even Arabian horses changed hands. And it wasn't only physical goods that were exchanged, abstractions were too: religion, philosophy, ideology and art were carried along the route, infiltrating new lands. China gained wealth and riches as an exporter of highly prized goods, as well as an importer of diverse concepts – and Gansu thrived.

Six centuries later and Gansu is one of China's quieter, dare I say, more neglected provinces. Some travellers pass through here tracing remnants of The Silk Road off and beyond, but few come to Gansu with a view to exploring the province itself. Zhangye, once a significant Silk Road outpost, has diminished to a level of ordinariness that will remove it from all but the most generous of itineraries. Yet, Zhangye is home to one of the largest Buddhas in China, is the gateway to an amazing complex of caves & temples, and some very special rocks….

Marco Polo and Buddha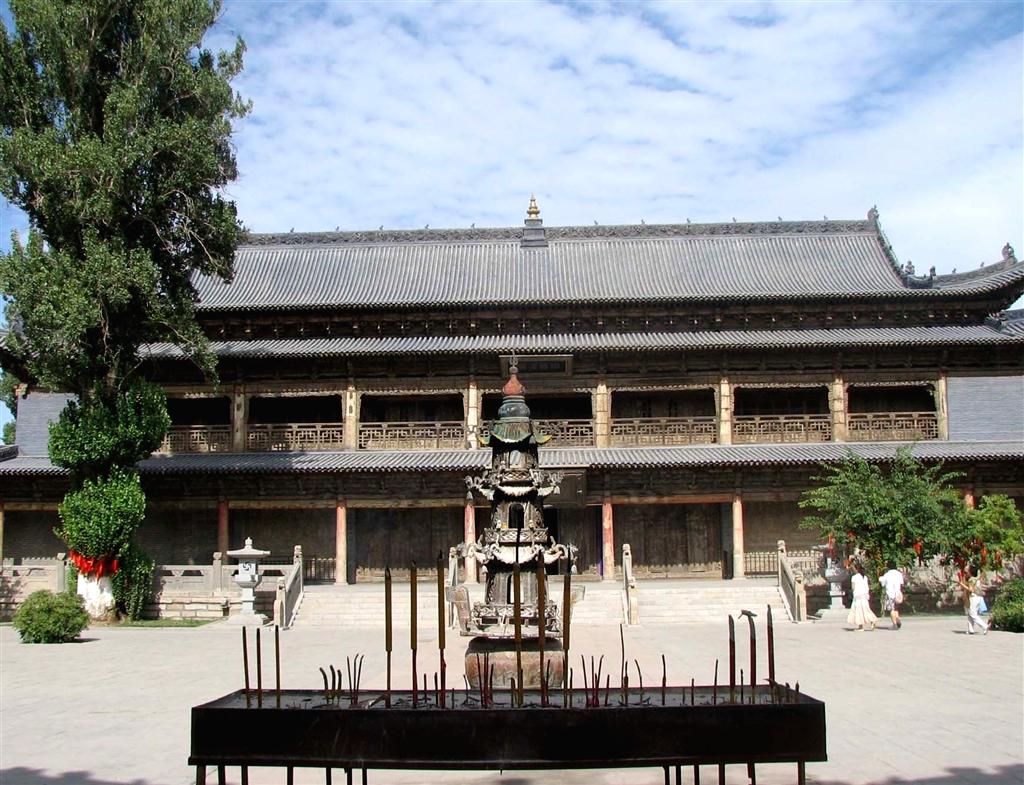 "Half price for students, the old, with perfect instruments." The appearance of Chinglish is always a clue that you're off the beaten path. Zhangye is far from those cities where the government decreed a cleaning-up of English-language-signage in time for the 2008 Olympics, and this sign for its largest tourist "sport" [sic] is unintentionally humorous and confusing: classic Chinglish characteristics.

I'm at Dafosi, a temple that houses the largest indoor reclining Buddha in China – a 34.5metre long clay figure – that dates back to 1098. It's recorded that the then emperor's Buddhist tutor Wei Mei was sitting quietly one day when he saw a bright light focussed upon the ground nearby. He dug up the spot of earth and discovered a green tile; behind the tile he found a small gold statue of a Buddha. Taking this as an auspicious sign, he resolved to build the Great Buddha Temple; it would take 5 years.

Zhangye apparently fascinated another, far earlier traveller than me though; modern scholarship suggests that Marco Polo lived here and even visited this very temple! Clues from his writings are of a "very great and noble" city called "Campichu", believed to be Zhangye; "great idols" that "lie at length"; and the enigmatic: "Messer Marco Polo dwelt a whole year in this city when on a mission." It's not much to go on, but tourist attractions the world over rely on similar minor trophies, and as such Zhangye is happy to cling to the possibility.

When I visit, at 5pm, sometime in August, in the year 2009, whether or not Marco Polo really came here isn't on my mind. The quietness of the place is; its neat grounds and greenery are welcome in this arid province. Aside from the Buddha in peaceful repose, there is a Ming Dynasty Earth Pagoda instantly recognisable for its Lamaist style, and a Qing Dynasty Guild Hall complex of wooden buildings.

Visitors are not allowed to take photographs of the Buddha: I don't break this rule.

The Mati Temple Complex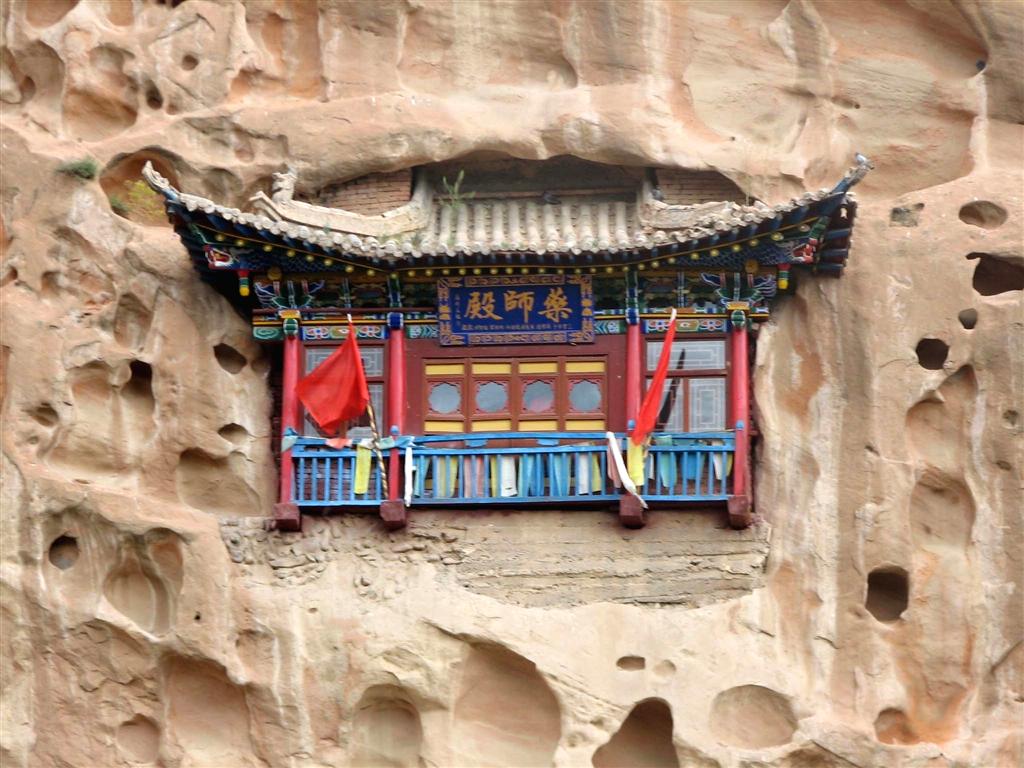 I share the bus out to this temple complex with babies' bottoms, a kitten, and locals; the driver is in no hurry, and the scenery meanders past, alternating between mountain and wasteland. The temples are located in one of the surprising oases of green that are scattered throughout Gansu Province, in a landscape similarly incongruous, of mountain peaks, pines, cliffs, hills and fields.

I explore the Thousand Buddha Caves first, which provide a taste of what is to come. They are built into sandstone rocks that are pocked with holes; imagine a plasticine cliff into which a child has been poking their fingers. The highest temple requires a climb up a vertical tubular shaft with chains and steps to aid the ascent, it may only be about 10 metres, but it's not easy.

It takes me an hour to walk along the road to the highlight of the complex, the North Grottoes. Taxis of tourists and trucks of sheep pass from time to time, but otherwise it's quiet. The roadside is a haven for plants and insects; brown and blue butterflies float between clusters of wildflowers – vetch; geranium; clematis; thistle; gentian.

The North Grottoes are built into a cliff that dwarfs the Thousand Buddha Caves. At the base of the cliff is Mati Hall, where legend has it that the hoof print lies of a horse sent from heaven, and from which the temples earn their name. I don't find the hoof print, but there are shrines and flaking frescoes, statues carved into the walls, and a general disintegration of these 1600 year old treasures.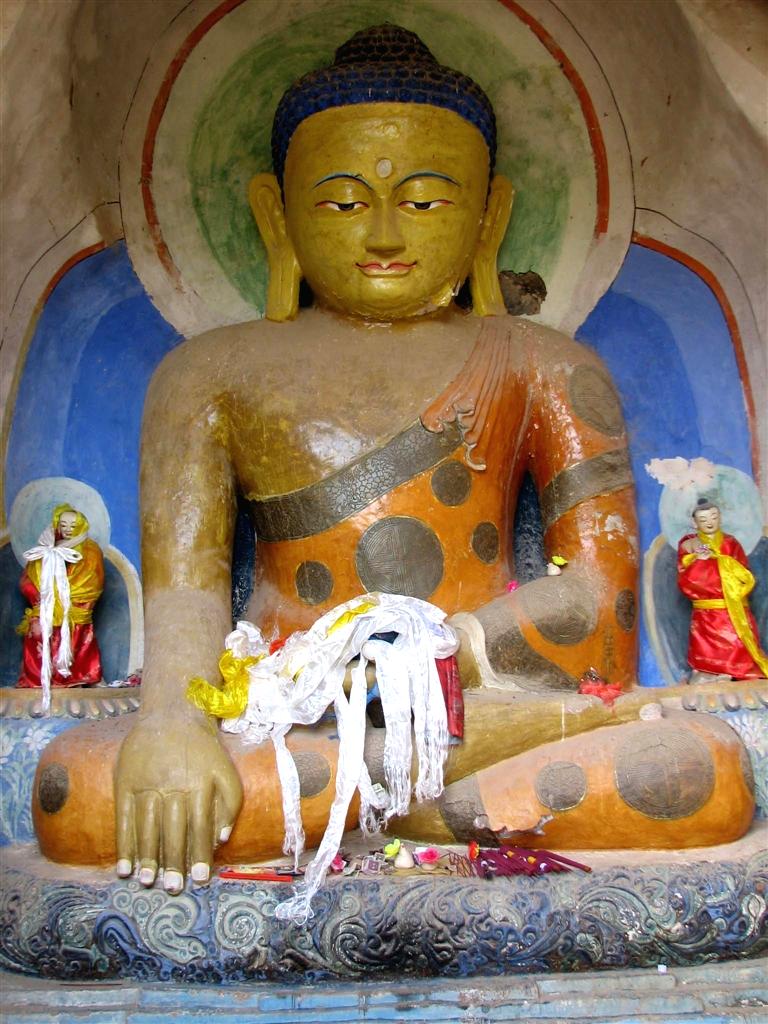 Of the North Grottoes, it is the Thirty Three Skied Grotto which is the most impressive, composed of 21 caves, over 7 storeys, in the 100-metre high cliff. A labyrinth of tunnels and steps, hewn from the stone, weave in and out of the cliff, opening up into caves, shrines and temples. Brightly painted wooden frontages decorate the cliff-edge at intervals like windows looking out from this rocky maze.

Historical record has it that a hermit called Guoyu initiated the construction of the grottoes during the Eastern Jin Dynasty (317-420CE). Naturally, these were added to by successive dynasties over centuries. Emperor Qianlong and the third Dalai Lama are said to have made pilgrimages here. The 21st century's pilgrims are mainly tourists, and contemporary additions come in the form of Uighur minority yurts where you can stay overnight, or try horse riding.

Danxia Rock Formations & Zhang Yimou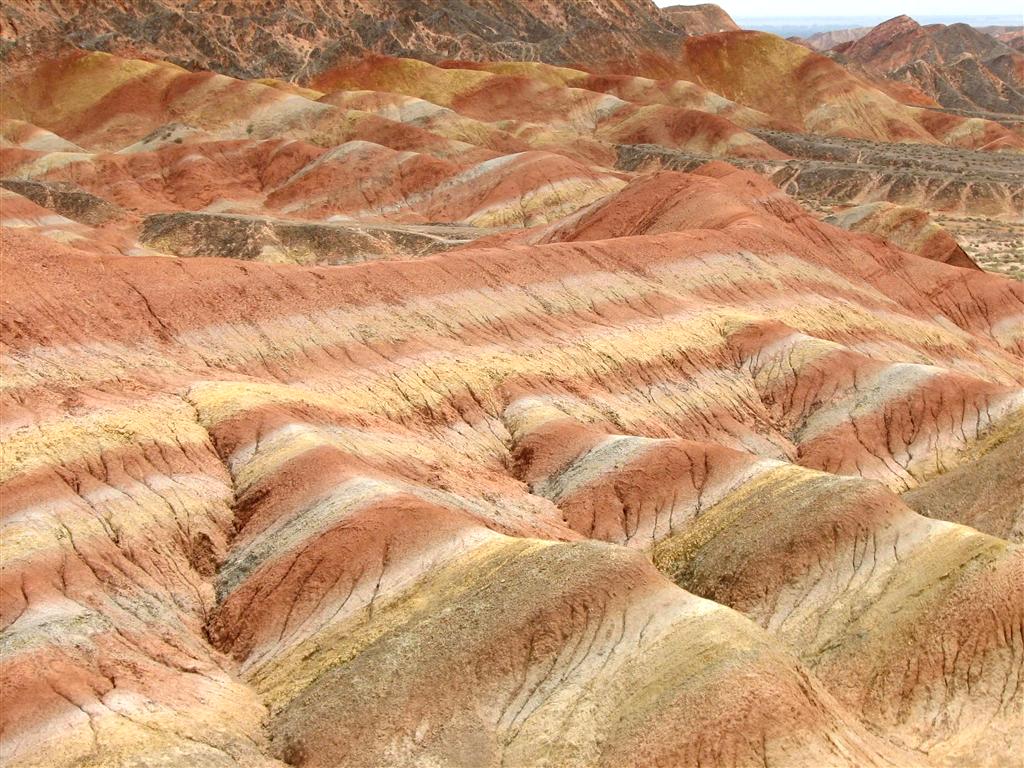 Sometimes it's through a photograph that captures my imagination or an image on a postcard that a place steals onto my itinerary. Danxia comes into this category via images I found online of red rocks; a landscape of colourful, almost alien formations, more likely to belong to Mars than Earth.

Danxia refers to a type of rock formation found in various areas in China, and is only just beginning to be investigated by geomorphologists outside of China. Little is known about the conditions required to produce the formations, or why they are so different from each other.

Although predominantly red, the undulating rocks are shot through with seams of golds, silvers and bronzes. And it's not just the colour of the rock that is so arresting, but the variety of shapes into which it has been cast. From individual promontories and stiff peaks, to vast swathes of rock that are organic and rounded like the waves of some petrified Martian sea. Still other areas form vast jagged edges as though they have been sawn away from something much larger than themselves.

Zhang Yimou obviously recognised the beauty of the landscape when deciding to set his movie "A Simple Noodle Story" here in Zhangye. When I visit Danxia, the ancient noodle restaurant set-piece remains, looking rather like a haunted house, complete with props. How long it will be before viewers will be inspired by his mesmerising portrayal here, as they were with Anji's bamboo forests in "Crouching Tiger, Hidden Dragon", to check out this bizarre geological phenomenon for themselves, who knows?


Travel Information | August 2009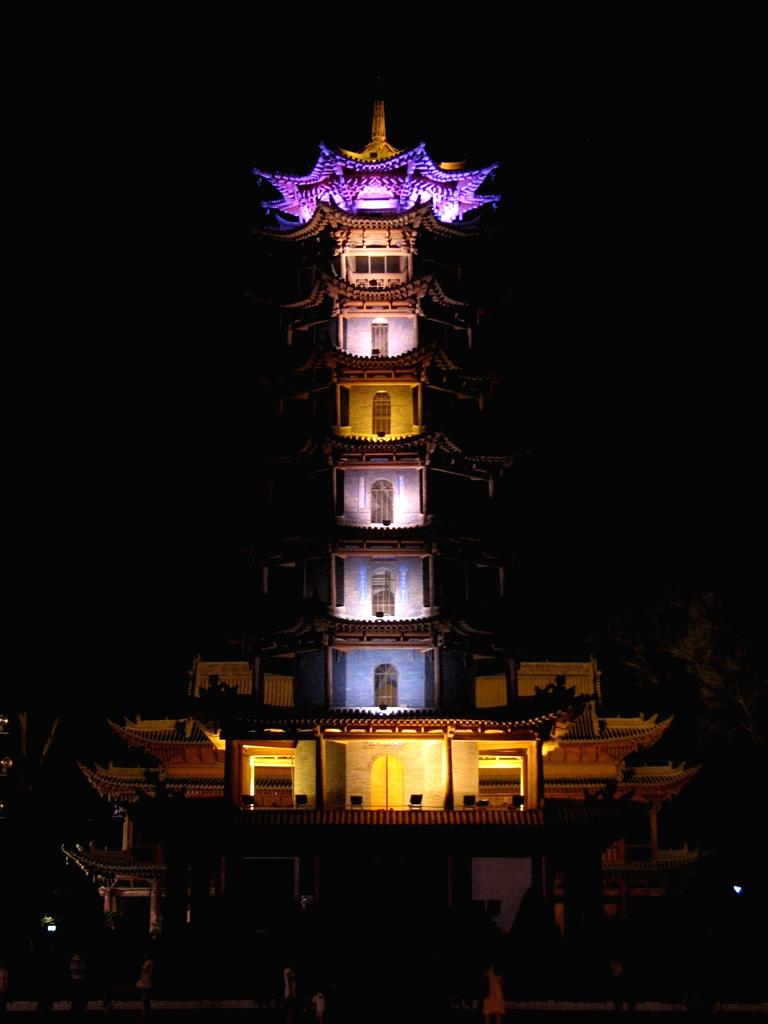 Zhangye | 张掖
Getting there by bus.
From: Jiayuguan | 嘉峪关
Time: 5 hours
Price: ¥44

Mati Temple | 马蹄寺
Getting there by bus.
From: Zhangye South Bus Station | 张掖南站
To: Matihe | 马蹄河
Time: 2.5 hours + (it's only 65km but the bus stops to pick up everyone and everything….)
Price: ¥9.5
From Matihe, take a taxi to Matisi ticket office; it will cost you about ¥20. If you want the taxi driver to take you up to the main temple complex, it will cost you ¥30. You can walk from the ticket office, exploring temples as you go, it's about 2kms.
Entrance fee: ¥35 (this is the ticket office at the entrance to the complex)
North Temple entry fee: ¥35 (this is to gain access to the main temple complex)
Buses return from Mati Temple to Zhangye as soon as they are full.
They were building a hotel on the site when I was there, or you can stay overnight in the yurts.

Giant Buddha Temple | 大佛寺
Located in the city centre and easy to walk to.
Entrance fee: ¥41

Wooden Pagoda | 木塔
Located in the city centre and easy to walk to.
Entrance fee: ¥5 (to climb to the top of this 9-storey tower)

Dan Xia Rock Formations | 临泽丹霞
Located 35kms outside of Zhangye, you will need to hire a taxi to take you and drive you around/wait… or take your chances getting a taxi home. This place is not very well known, and there were very few people when I was there. Aside from one boardwalk, there is no infrastructure here, just rocks and roads... a car is necessary if you want to explore deeper into the area, though the road only goes so far before it meets a dead end.
Entrance fee: ¥20

Additional Information
6 Danxia landforms in southeast China have just been designated World Heritage Sites:
http://whc.unesco.org/en/list/1335/

Henry Yule's translations of The Travels of Marco Polo are available free in the public domain, and can be read online or downloaded from Project Gutenberg: http://www.gutenberg.org/wiki/Main_Page
Extracts quoted here come from Volume I, Chapter 44/45.

Information about Zhang Yimou's A Simple Noodle Story is online here: http://www.imdb.com/title/tt1428556/

More
Gansu Travel Reviews