The Concise Yan'an Accommodation Guide
From Hotel Suites to the Homes of Cave People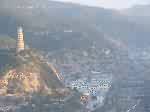 TRAVEL TIPS:
Bus from Xi'an to Yan'an – 79 yuan
Baota Entrance Fee – 41 yuan – no back door.

When I first arrived in China, the idea of saying in a hotel sounded prohibitively expensive. I'd never stayed in a hotel before, and the guide books I'd read about China seemed to only list five-star establishments at prices somewhere in the range of $800USD per night - which was curious, given the fact that most of the other information in the book was directed at backpackers. I was lucky enough to stay with a Chinese family in my first few months in China, but it wasn't until I got to Beijing that I first had to face the prospect of paying for a room. Fortunately for my pocket, I stumbled across the Jing Hua, and discovered their 30 yuan four-person dorms – an excellent introduction to budget accommodation.

Some months later, I embarked on my first real travelling adventure around China, and once again went ahead in trepidation, very much unnerved at the possibility of having to blow my savings on a hotel suite. It was while I was checking out a lead from the guide book that a roadside sign in English pointed me to some other options, with Chinese characters I recognised offering far cheaper rooms than mentioned in the book. I was naïve then, but with a little experience I realised that every city in China is packed with hotels to suit every budget. A few more relevant pieces of Chinese vocabulary helped me to identify which hotels were likely to have beds at thirty yuan and less – particularly of the 'Zhao Dai Suo' and 'Lv She' variety. I figured that, armed with this knowledge, travel from thereon in would be easy.

Slight problem: the law. Chinese governmental regulations restrict the kinds of accommodation at which foreign guests may stay. This may sound like discrimination, but there's good reason. The government of China takes the security of foreign visitors very seriously, and cheap hotels occasionally attract questionable individuals – and the police fear that the presence of what appears to be a wealthy foreigner staying in such a place might prove too much of a temptation for such desperate fellows.

The good news is, that if you throw away your guide book and try a few hotels that seem to look nice from the outside, you're probably going to find one with a reasonable two-bed room for around 100 yuan, which if you're travelling in a pair is a reasonable ask. Many hotels at that price level have governmental assent to 'she wai', or admit the lodging of non-Chinese. Any price significantly cheaper than that, however, and you're on your own – and at the discretion of the scruples of the hotelier.

I figured that when I arrived in Yan'an with two friends, the same logic would apply, and when the three of us were unceremoniously dumped on the side of the road at 7.00am in the morning it seemed more than likely that we'd find a place to sleep within the usual half hour. Why then, far away in the distant North of Shaanxi province, were all the hotels we could find offering rooms at several hundred RMB each? One particular hotel had rooms at the exorbitant rate of 8000RMB per day. The three of us were travelling on tight finances, and every place we tried seemed to be just a little out of our reach.

It was a beautiful morning. Yan'an sits at the meeting point of two rivers, the Yan He and the Nan Chuan He, and great bridges stretch across the three branches beneath the surrounding mountains. Wandering around the riverside road was quite humbling – although the water had dried to a mere trickle in the Summer heat, the scale of the great river bed and rocky steep mountain face crowned with an ancient pagoda (the 'baota', which has stood over Yan'an for hundreds of years, and once featured on the Chinese two-yuan note) was awe inspiring. Carrying heavy bags soon became tiresome, however, and the parade of class establishments was unhelpful. We were getting disappointed very quickly, and were more than happy to stop at a roadside stall for a classic Northern breakfast – deep-fried bread sticks (you tiao) and the soybean answer to cafe latte – a bowl of sweet, warm dou jiang.

As we sat, I noticed we were eating in front of a Zhao Dai Suo, and decided to try my luck in asking for accommodation there. The others sat eating whilst I took the stairs and found the manager, a plump, 40-something woman with thick glasses. Entirely unphased at being questioned by a foreigner, she showed me a lockable, clean three-bed room for which she wanted just forty-five yuan – and I accepted immediately.

We settled in quickly. The room was furnished, with a TV and boiled hot water in a flask. There was also a hot shower at the end of the corridor – and as I looked around, I wondered at how little difference there really is between hotels that cost 200 yuan and ones like this. The best thing was the view – directly above our window was the highest mountain in central Yan'an, which boasted an attracted temple complex at the summit.

Yan'an is most famous, however, for its modern history. Mao established a firm base for the Communist Party here just after the long march and during the Second World War. Many reports made by visiting foreigners exist that detail the positive and progressive state of the party at that time, commending Mao for his leadership style. Senior officials performed manual labour alongside the soldiers they commanded, and equal pay was shared across the board – even the Japanese prisoners of war were granted the same pay as the Chairman. As most locals of Yan'an still do, Mao and his followers lived in caves carved into the mountainside, and you can still visit the caves where he lived today. From our window, we could see rows of caves right along the mountainside, from top to bottom.

I went to take a shower. The facilities weren't quite as wonderful as I'd hoped, with the shower neck dangling from a small water boiler in the laundry room. The woman who ran the hotel turned it on for me, but then told me that it would take at least half an hour for the water to heat up, so I went back to my room to wait. Half an hour later, I went to ask if it was ok to take the shower yet, and was told that the water was too hot, so I needed to wait a little while for it to cool down again. So, I went back to my room and waited once again. Finally, she knocked on my door and told me the temperature was just right.

I went to lock the door in the shower room and found there wasn't a lock – disturbed, I went back out to the foyer to ask about it. The manager apologised and told me she'd make sure no one opened the door. I like to think of myself as an easygoing kind of boy, so I reasoned that showering without a lock would probably be fine. I went back to the shower, hung my clothes on the clothes rack by the old washing machine, stepped into a bright yellow pair of shower shoes, and stood under the water – not at all surprised to find it was quite cold. I quickly applied soap and lathered well, just as the door opened wide and the manager's daughter, a sixteen year old girl, came in with a dirty mop. I stood shocked as she walked straight ahead to the sink, rinsed the mop, turned and walked out, closing the door behind her – all without paying any attention to me whatsoever.

It wasn't until our second day that we decided to attempt a climb of the temple mountain. The main entrance was at the rivers' meeting point, and so we stepped up to the gate to go in, only to be surprised at the expense – the entrance ticket was 31 yuan. Hesitant, we wandered away, aware that from our window we would often see locals walk up a long stairway behind the mountain. I asked a passer-by, who grinned a confirmation – the entry gate charged tourists, whose tour busses dropped them directly there; a short walk along the base of the mountain would provide an alternative point of ascent – for free.

The best thing about the secret route is that it passes all the way through the mountainside village. The climb is through a labyrinthine network of caves and huts on the slope, and as the three of us worked our way through them, locals stopped to stare. I was worried that they were appalled at our audacity at avoiding the ticket price, but instead they more than willingly assisted us by pointing the way as we climbed.

One elderly gentleman invited us to have tea with him, and so we rested a while and chatted with him and his family. They pulled back the curtains of their caves and we went inside. Each cave was a single chamber, sparsely furnished with air vents and chimneys cut into the roof. I asked them if they liked living in their caves – they told me that it was fine, cool in Summer and cold in Winter – but that they hoped their children wouldn't live in caves when they grew up.

The view over Yan'an was incredible from the top – but given that it had just passed seven in the evening when we arrived, the temple had just closed. It didn't matter – a look down into Yan'an valley alone was worth the climb, and Yan'an itself seems to have changed little in the years since Mao was here – with the exception of the addition of some very expensive hotels.