Impressions of Shanxi
I should have finished my "Impressions of Shanxi" three months ago…..
Spring Festival is perhaps the most important traditional festival to most Chinese people. People who are far away from their home will come back during the Spring Festival Holidays. I am lucky because my parents and I are together.
Every year, I celebrated Chinese New Year with my parents, visited my uncles, aunts and other relatives. It was boring. I didn't want to spend 2012 Spring Festival Holidays in the same way. Thus, I made up my mind to travel. where should I go? I heard that Qiao's Compound and Pingyao were nice. After reading many travel reviews and tips, I finally decided to visit Shanxi.
Itinerary: Jin Ancestral Temple-Pingyao-Qiao's Compound-Mt.Wutai-Mt.Hengshan-Hanging Monastery-Yungang Grottoes-Nine Dragon Screen-Shanhua Temple-Huayan Temple
Day 1 took K882 from Qingdao to Taiyuan, capital of Shanxi
Day 2 reached Taiyuan at 07:00 am, visited Jin Ancestral Temple and then headed for Pingyao
Day 3 visited Qiao's Compound and then went to Mt. Wutai
Day 4 visited Mt. Heng, Hanging Monastery and stayed at Datong
Day 5 visited Yungang Grottoes, Nine-Dragon Screen, Shanhua Temple
Day 6 visited Huayan Temple and then took K712 back to Qingdao
Expenditure: CNY 800 for entrance fees, CNY 300 for accommodation and CNY 500 for train tickets.
Day 1&2
I didn't want to waste a minute. Thus, I chose a night train. It wasn't comfortable to sleep on the train but I was ok. The train arrived at Taiyuan Railway Station at 07:00. My priority was to have breakfast. I entered a small restaurant and ordered some steamed stuffed buns and a bowl of porridge. Fifteen minutes later, I ate them up and took No. 804 bus to Jin Ancestral Temple.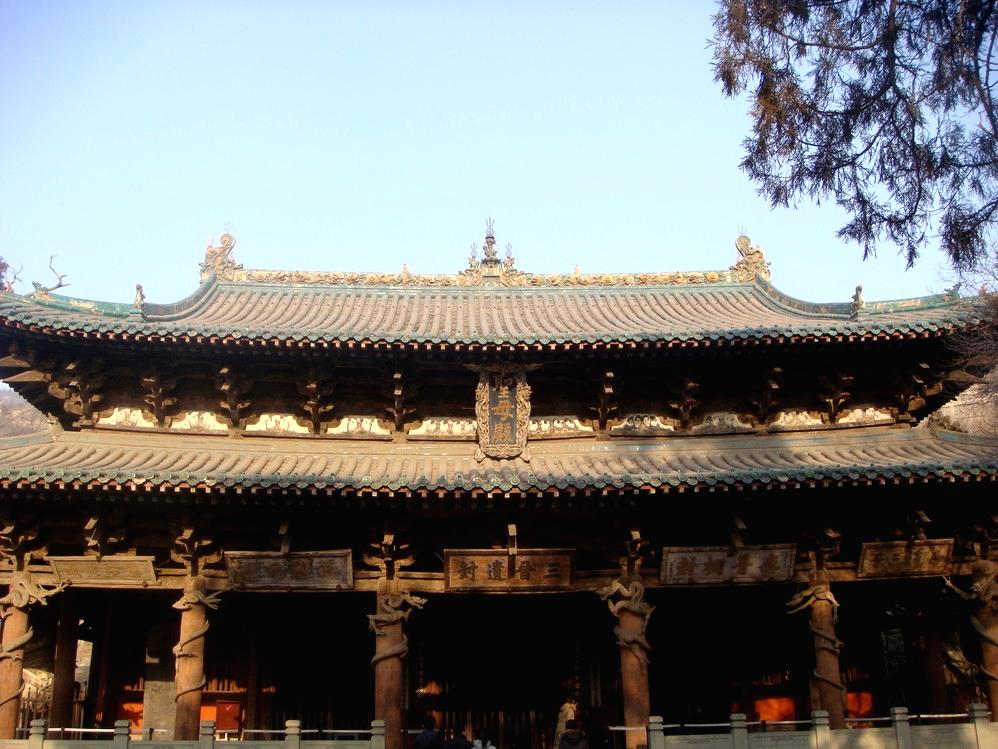 Jin Ancestral Temple
Honestly, I didn't think that Jin Ancestral Temple was interesting. There were many stories about the spring and the sculptures in the temple. But I wasn't interested in the stories. So I didn't hire the tour guide to tell me stories. It took me just about 1.5 hour here.
My next destination was Pingyao. I came back to Taiyuan Railway Station by bus and then took long distance bus to Pingyao. I already booked a hostel in Pingyao and the boss promised to pick me up at Pingyao Bus Station. When I arrived at the bus station, I called the boss and he came up 15 minutes later.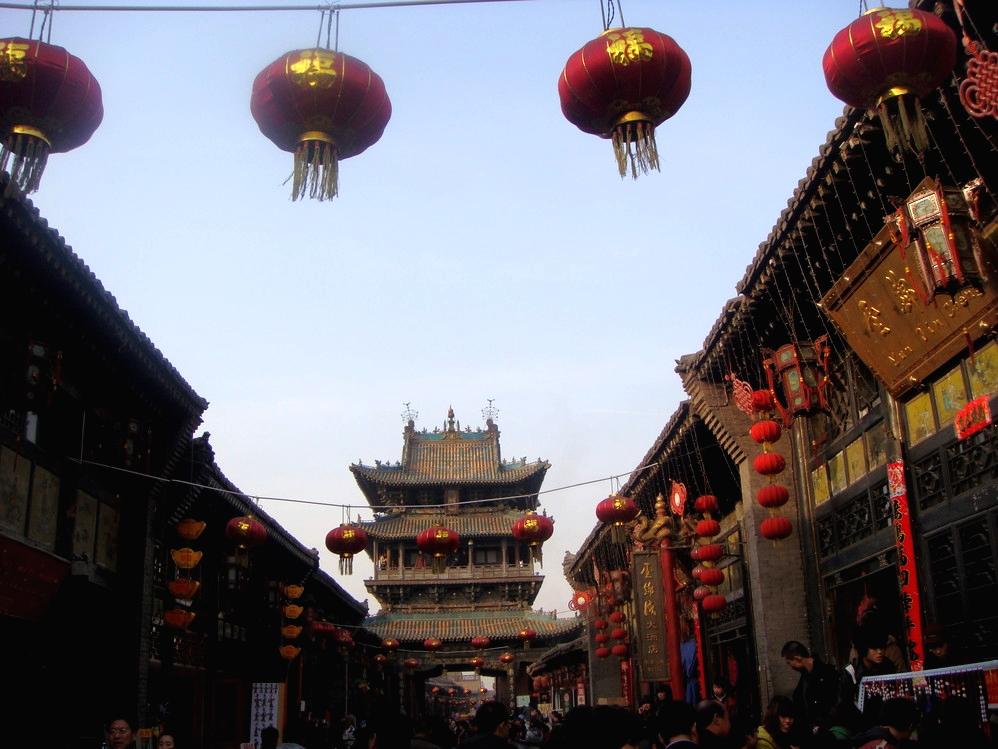 Pingyao
On the way to the hostel, the boss told me that it was free to enter the Pingyao city. But I had to buy a thorough ticket to visit the tourist spots inside the city. One more thing, the thorough ticket didn't include the Zhenguo Temple and Shuanglin Temple. I didn't buy the thorough ticket. Why? I thought it was much more interesting to stroll on the streets. The scenic spots were almost the same and I didn't want to waste my time to visit all of the scenic spots.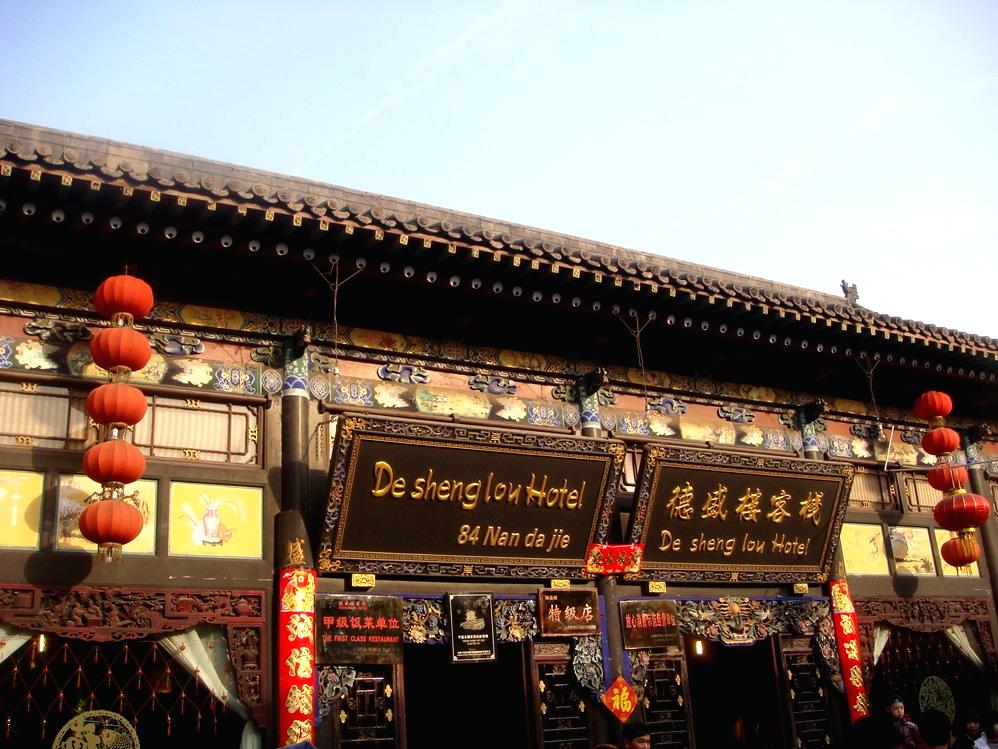 Famous hostels in Pingyao City
I heard that it was nice to ride a bike in the city. I originally planned to rent a bike but gave up after seeing so many people on the streets. It might be good if you came here during the low season.
Day 3
I got up at 07:10 and had breakfast at my hostel. Then I checked out around 08:00. The streets were empty and quiet. All shops were closed. I was wandering on the street for almost one hour. Then I saw the scenic spots were open. It was 09:00. But no tourist got up so early.
Since I had to visit Qiao's Compound, I got no time to see the Shuanlin Temple. If possible, I would come there to see the well-known painted clay sculptures next time.
Shanxi has many compounds such as Chang's Compound, Wang's Compound and Qiao' Compound. Qiao's Compound is not the biggest but the most famous one.
I went to visit Qiao's Compound because it was not far away from Pingyao. Qiao's Compound was known to the public because some famous Chinese directors made films here. Zhang Yimou made his film 'Raise the Red Lantern' at Qiao's Compound.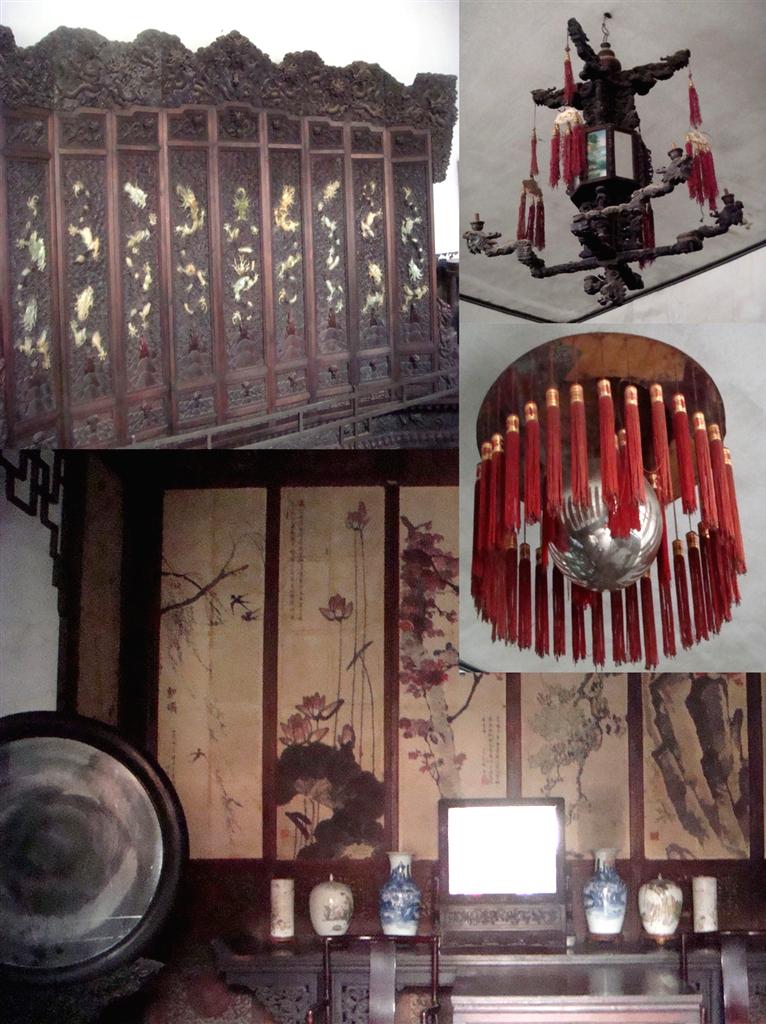 Qiao's Compound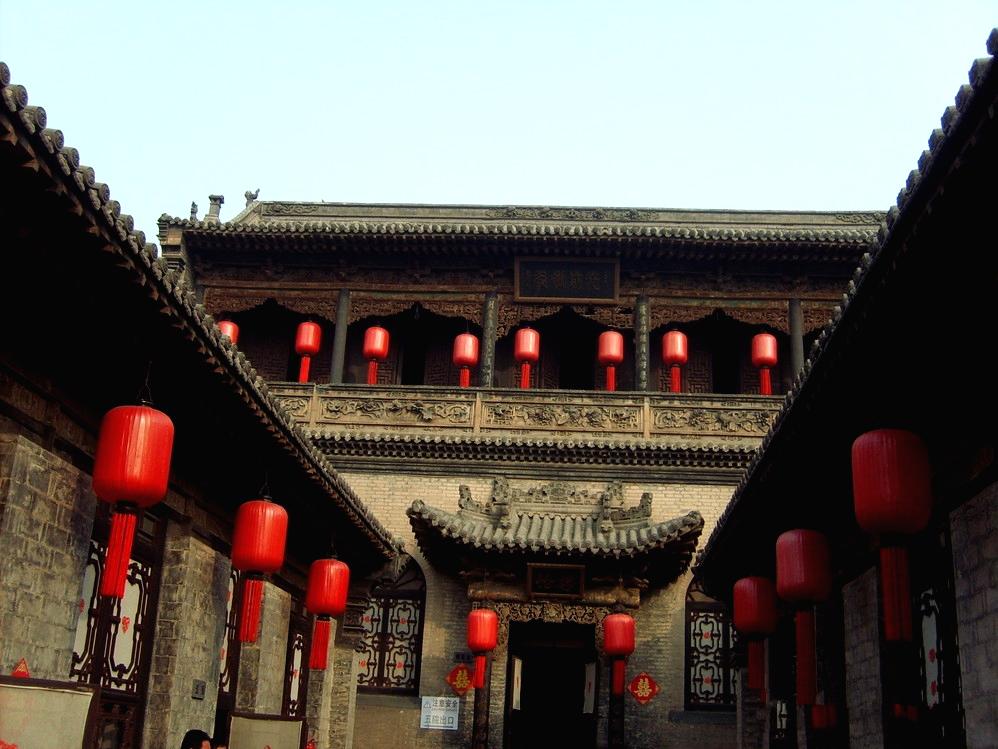 Qiao's Compound
Qiao's Compound was amazing. But I had to get to Mt. Wutai today. It took a long time by bus from Qiao's Compound to Datong. It was dark when I got there. Luck me, there was a hotel not far from the bus station. I checked in, put my luggage in my room and then went out to buy incense because I heard that the incense was sold much more expensively at Mt. Wutai.
Day 4
I hired a van with two couples. The driver promised to take us to the attractions we mentioned. When we arrived at the first attraction, we found out that there were free sight-seeing buses. It's no need to hire a van.
Wuye Temple was the most crowded and busiest temple on Mt. Wutai. Swarms of tourists rushed into the temple to burn incense and make their wishes. Someone told me that many people's wishes became true. Thus, they invited famous troupes to perform in front of the temple, thanking for Wuye, who was the god in the temple. I also made a wish there, hoping my parents could be healthy.
PS: Be very aware of the travel traps in the Wuye Temple.
1. There are some 'warm-hearted' people who stand at the entrance of the temple and distribute amulets to the tourists. Please do not take the amulets from their hands. Once you take it, you have to pay some money to them.
2. When you burn incense in the temple, some warm hearted people teach you how to burn incense and worship the god. Remember not let them to do it for you. Their service is not for free.
At noon, I arrived at Taihuai Town by bus because I had to transfer to Mt. Heng here. It took me 2 hours from Taihuai Town to Mt. Heng. There was a couple on the bus, who also planned to visit Mt. Heng. So we hired a van together. The driver took us to the parking lot at the foot of the Mt. Heng and then we climbed the mountain. Two hours later, he picked us again and took us to the Hanging Monastery. Then he took us to the bus station where we could take bus to Datong after we visited the monastery.
Mt. Heng was different from Mt. Wutai. Mt.Wutai was a Buddhist shrine while Mt. Heng was characterized by its Taoism culture.
The driver kept his promise and took us to the Hanging Monastery. I was totally shocked once I got off the bus and saw the monastery in a distance. How was it built on the cliff? The driver told us that the sunlight never reached the Hanging Monastery. Although the Hanging Monastery was made of wood, it was still preserved very well.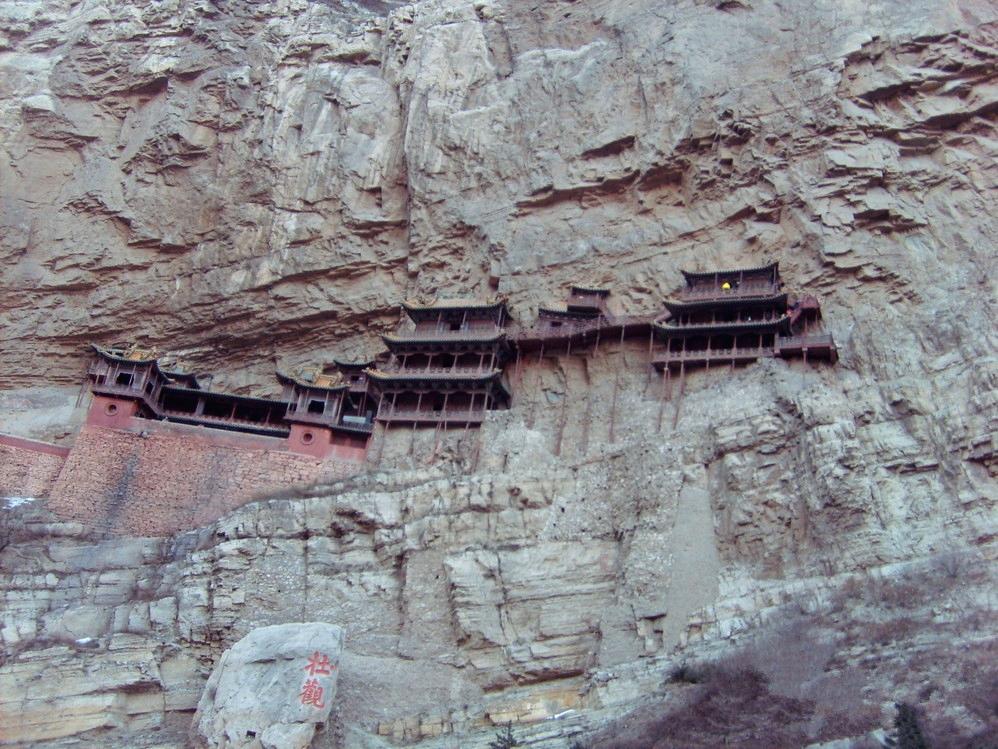 Hanging Monastery
When I stood on the cliff, I came up with a strange idea 'What if the monastery falls into pieces?'. No, it wouldn't happen. But I still felt a bit scared because my legs were trembling.
Eventually, I survived and got down safely. Then the driver took us to the bus station. Unfortunately, the bus station was closed because it was too late. Luckily, we stopped a bus and the driver said they took us to Datong. Thanks to the driver, we reached Datong around 20:00.
Day 5
Yungang Grottoes was not far from where I lived. I got there by public bus. It seemed that the local government had invested a lot of money in the tourism. The road was brand-new and decorated with beautiful stone pillars inscribed with animals and other patterns.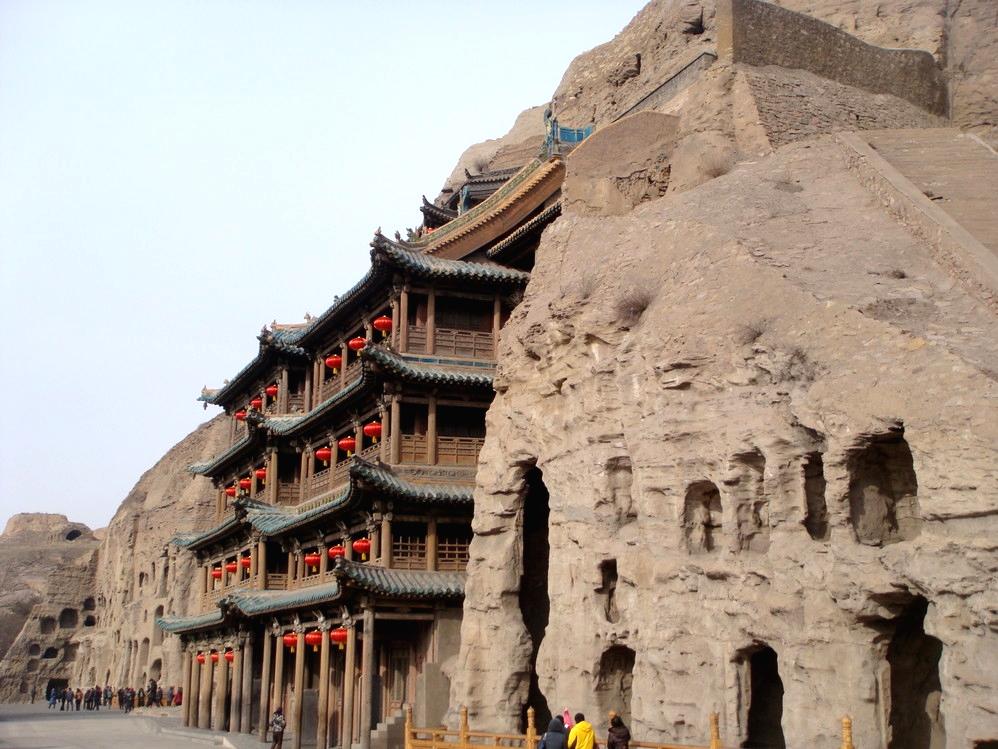 Yungang Grottoes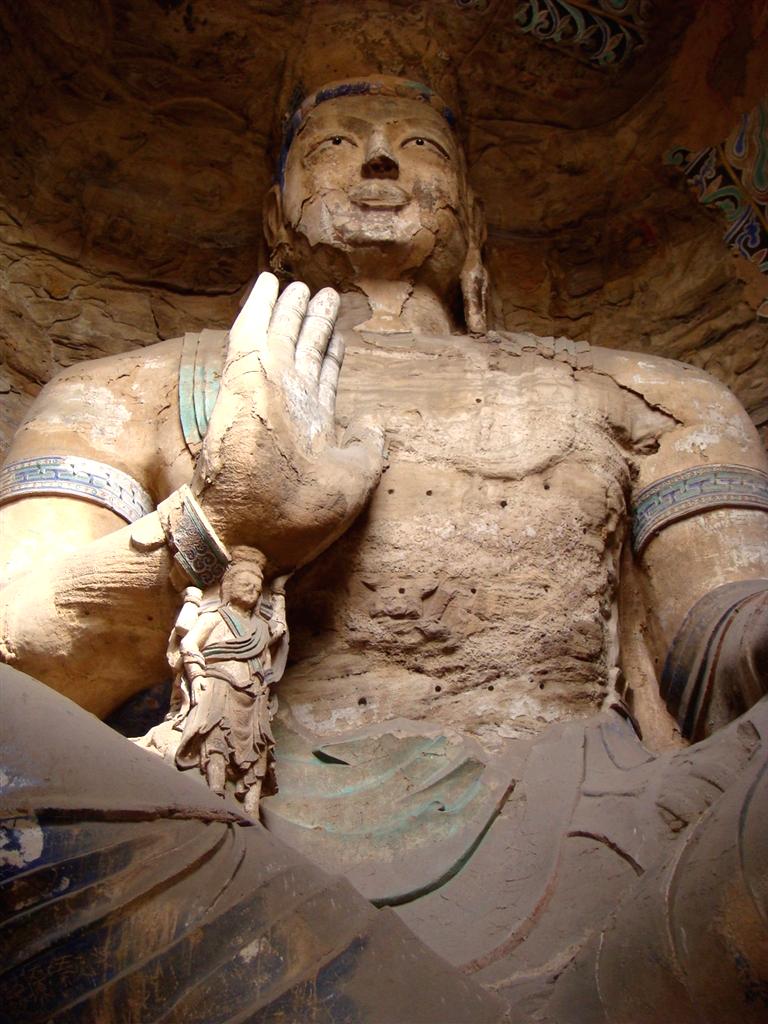 Big Buddha in Yungang Grottoes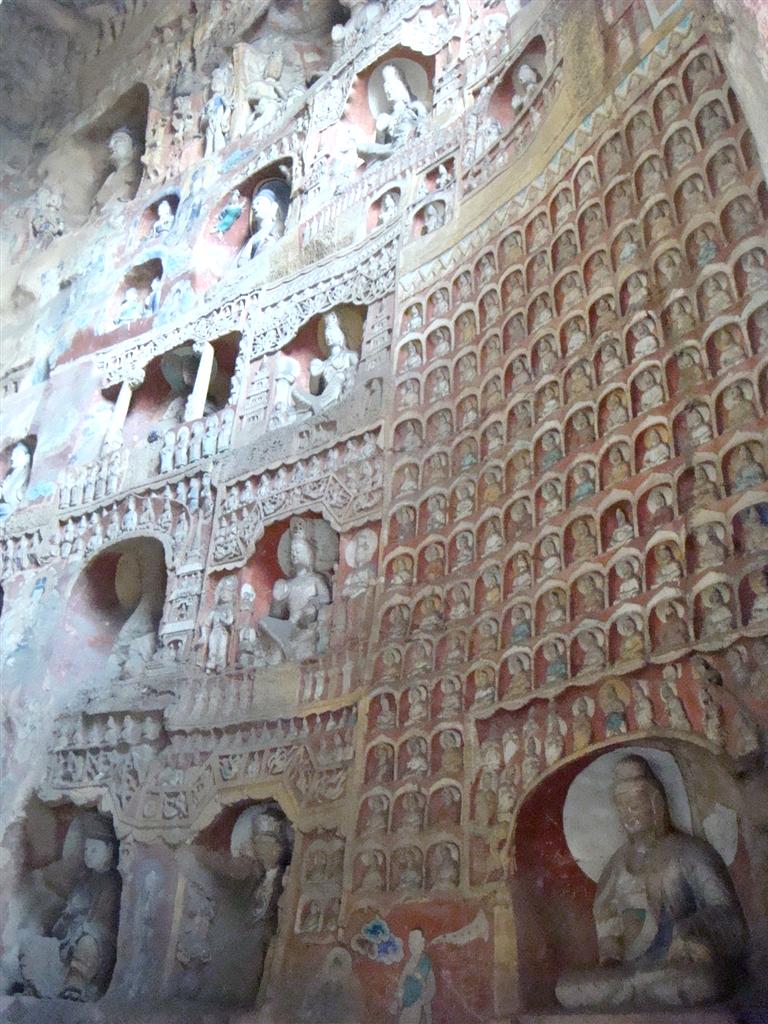 Thousands of Buddhas at Yungang Grottoes
The statues in the Yungang Grottoes looked so vivid and delicate. I couldn't imagine how they were made on the cliff.
I went to see the Nine-Dragon Screen after getting out of Yungang Grottoes. It was said to be the largest one in China. I didn't know if it was true. Except this one, there are two other nine-dragon screens. One is in the Forbidden City and the other is in the Beihai Park.
Nine-Dragon Screen
After visiting the Nine-Dragon Screen, I walked to the Shanhua Temple. It was a Buddhist temple built during the Liao Dynasty.
Day 6
I had no plan to visit the Huayan Temple because I already visited Shanhua Temple. They two were Buddhist temples and there were not many differences. However, it snowed today. So I wanted to how Huayan Temple looked like in the snow.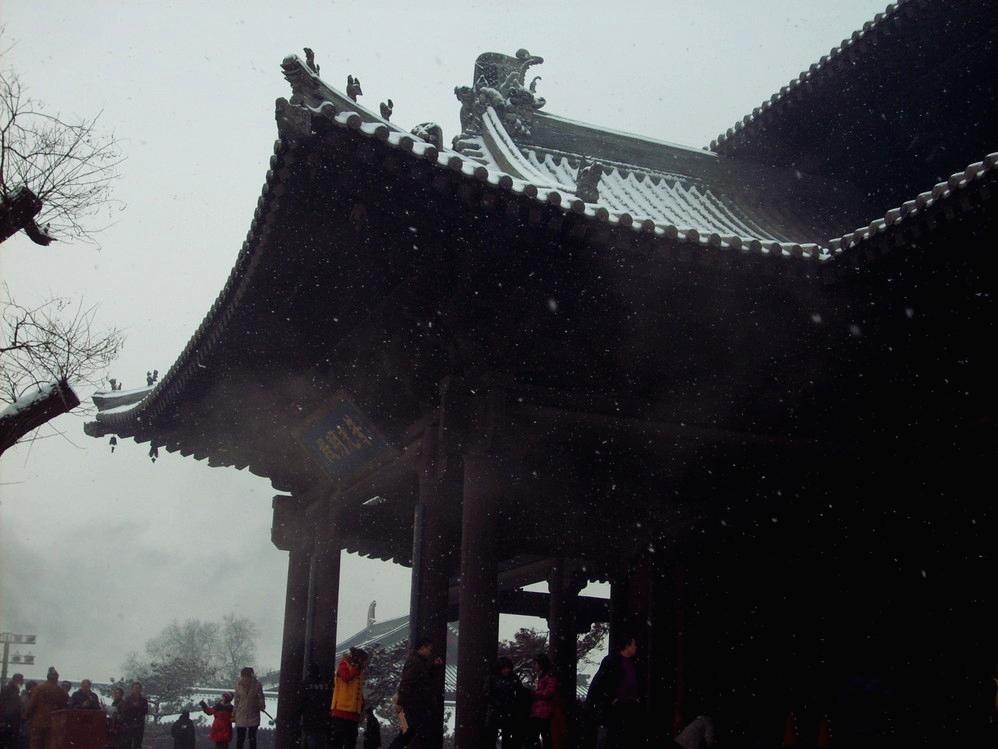 Huayan Temple
Spending about 1 hour in the Huayan Temple, I went out and headed for the Datong Railway Station. It's time to get back.
Farewell to Shanxi! I would come there again to see the Wooden Pagoda, Hukou Waterfalls and other attractions that I missed.