A Genuine Experience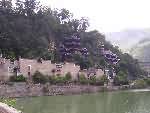 Zhenyuan is a genuine delight, an old garrison city with remnants of the city wall along the river and on the hills north of town. Situated on the Wuyang river it's a long narrow town with the older section nestled in the bend of the river with the Qing Long Dong on the steep slope on the opposite bank. This is a collection of Taoist and Buddhist pavilions, temples and grottos which is now the home of an interesting Minority Nationalities Architectural Museum. Access is across the picturesque Zhusheng Bridge at the far end of the old town.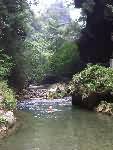 From Zhenyuan you can take a cruise on the Wuyang river through a very spectacular section of gorges and hike and swim for free (just the cost of transport) in a another small gorge called Tie Xi a few kms outside town. This is about an 8km walk from the rim of the gorge to the exit and follows the creek through the gorge all the way to the main entrance. About halfway there is a small sinkhole with a beautiful blue green lake fed by an underground river of clear cold water.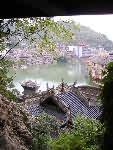 The residents of the old town still draw their drinking water from four ancient wells and the narrow walled allies of the old town hide many old quartyard homes and other buildings now being preserved or renovated. Most of the newer style building of the old town that line the riverbank are narrow frontage, three story stone buildings, the ground floor used for business and the upper floors for private use. All have intervening firewalls and tiled roofs and many have pretty gardens on balconies or rooftops.

More photos
Want to see more of Zhenyuan?
Why not take a tour of my photo series 'Genuine Zhenyuan'