Luoyang, Whatever the Reason
Getting Some Sleep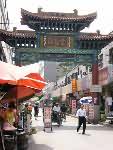 I was in Luoyang for all the wrong reasons.

Luoyang is supposed to attract visitors on several main counts. It's one of China's earliest capital cities, and was probably, at the time, the most civilised place in the world. It's home to an impressive collection of Buddhist cave sculptures. It is renowned all over China for its exquisite gardens carpeted in peony flowers. It's also probably the most convenient place to the Shaolin Temple, home of Kung Fu and a kind of Mecca for all enthusiasts of martial arts. With all that, there was plenty to fill in the days of any tourist's itinerary.

I was there for none of those reasons. To put it simply, I was in Luoyang to chill out. It was a hot summer, and I'd been travelling around the country a little too much. I'd just visited the Dazu grottoes and wasn't that interested in seeing any more crumbling statues of Buddhas for the time being. It was out of season for the peony blossoms, and the Shaolin Temple, at an entry price of at least 100 RMB, was temporarily out of my budget. So I figured I'd use up a couple of days in Luoyang to relax, sleep late, and try to stay out of the heatwave that was cooking Central China.

I arrived late in the evening after a long, sweaty bus ride, and tried to find a mid-priced room near the train station in a hotel that had been recommended to me by a friend who'd come in May to see the flowers. It turned out to be hard to locate anywhere specific, so I just walked along the streets in front of the station yard to see what I could find on my own. The touts were out in force, however, and I was tailed by a guy who was desperate to get me to book a day at Shaolin with him – he wouldn't drop the subject, but inadvertently helped me find a good place at the top of Jiefang Lu quite close to the station – there are several places here that seem good for the budget traveller.

He knocked on my door close to seven the next morning, ready to take me to Shaolin. I opened my door, wrapped in a blanket, and looked at him coldly. 'Hurry up! Almost time to go!' he said, happily. I apologised that he'd misunderstood, and informed him (again) that I had no intention of visiting the Shaolin Temple this trip. He made a few more comments about needing to move quickly, but soon gave up and left me in peace. My curtains were blackout, and I quickly fell back into a shallow sleep, only to be awoken again ten minutes later by the glorious chimes of the Luoyang Station clock. And then again an hour later by the same guy, with the same routine about needing to hurry for the trip to Shaolin.

It was clear that my lazy morning wasn't going as planned, so I decided to get up and take in some of the sights of the town anyway. Despite not initially having any intention of sightseeing, I was starting to get curious. After all, Luoyang is a pretty significant city historically. Earliest artefacts found in Luoyang date from 7,000 years ago, and it was established as the capital of China several times during the unstable dynastic turntable of the period from around 771 BC – 220 AD. Despite the heat, I figured it was too good an opportunity to lose to see a new town – so I got ready to wander around outside.
The Luoyang Vibe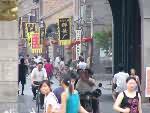 There really are some hardened salespeople around the station at Luoyang. Taxi drivers strongly insisted I take a ride with them to the cave grottoes at Longmen. They asked for anything between thirty and sixty yuan for a ride – I knew perfectly well that the number 81 bus from the station delivers you right there for one. I wasn't headed that way, anyway, and thought I'd take a walk down Jiefang Lu towards the famous peony park, Wangcheng Gongyuan.

Luoyang was far more modern than I'd imagined. It's strange that the development of the city now pretty much directly parallels that of the original Luoyang 3,000 years ago. Then a small town that grew rapidly as a direct result of trade along the Silk Road, Luoyang has again flourished as a consequence of trade and investment since the government decided to encourage its economic growth in 1950. I'd expected to find myself in a tiny tourist village, but instead found Luoyang to be every bit as modern as other major towns in the area. A flashy hairdresser's had some pictures of the resident barber snipping the fringes off some fairly famous people, so I decided to get my hair attended to, and subsequently received the worst haircut I've ever had in my life.

The heat was coming on strong once again, so I took the bus the rest of the way to the park. Wangcheng Park in full blossom is a delight, but sans fleurs, it's very ordinary and certainly not worth the 30 yuan entrance fee. Of much more interest is the museum of 3,000 year-old relics next to it, most of which were dug up whilst landscaping the park.

Sightseeing aside, the city was even more pleasant once the sun had gone down. In the evening warmth, Mudan Square in the central city was swarming with people. A stall in the middle was selling chilled coconuts with straws for sucking out the juice, and I sat at a table enjoying the energy of the locals out to shake off the laziness of a boiling hot day. There was dancing and hackysack, and a few excited youths circling the Square on their bikes.

I returned to the vicinity of the station for a meal – I thought I'd try the back streets for some cheap eats. Henan has a reputation as one of China's most crowded poorer provinces, and the back streets around the station is where that contrast between rural and city culture is felt the most. People from the countryside often sleep on the station forecourt to save accommodation money, and meals of plain rice, red bean porridge and egg pancakes can be bought on the roadside for a couple of yuan. They say it's not always clean, but it tastes good and I couldn't resist – besides, the atmosphere of Henanese railside avenues is always boisterous, hearty, and for a traveller, immensely attractive. I splurged on a big slice of watermelon – five yuan – to take back to my hotel room with me.

I slept quickly, and well – although I seemed to hear the clock every time it struck. It has a beautiful hollow sound, and I began to find it a soothing accompaniment to the pleasant mood I'd picked up during my stay thus far. Without the overly zealous Shaolin guide to wake me up, I slept well into the morning.
Old City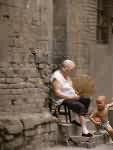 Sometimes when you're travelling, the compulsion to see all the things listed in the guidebook is a pressure that spoils the fun. I had one more day in Luoyang, and found myself sitting in my hotel room late in the morning looking at all the beautiful places to see around the city – enough to make a stay in Luoyang last a month. There were day trips to thirty temples listed on that map alone, and experience told me that there could well be a hundred more too small for inclusion in a broad area map. There were also some tantalising pictures of the Longmen carvings, stunningly detailed Buddhist stonework that I knew I could reach in half an hour if I got on the bus downstairs.

But it was my time off, and besides, I was starting to really enjoy the feeling of Luoyang itself – not as a tourist stop, but as a city in its own right. Even without the peonies, Luoyang has a fresh and attractive face that suits its dignity as a reborn ancient city. So I decided to forego all those pretty temples after all and head back into the city – this time, the Old City in the eastern suburbs.

It was well worth the effort. Past the great roundabout at East Zhongzhou Rd, easily recognisable by its dragon-inscribed pillar capped with an ancient bronze vessel (known as a 'ding') is a whole district of traditional-style Chinese homes. The architecture has been embellished and whole streets laid in clean dark marble where old stone stores sell mobile phones and DVDs. The authentic stuff is off the main roads, however, where it's not so spick & span, and the locals look as if they really do live in another century.

I explored those streets all afternoon, and then made the short walk down to the Luo River to watch the sunset. In the late evening, the broad river was thick and full, it seemed to be pregnant with prosperity, the same kind of blessing that Luoyang seems to be under all over town. I loved the city, quiet and laid-back, but with enough pace and energy to keep it from slipping into permanent museum mode like some of China's other ancient towns. Despite my insistence, this time, of avoiding the standard sightseeing requirements, I was more than satisfied with my stay. Perhaps I was in Luoyang for the right reasons after all.