Coal in the Snow - Winter in Shenyang
Behold the Winter Cometh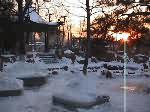 Anyone who waits out the cool, windy autumn weather in Shenyang can't wait for that first snow. As soon as the old, dusty streets are sheeted in fresh snowfall, everybody rushes out to take photographs: for a moment, the city takes on a thin mask of beauty.

Shenyang's not usually described as a beautiful place. For years it's been too blocky, too industrial, too coal-flecked. Even the purifying snows quickly acquire blushes of grime. Footprints, sooty tire-marks, chimney smoke, litter, churning mud, gritty walkways, all taint the white flakes with dark smudges. The welcoming smiles and delight of the locals quickly resume their stereotypical Northeastern resilient frowns. The snow means trouble: it hides the dirt but cleans nothing, it freezes into hazardous slicks, it clogs passages, and when it's swept away, it falls again fresh the next night.

This is the time when hours are stolen from days, it's often too cold to go out and night falls early. But Shenyang has always been thus, forced inside for long winters, a kind of social hibernation. The snow is an invader, like the Russians, the Japanese, who occupied the city for years and bent the locals to their will. The takers of Shenyang hold the entire Northeast: they control the railways and industry. In those crueler days, the locals obeyed as they had to, as they do now, beneath this falling snow.

But I love Shenyang: I have to, for any city that can persist and rise, as Shenyang has done, has the strongest of spirits and the mightiest of hearts. And rise it has, for as much as Shenyang has suffered, so much more has it fought to exist and become great. To see Shenyang now in the harsh winter cold, to see it bustle and prosper with muscles it has built from breaking its own chains, this is to be in the presence of a great city with a fierce passion for life.

Shenyang has to be the most misunderstood city in the country. For all its environmental drawbacks, both natural and man-made, it is a city that loves to live. Hear the strong, raucous accent of locals as they bellow heartily to each other in the streets, see them joke and bicker and throw back a beer and laugh unashamedly with bright red cheeks, coal black eyes, and broad, welcoming smiles.

Shenyang is, above all other things, uncompromisingly Chinese. If you've spent any time at all in big-city China, you'll find that getting under the skin and finding some kind of culture that is purely Chinese is almost impossible. But Shenyang is old – they recently celebrated their 2300th anniversary – and the culture is rock-hard. Unlike other major Chinese provincial capitals, Shenyang has resisted the trend to change into something less traditional – if anything, it's even more so. The family is still the cornerstone of society, and in the Spring Festival months, Shenyang is still host to those old sounds, old smells, old festive cheer and pure Chinese spirit. For a traveller looking to see somewhere in the winter that is both economically developed with all the usual conveniences and yet still strictly culturally China, then Shenyang is, quite simply, the place.
The Modern Shenyang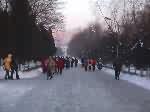 To give it some credit, these days Shenyang is a lot more attractive than it was in years before. In the period just after liberation, Shenyang came to typify the purely industrial cities of the Northeast. It was a bleak and uninspiring part of history, giving rise to row upon row of identical apartment complexes, stone-grey and imposing. Now, new construction has given many parts of the city a fresh look. Bo Xi Lai, the popular mayor considered responsible for the beautification of Dalian, spent a few years in Shenyang in charge of the whole of Liaoning province, and made a certain mark on the landscape before moving to Beijing to become Minister of Finance. These days, wandering through the municipal districts, it's amazing just how much the city has changed in recent years. Roads are swept and new, colourful high-rises line major streets.

If you are visiting Shenyang, the best place to start is probably the roundabout at Zhongshan Square. If you can walk across the road – the traffic whips around the circle fairly quickly – you'll be in Shenyang's major public gathering area – and in the shadow of the city's most well-known icon. This is none other than the giant statue of Mao, supported by a rising force of workers, soldiers and peasants. Perhaps the most interesting feature of the statue is that the red books held aloft by Mao's supporters have for the most part been chipped away by political dissidents – no-one seems to care enough to think to replace them.

It's a sign of the times: Shenyang was until recently one of the most politically hard-nosed centres in the North, and it showed in the architecture, culture, and every other facet of the city. Shenyang was heavily influenced by Soviet Russia right through the fifties – you can almost feel the presence of Stalin as you wander through the grounds of Liaoning University in the north of the city, built by the Russians in that period, huge soviet blocks adorned with central red stars – Shenyang was particularly loyal to the Party for their liberation after years of foreign control, and the Mao statue in Zhongshan Square is one of the most heavily embellished in the country. More recently, however, the hard-line days seem to have passed away, and Shenyang has joined the Eastern Chinese race for economic growth. The city is well situated at the heart of an industrially prosperous region, and international faces are becoming common here as foreign interests are returning to Shenyang for all the old reasons – but this time, they're prepared to pay for it.

Now, there is much to entertain the foreigner on cold winter days within walking distance of Zhongshan Square. Wander along to Taiyuan Jie, the main shopping district, for label-shopping at unbeatable value – especially if you're prepared to get into heated arguments about the price, which is the way business is done in Shenyang – with your whole heart thrown in. Not far away is the popular Mulligan's Irish bar, one of Shenyang's oldest expat watering holes, on the ground floor of the Holiday Inn on Nanjing North Street. It's an ideal place to spend a cold evening over a Guinness and listening to the live music.

Foodwise, Shenyang has a rich and multi-faceted culinary heritage. Being the original homeplace of the Manchu dynasty, Manchurian delicacies are commonplace. Hands-down the best Manchu style restaurant chain is the Da Qing Hua eatery, with locations all over Shenyang. Ostentatiously decorated, the restaurant offers dishes that were once the favourites of the Emperors, from heavily smoked tofu that tastes as strong as cigarettes (not usually popular with foreigners) to an unmissable dessert called 'Basi Yunai' – a taro dish braised in toffeed caramel.

Shenyang has a huge Korean population, and Korean Barbecue can be found almost everywhere in the city, at very low prices. In winter, roasting thick chunks of meats and sweet potato over an open coal block set into your table is a thoroughly pleasant way to kick off the cold.

Beyond that, there are representative foods from throughout China – Hui Muslim food enjoys a strong presence, as does that forbidden dish so much wondered about by Westerners – dog hotpot. Only for those curious enough to put their social conditioning aside for the duration of one, perhaps delicious, meal…
The Great Outdoors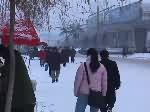 Shenyang experiences a fairly heavy winter, which means that outdoor activities in the snow are an easy distance away. There are several big parks throughout Shenyang which turn into winter wonderlands over the cold months – Beiling park in the North and Nanhu park in the central city are delightful in the snow, and the frozen waterways mean ice-skating is very popular. For a few yuan you can hire a pair of skates and take to the ice – and if you're uncertain on your feet, they'll even provide an old chair to balance yourself on. Hairy ponies are always around for a breathy ride through the crisp snow, and there are usually snow machines around at certain locations to help nature out in creating large mounds of snow upon which to slide down on small sleds.

If you're a bit more serious, you might want to try skiing – less than 20Km from the city is a very well-constructed resort where for less than 100RMB you can hire all the equipment you need to send yourself hurtling down the 900 metre long slope. Huishan is set in a heavily forested scenic area, where aside from the skiing you can explore caves, admire the mountains and investigate a traditional Manchu village. The resort is an ideal place to enjoy the natural savage beauty of the Chinese Northeast in the snow and still relax in a well-catered facility with challenging outdoor activities.

Something about Shenyang on clear winter evenings makes it seem a great place to be, despite all that's said about the bitter cold and rough, noisy folkspeople. Watching them all puffing their way along the city streets, all rolled up in thick long coats and sweaters and triple layers of pants like fat bears, I had to admit the deepest of liking for them all. The streets look fantastic, every tree has a string of lights around it, the roads are clear and smooth in ice. The locals skid across sheets of polished ice like kids, laughing bronze faces, the snow alighting on hot pink smiling cheeks, fluffy white ear muffs, the reflection of a bright apple-red lantern swimming over a kohl-black iris.