Walking in Mid-Land---Part 3
The way to Shaolin Temple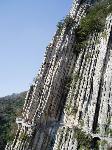 I got up earlier, and went to the Kaifeng Coach station, took the first bus to Zhengzhou, and then went to Shaolin Temple. The bus was on time, and after 1.5 hour, I arrived the jumbled Zhengzhou. I had my breakfast in California Beef Noodles, and then got on my bus to Shaolin Temple. It cost 18RMB and 1.5 hours.

The scenery was beautiful at the two sides of the road. The highway was good, and the bus was also good. I though about some Gongfu movies in my mind, and how Shaolin Temple looks like? Does there monks can fly on the wall? What's about their life?

I arrived the city Dengfeng on 10:30, and went to my hotel that has booked. It is a government hotel, a bit expensive. But it isn't good and comfortable, just so so. I bought a map from the hotel, the city was so small, I decided to walk and view around it in one hour.

After lunch, I planned to go to Shaolin Temple. I don't want to take a bus to there directly, and I really want to go there by climbing up Shaoshi Mountain like knight-errants. If you take a bus from the city Dengfeng, it cost 2RMB, half an hour. I took a taxi about 20RMB to the foot of Shaoshi Mountain. She was a nice driver, and talked many stories to me. After half an hour, I arrived the mountain. It was too hot on that day, and I only took two bottles of water. The ticket was 30RMB, the man who worked in the ticket office told me, it would take more than 4 hours from the foot to Shaolin Temple. Oh, my god! I had to walk 4 or 5 hours on the mountain, OK!

From the beginning, my first step was terrible. There are many steps in front of me. If there were all the steps on the mountain, I can't image and believe that I can walk to the end. A traveler who went to downstairs told me it would one hour trip like these steps, and then, about the hill road, and the scenery was very beautiful. It is a good news for me, I only need to stick to one hour. Then, I climbed fast at first, and it was still hot in the afternoon, I drunk one bottle of water in one hour. The tourists were less, and I felt very comfortable, though I went to upstairs. After one hour, I haven't seen the end of the steps. Oh, the man cheated me!!! My speed wasn't slow, maybe he just encouraged me. How long??? I don't know! Luckily, the landscape was very nice.

After half an hour, I started a new road, there was no steps! I am so happy, and so tired. Just wanted to have a rest. I sat on a stone seat and drunk my last water. A western faced to me, we said "hello" to each other. The boy was so cool, he dressed on a knight-errant's cloth, and wore a pair of monk's shoes, a sword on his back…….
"You are so cool, I like your style!" I said to him admiringly.
"Where are you come from?" He asked me. Usually, we asked the question first.
"Beijing, and you?"
"Germany, and I studied Chinese in Guilin" he answered!
"Beautiful city, maybe we can talk in chinese", I was worried my English.
"Of course!"
We chatted with each other in chinese, It is really very happy to speak Chinese with foreigners. He lived in a hostel was near Shaolin Temple. He said he loved Chinese culture, history and Shaolin Gongfu. But he can't play it.
"Do you hungry?" He asked me.
"A little!"
He gave me two eggs, "Thanks a lot, you have saved me." I smiled to him.
After 1.5 hours climbing, I really felt tired and hungry, and eggs were special delicious at that time.
"How long can I arrive Shaolin Temple?" I asked him.
"I think you can arrive there before 5 o'clock, about 3.5 hours!"
"Oh, my god!" I was worried about it, whether I can arrive Shaolin or not in the evening.
"Hi, buddy! Please don't worry! The scenery was beautiful, enjoy it!" He smiled and don't like a german in my mind.
"Thanks! I think I have to go!" I stood up and said goodbye him.
"Wait, guy! Please take this apple!" He gave me a big apple.
"Thanks! Maybe welcome to Beijing! Good luck and happy in Shaolin", I started my trip again.

He was right! The scenery was so beautiful, and I felt the mountain was changed all the time, because of the geological movement, you can see many kinds of stones and crags. There was a big ropeway bridge in this mountain. Amazing!!! I took some photos, and got help from the others.

After 2.5 hours, I arrive the cable station. It cost 60RMB. I didn't want to take the cable, it was only 1 hour left, I was close to succeed in going to Shaolin on foot. Come on! I encouraged myself, and I can see the Pagodas Forests and Shaolin Temple from the mountain. Great!
"Love" from Shaolin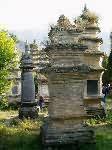 I arrived Shaolin Temple nearly five o'clock in the afternoon, there were still many tourists. I wasn't very hungry because of the big apple that the german boy gave to me. Because of my way to Shaolin Temple, I arrived the back of this temple first.

So I visited Forest of Dagobas firstly. QUOTE:"About 300m or so west of the Shaolin Temple lies an open space mushroomed with over 200 stone memorials--the Forest of Dagobas. This area is a graveyard for accomplished monks and abbots from the eighth century to the nineteenth, covering a total area of more than 14,000 square meters.

The dagobas vary greatly in size, height, age and in their cross section (square, rectangular, hexangular, octagonal and circular), and these factors are a distinct sign of the hierarchical ranking of their respective occupants. The ages of the dagobas date from 791 AD to 1995 and they are sized variously from two to seven levels high. The bodies of all the dagobas bear different Buddhist patterns and inscriptions carved to depict briefly the life of the occupants, and it is these that have drawn numerous Buddhist scholars here each year.

For laymen, the best time to come is during the sunset, when the dagobas bask in crimson , light, or when the monk students from the monastery come here to practice gongfu in their orange robes."

I walked around these dagobas, and everyone was different from the others. It was too tired for me to climb up the mountain, I just sat at the side of one dagoba which belongs a young monk only 24 years old. I had taken many photo of this area, and just wanted to take a picture with the dagoba. It was a shortcoming of traveling alone, you have to ask for help from the others. I saw a western girl sat in front of me, at side of another dagoba.
"Excuse, can you take a picture for me?" I asked her with civility.
"Of course!" She answered spur of the moment.
We took pictures for each other, she was also traveled alone.
"Where are you come from?" this question seems to be asked so frequently when we met a foreigner.
"Germany!" She smiled.
Oh, my god! German! The second german I met. I told her about the german boy I met in the afternoon.
"Really? German is coming" she laughed.
It sounds "Wolf is coming"!
"Do you study or work or just travel in China?" the second frequent question to be asked.
"I studied in Xi'an about three months".
"Good, Xi'an is a nice city! I haven't been to there! I hope I can go there in some day!"
"Yes, it is an amazing city, but a bit dirty for me" she looks boring.
"And you? Where are you come from?" she pumped.
"Beijing, have you been to there?"
"No, but I will go there after this holiday " she expected.
"Good, it is a nice city, welcome!"
"And what is your next destination?" She asked me.
"I will go to climb Song Mountain tomorrow, and visit Songyang College, then I will go to Luoyang." I told to her about my plan.
"Really? I also go to Luoyang tomorrow, and can we travel together?" She surprised.
"Of course!" of course I agree. It is so good for me, because I can't order so much food alone, I had no chance to chat with somebody. It is really good that I had a travel partner at this time. I haven't spoken for three days.
"Where will you meet? And what's the time?" She looked also excited.
"I lived in the downtown, and you?"
"My hotel was near Shaolin Temple."
"Can you tell me your cell phone number?"
"Sorry, my cell phone was stolen in Zhengzhou Railway Station" she cried.
Abhorrent Henanren!!! I hated them at that moment.
"Emmm, can you tell me your hotel and room number?"
"I don't remember it, but you can see it when you return the downtown." She anwered.
OK! She told me about the hotel's name, the room number, her name, and wrote down on my notebook. I told my name to her.
"OK! I will call you in the night, and tell you the place and time."
"Good, please call me after 9 o'clock!" she smiled.
"OK! I have to visit Shaolin Temple, have you seen it? "
"Yes! Good luck to you!"
I said goodbye to her, and was so happy to have a partner, Sabine, a german girl with golden hair.

Because I didn't come into to Shaolin Area from the main entrance, and I looked for the office ticket. But I can't find it. I saw a monk stood at the gate, and asked him: "Da Shi, where can I buy the ticket?"
"Put 10 Yuan into this case" he told me smiled and direct the case to me.
It is a case named "merits and virtues case", and there were much money in it.
"Who will get the money?" I was dizzy.
"Buddha!"
"Buddha? And, but, and what can I get?" I was so giddy.
"Hi, guy, you can come into the temple" He smiled cutely.
Really? I was so excited that I only paid 10 Yuan for Shaolin Temple.
Modern Shaolin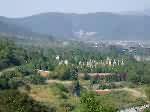 Shaolin Temple wasn't big as my imagining. It was small, and had no unique facets. QUOTE:"The Monastery was built in 495 AD, on the Shaoshi Peak from whence it took its name. Many legends ascribe different stories to the founding of the ancient site, but the Chinese follow the story that it was built by Emperor Xiawen of the Northern Wei Dynasty to accommodate an eminent Indian monk, Bodhidharma, alleged founder of the Chan sect of Buddhism. In later years, another accomplished monk, and a disciple of the 29th generation of Sakimonia, made a long trek, via the capital in Nanjing, to preach here, thus securing the monastery as a cradle of Chan Buddhism, as well as Mecca for believers.

It is said that Gongfu was created because the monks of the monastery had little to do beyond long spells in contemplation of the meaning of life and the universe. To relieve themselves of the great monotony of daily life, the monks imitated the movements of various different animals, gradually developing this imitation into a unique martial art. Thus was formed the first ever Chinese monk army, that was to give the monastery both fame and misfortune for many years. Shaolin became well known as a righteous brotherhood, that often meddled with "earthly matters", normally uprisings, always siding with the just, weak or poor. Despite the monks fighting prowess the monastery was destroyed many times over the years.

Today much of the Gongfu is known in the west accredits its origins in this small mountainous region of China. Unfortunately nowadays much of the spiritual side of the Shaolin art has been lost, as the monastery aspires to life in a modern, money making society. Pilgrims who come here may be disappointed by what they find: those paying the monastery a visit, will discover that the local folks depend heavily on the monastery for a living - the route that goes uphill are lines with numerous stalls selling local snack food, ice-creams and shoddy souvenirs. Thousands of students, mainly local, come here after quitting school, to enroll in the Gongfu academy.

The Grand Hall is the centerpiece of the entire monastery proper, which has undergone several renovations, the latest being in 1986. In the midst of the hall is the venerable statue of Sakyamuni,above which is the imperial calligraphy written by Emperor Kangxi of the Qing Dynasty . On both sides of the Grand Hall are two towers, the Bell Tower and the Drum Tower, the former striking at 5am and the latter at 5pm, signaling the beginning and the conclusion of daily life. The Thousand Buddha Hall is the largest one in the monastery, which houses a big Buddhist figure in the center and colorful murals bearing the 500 Arhats on the eastern, western and northern walls. What truly fascinates visitors most are the 48 deep depressed footprints, which are said to have been left by the monks practising Gongfu.

The monastery still boasts a sizable collection of cultural relics, including over 400 pieces of stone carvings from the Northern Qi Dynasty, more than 250 dagobas dated back as far as the Tang Dynasty and 500 murals painted in the Ming Dynasty……"

Another important part of Shaolin Monastery is Library(Ceng Jing Ge), I tried to find some books of Gongfu, like Da Li Jin Gang Zhi, Jin Zhong Zhao and Tie Bu Sha……Sorry, I can't write them in English. But there was no books, where is Shaolin 72 kinds of unique Gongfu???

And now, Shaolin Monastery was modern. There were air condition, refrigeratory, TV, even notebook computer, and the monks used mobile phone……There were a lot of Gongfu schools around Shaolin. So many kids studied Gongfu in here. Does someone of them becaom Jack Chen or Li Lianjie??? I don't know!

When I was waiting for the performance of Gongfu in a line, and the teller asked the first man:"Do they all the same tourist group?"
"Yes! " the first man didn't see the end of the line. Yes, it meant that I was free to watch the performance.How lucky am I toady! I only paid 10 Yuan for the monastery, and free for the performance! The performance was amazing!!! These monks were so young, and they were all very powerful and showed many kinds of Gongfu for us. How hard they are!!! How excellent they are!!!

It was sunset, the mountain was very beautiful in the late light, especially the For Dagobas. There were many foreigners in this area, I have seen some foreigners' names on some Dagobas. They are all the students of Shaolin. The monastery was at side of a river, there were some other places for visiting, like Damo Cave. But I had no time, I had to find Sabine's hotel and return Dengfeng.


More
Henan Travel Reviews