Quietly Summer---Part3
The day on the way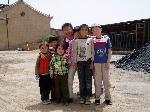 We got up at 7 o'clock, and got on a train at 8:01, haha, the time was so exactly. Our trip was from Zhongwei to Zhongning, and then to Tongxin, visited Xumi Mt., arrived the city Guyuan in the night. We hoped so, it was a long trip for a day.

The train was cheap and poor, the green one. We only took less than one hour, and reached the small city named Zhongning, and then took a taxi to a big medlar market. We were popular in there, in fact, not me! Lomencactus was the most popular person in there, and many persons chatted with her, and I only can buy some medlar myself.

We didn't go to the other places in there, and got on a bus to the town Tongxin. We found that most of the persons in the bus were Hui or Muslim, the men with white hat. The road was so bad, and it was bumpy, we can't sleep! From Zhongning to Tongxin, more than one hour.

Tongxin is a special town in China, and nearly all the persons in there were muslim, so you can see many mosques in the town, of course, we also saw many kinds of mosques during the trip. Though a village was poor, the mosque was luxury. I think this is their belief.

We went to the biggest mosque in there, and the style of architecture was Chinese, like some Chinese temples. There was no ticket office, but we also paied 10yuan to an imam. The mosque was more than 600 years old, and there were still beautiful pictures on the wall. I discussed about religions with an imam, and got a deeply understanding in muslim.

A muslim took a picture with LC and his motorcycle, and we also took a picture with some cute children in there. And then paid five mao for a dirty WC, got on our bus to Xumi Mt.
Red Xumi Mt.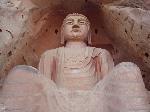 It was a long distance from Tongxin to Xumi Mt, and we had to arrive Sanying first. The bus was well, and I chatted with a women, our topic was still muslim and Mekka. Lemoncactus talked with the two girls ahead of her, and sung songs to them.

We arrived Sanying finally, and took a small and poor bus to Xumi Mt, and there were 7 persons in the small bus, and very crowded. A cute boy slept back to LC. The road was repairing, and very bumpy. I can't stand it. The driver told us, today is the temple fair, and all the persons went to Xumi Mt The most excited thing is the ticket only 3yuan today. LOL~~~~~~

We met a traffic jam on the road, in the mountain area, in small villages. Trucks, tractors, bikes, autobikes, taxis……All kinds of vehicle were together at that time. We spent a happy and painful time on the road, and arrived Xumi Mt nearly five o'clock in the afternoon.

The tourists weren't so much now, because they all returned. Xumi Mt was a red one, not very high, but beautiful enough. I can't climb because my legs were with pain. In fact, I climbed again with LC's encouragement. We walked in the mountain, and enjoyed the soft wind, beautiful pinetrees with us……

There were more than 40 Buddha caves in the mountain, and the biggest one was 20m height. The happiest thing for LC was taken photos with Chinese soldiers. We spent more much time in there, and stood on the top of the mountain. When we got on a bus to the city Guyuan, no jam now!

We arrived Guyuan nearly 8 o'clock, and found a hotel at once. The hotel was luxury for us, but it was cheap. We loved it very much. After a whole bumpy day, we need eat more tonight.

It was our last period in Ningxia, and we ate so much mutton and beef all the days, and we'd like to eat some pork or chicken. So when went to a Han Restaurant near our hotel, and asked for three plentiful dishes with Xixia Beer. We were too hungry to chat during the supper, and you can only hear our chawing sounds, very discomposure!!!

We had a nice time after our supper, and looked someone dancing in a park! The two tired travelers can't do anything now, only wanted to sleep. I just heard a news that some travelers were lost in the desert near Tenggeri, and one girl was dead. That was so luck we didn't thru the desert, thanks God!
Memorable Nanmen Coach Station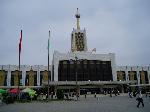 We need to return Yinchuan and get our train tickets for Beijing today. My friend helped us to buy the tickets, in fact, we were very lucky during our whole traveling.

We took some pictures of the city, and went to the coach station. But when we bought the tickets from Guyuan to Yinchuan, I need to pay 70yuan, but LC had to pay 140yuan, only because she is a foreigner. Why??? We had an aboil dispute with the leader of the coach station. He can't explain it clearly to us, but he can change a ticket for LC. OK! It was enough for us. It was the only sad episode during our perfect trip this time.

It was 3.5 hours from Guyuan to Yinchuan by highway. It was a luxury bus, and very fast. We can sleep well in it, and I just answered a call from the train tickets helper, and he said their was only one hardsleeper ticket. Oh, my god! I thought God punished me, because I got angry very easy when we quarreled with the coach station leader, even I didn't give him a chance to explain. God said in the bible: Don't be angry easily. I decided to buy the one ticket for LC, because she had to arrive Benxi in the 8th. Then, I prayed to my god, strangely, I came into my dream. Even, I didn't hear the ringing of my cellphone. Oh, the helper's! I called them, and he told me there were two tickets! Oh, Thanks God! You still love me. We arrived Yinchuan in the noon, but I lost my canteen in the bus. Badly, the bus leaved the station very fast, and we took a taxi to find them, but failed. Luckily, I called their company and found them at last, and then got it before 4 o'clock in the afternoon. In fact we went to the coach station many times, so we had deep impress of it.

We got our train tickets, and then had our last lunch in Guoqiang Shouzhua in Ningxia. So delicious food we ordered, very hot! But we had Xixi Beer, it was OK! Then we went to the coach station after our lunch, and got my canteen from the driver.

That's all! We had to leave for Beijing, and we spent a wonderful holiday in Ningxia. At last, we had sunburn in the desert. From the north to south in Ningxia, the mountain from blue to red, and our skin turn to black, but the yellow river was still yellow.

For the title, Quietly means Ningjing de in Chinese, and Summer means Xiatian. The whole one is Ningxia.