One day in Chongqing
Chongqing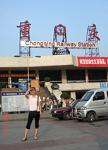 In order to catch my Yangtze river cruise ship, I took an overnight train from Xi'an to Chongqing on 20th Jul.. I Arrived there at eight o'clock the next morning,

I was quite excited being in another city when I opened my eyes.

As a city surrounded by mountains, Chongqing has a significant geographical feature,

I was surprised at the first sight when seeing the traffic. The roads were gradient and circuitous, I could not distinguish the direction after turning a few crossroads.

My first destination is the Jiefangbei area, where there are some decent shopping malls.Jiefangbei is the most prosperous shopping area in Chongqing. Window shopping can also bring me a lot of fun and it took me two hours to explore all the shops there,

After I finished my lunch in a descent restaurant on the fifth floor of a shopping mall, I headed for Ciqikou, the famous ancient street.

It's ancient style architecture made it a famous tourist place,

I met a lot of foreigners there, but what attracted me the most was the local specialty products, There are quite a few fried twist bread shops there, looks very delicious. I bought some Zhangfei brand beef jerky for my friends, though it is a little expensive, it was worth the money. It's a pity that I did not try Chongqing hotpot that day, because it was very hot at noon and I could not eat anything,I could only drink water.

As one of the three hot stoves in China, Wuhan city and Nanjing city are the other two hot stoves in China. Chongqing matches the reality exactly. Fortunately, a small bamboo hut at the end of Ciqikou brought a gentle breeze and coolled me,
Sitting at the side of the street, I enviously watched the residents who were drinking tea and chatting there.Their lives should be easy and free, because they live in such a wonderful place where tourists are heading for.

The vendors add more flavor and spice to this Porcelain Village. Some tea houses have a folk opera show, and some performers play ancient Chinese musical instruments at their shops,

Fluting can be heard every now and then. It is a kind of enjoyment to taste the different flavor here.

Chongging is a city that not only has hot-pot, beautiful girls, a Yangtze River branch, but it is also famous for its historic culture.

One day was too short for me to explore the whole city ,but I have no regrets,
It was good that I came here, and I left some interesting places for my next visit. I hope I could come back there one day when the weather is not that hot.