3 out of 4
Moon Festival and major crowds!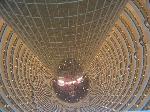 Ok, so after years of trying we finally made it to Shanghai, yes 4 years after arriving here...finally...Nanjing Lu and ..
"Hello, wanna buy a watch?"
It was golden week after all. I have to say, personally I could easily live in Shanghai, it's got everything but then again so has every major world city, so it's kinda silly to come here to experience the 'real China'..don't you think?

Now the trip to Wuzhen, that wasn't crowded, it was jam packed solid, but even so, very interesting. The small river based community, still using the waterways for most daily chores, washing birds cages, washing clothes, mopping the house etc. Obviously, the way of life has changed, I'm sure there weren't quite as many stall holders or boat taxi's around, but these traditional skills are often forgotten by the young, (just look at how old languages are lost in SW England for example) and if tourism keeps the skills alive then surely it's good news for future generations!

Oh, bus tickets are from Shanghai Stadium off Cao Xi Bei Lu (Shanghai Stadium on the Metro) road and were 140 pp including entrance to Wuzhen, (OCT 2006). We left at 0900 and our bus took 1:45 to reach Wuzhen. We departed at 1600 and were back at the stadium at 1730hrs.

JINMAO...
Talking of tickets, if you don't want to catch the 5 jiao ferry across the Huang Pu River to the Jinmao Tower, you can pay 60 pp for an air-con ferry, which includes tower entrance and even a free shuttle bus for the 5 minute journey to the tower from the landing site. Although this only leaves when full, so it's better to walk the 10 minutes yourself.
Entry is actually down the left side of the tower building and if it's busy expect a 30 minute wait in the queue once in the basement, then it's up to the top observation deck some 340m up on the 88th floor, (there's another 80 m but it's not open to us) Oh and don't wear sandals boys the guards don't like it and can refuse you .

Walk back towards the Pearl Tower and you'll see the Metro, just 4 yuan pp for a drink at Xi tian di but remember to change at People's Square!

Final tip, YHA hostel, beside The Marriot on Jiang Yin Rd and only 5 mins from The Grand Theatre. It's about 10 mins from the top of Nanjing Lu and the name...EASY TOUR HOSTEL, (Mingtown Etour Hostel) there's a lot of chinese, many can be a little noisy, (my Lao puer is Chinese and even she was annoyed by some behaviour) expect slammed doors at 3 am and loud TV's and louder dinner times, but overall most are great,.... facilities include free internet, laundry room, kitchen, breakfast bar, pool table,and all for 50pppn, or 150 for double rooms, it's great value for Shanghai. Friendly , friendly staff!

Fireworks for this week were nightly at Central Park, NZ even sent a musical display this year!

3 out of 4?...Next the CN Tower!
Tussauds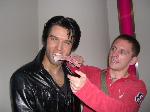 Just at the top end of Nanjing Lu, you know the place, near People's Square Metro entrance and Taco Bell, you'll find the newest installment of Madame Tussauds.

It's a bit dear, for the two of us it was 190 RMB with a 'free' souvenir brochure thrown in.

It's on the 10th floor of the department store, so get a lift, ours refused to go higher than the 8th floor but at least we got to see the amusements and video games on the 9th floor, there's also a skating rink on the 6th by the way.

Not that busy, (maybe the steep entrance prices) but still enough to ensure plenty of walkby camera shots and flash dodging, it's all part of the fun really. :)

Most models were very lifelike, particularly Einstein, (short) Tiger Woods, Clinton, (tall) and Tom, (check the album). Chinese stars include Ge You,(actor), Lu Xiang, (athlete), Yao Ming,(Basketball), Guo Jing Jing, (diver) Li Xiao Shuang, (gymnast) and Zhang Bo Zhi, (singer/actress).

It's unfortunately not the biggest place but we sure had fun posing with Li Xiao Long, (that's Mr. Bruce Lee to you) and even had Elvis checking for fake 100 RMB bills!
Overall, if you've never been to London or any other Tussauds, it's a great way to relax, have some fun and get those cheesy smiles working.