<A> A Journey to the Roof of the World
The dream begins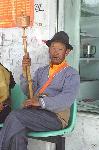 Like many people I have often dreamed of making a trip to the mystical land of Tibet located on the world's highest plateau with altitudes averaging around 3,600 meters. As this dream became reality, I began to make preparations for my journey into a land of fierce natural beauty, where the climate is harsh and altitude sickness remains an ever-present threat. Yet here, in this remote corner of the earth where most aspects of daily life are dominated by Buddhism, I found an infinitely picturesque landscape and a unique race of people which captured my imagination.

Tibet is a place where majestic mountains stretch to record-breaking heights and visitors will most likely encounter a few of hurdles or unexpected obstacles sometime during their stay since the infrastructure for tourism and public transportation is still being developed. I found that the first challenge is obtaining the necessary entry permit which must be arranged through an authorized travel agency specializing in travel to Tibet. Choosing Chengdu in China's Sichuan Province as my departure point, I located several travel agents in the city who offered various package deals for airfare, lodging, permits and tour arrangements. Preferring the flexibility of independent travel, the agents were able to issue me the necessary entry permit without having to formally join a structured tour group. One relatively new travel option is to journey on the Qinghai-Tibet railroad, the highest railway in the world. With 960 kilometers of tracks located above 4,000 meters and 550 of those kilometers running across permanently frozen land, passengers can catch magnificent glimpses of open stretches of land that were formerly only seen by secluded mountain nomads. As attractive as this option is, with only a limited amount of time for my holiday I chose to go by air and enjoyed looking down on the silver world of endless snow-capped peaks from the plane window. Arriving at the Lhasa Gonggar airport 95 kilometers southwest of Lhasa, I boarded one of the airport buses for the final hour leg into the city.

Exploring Lhasa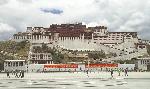 At 3700 meters above sea level, Lhasa sits on a plateau surrounded by rocky mountain ridges which spread out in all directions. The name Lhasa means "land of the gods" and the city holds a position of honor for Buddhist believers as one of the holiest places within Tibet. Villagers from hundreds of miles away make their pilgrimage each year to visit the holy shrines, some even crawling on their bellies to pay homage to the gods. Though many different monasteries and temples can be seen throughout the city and the surrounding area, they are all dwarfed in comparison to the awe-inspiring Potala Palace. With its white walls and golden roof silhouetted against a backdrop of mountains and blue sky, this palace dominates the entire landscape and stands as a lasting symbol of the grandeur that Tibet once had. A wonderful memory that lingers in my mind is the time I spent quietly sitting in a park directly across from the palace eating lunch and looking at its impressive beauty seen in the reflection of a small lake, and highlighted by constantly changing white billowy clouds.

The Potala Palace is one of the most famous architectural buildings in the world, constructed by the Fifth Dalai Lama who was a military and religious leader from 1617 to 1682. History credits this man with uniting the Tibetans as a sovereign people and establishing the palace as his seat of government. Somewhat resembling a heavenly castle, the palace structure incorporates two distinct grand palaces designed to accommodate the dual role of the Dalai Lama as both a religious and political leader. Within the complex there are more than 1,000 rooms and visitors are allowed to walk through different sections of both palaces. The number of daily guests is carefully monitored and advance reservations are required during the scheduled visiting times. Despite this minor inconvenience and the relatively high price of admission, I found the palace an amazing structure and well-worth the entry cost. The White Palace was established for overseeing political matters and served as the personal residence of the Dalai Lamas when they were ruling Tibet. The Red Palace, set aside for religious matters, is awe-inspiring in its grandeur and contains the remains of eight past Dalai Lamas who now rest in elegant gold stupas inlaid with diamonds, pearls, agates and coral. Also visible is the famous "Wheel of Time", an exquisite 200,000 pearl mandala made of coral, turquoise and gold. Many other priceless treasures are on display within the palace walls including rare hand-written Buddhist scriptures from past centuries. I was particularly captivated watching the devout pilgrims as they passed from room to room placing yak butter in the incense burners while pausing to pray earnestly in front of the statues.

Heartfelt religious devotion and colorful architecture are not confined to the Potala Palace. Jokhang Temple located closer to the center of Lhasa is considered by many to be the spiritual heart of Tibet and is particularly fascinating for its intricate artwork. Walking through this temple the air is permeated by the scent of the yak butter lamps which illuminate the corridors. Just outside the temple in busy Barkhor Square I watched monks momentarily pause their clockwise route around the temple to bargain for prayer beads with the local vendors. In this bustling market there are all kinds of temple accessories for sale such as Tibetan prayer wheels, flags, and leather padding for your knees and elbows. It is definitely worth spending half a day exploring this central area of Lhasa and trying your hand at bartering with the salesmen while pilgrims wander by spinning their prayer wheels and muttering continual mantras.

While walking around the city I observed that the Tibetan people have a distinctive look from other Chinese people, probably due to their harsh environment and lifestyle. Very evident on many adults are the deep lines and thick skin protected under their colorful traditional clothing. Fiercely proud of their heritage despite a turbulent history most Tibetans support themselves through agriculture, nomadic herding or some form of commerce. Their staple food is roasted barley flour which is mixed with tea to form a firm but tasty dough. The people also eat yak meat as an essential part of their diet and drink yak butter tea which takes the place of western coffee. Elsewhere in the city the square buildings and balconies of stone give Lhasa a solid, clean and colorful look. For visitors interested in learning more about the culture of the people, the Tibet Museum in the southeast corner of the city was established in 1999 and contains many artifacts representative of the local Tibetan ethnical traditions. It is a pleasant museum to visit holding some interesting cultural relics and unique musical instruments as well as many Buddhist ritual articles.

Beyond the city
Of course I could have spent many days visiting all the different monasteries in and around Lhasa, but one which I didn't want to miss was the Sera Monastery with its typical Tibetan architecture located just 3 kilometers north of Lhasa. Within this imposing structure of green and gold, monks spend their time passionately debating different interpretations of Buddha's teaching. Another important monastery is Drepung Monastery about 10 kilometers away from the city center. Built in 1416 as the largest monastery in Tibet, this building served as the seat of the Dalai Lamas before being moved to the Potala Palace. Within the monastery there is a chapel dedicated to the Great Bodhisattva of wisdom.

Naturally the real beauty of Tibet can only be seen by leaving the confines of the city and getting out into the countryside. This can be a little challenging since there are only a few paved roads meaning that a land cruiser and local guide must be hired, making group travel more economical than independent travel. One fairly reachable and easy destination is a trip to see the turquoise water of Namtso Lake a little north of Lhasa. Traveling to the lake is convenient since no additional Alien Travel Permit is required and working through the hostel travel agent I was able to arrange joining other adventurers for the bumpy 8 hour ride in a minibus. At 4718 meters above sea level Namtso Lake, also known as "Sky Lake" is the highest salt water lake in the world. Tibetan legend claims that the lake is a brilliant blue jewel which fell straight from heaven and thousands of prayer flags decorate this much-revered sight. Bordered on the south by the Nyenchen Trangla Mountains and surrounded by desolate grassy plains it is characterized by a number of stone pillars and stalactite caves. Along the edge the beaches form a beautiful natural pastureland for herds of grazing yaks providing great photographic close-ups of these hardy creatures. One of Tibet's holiest pilgrimages involves circling the lake on foot which requires many days of hiking, but there are shorter day hikes on the peninsula which explore temples with Buddhist carvings built right into the cliffs. Accommodations are available at a camp near Tashi Dorje Monastery and I chose to stay overnight in a Tibetan style tent which was comfortable but quite cool when the temperature dropped in the evening. After a day or two at the lake buses return to Lhasa via Yangpachen Hot Springs, allowing visitors to warm up and relax in the warm water of the spa for a small fee.

Overall I would say that a journey to Tibet is no ordinary adventure and the high altitude air provides colors, sights and views that can't be experienced anywhere else on earth. With mountains stretching up into the bright blue sky, it is truly a masterpiece of nature and anyone wishing to make such a journey should take the time to see this wonderful place.


More
Tibet Travel Reviews
2.
Songkran
KYLE from CA
Apr 18, 2005 12:04