An elevating experience: By train from Xi'an to Lhasa
The first stage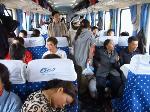 For every train enthusiast; the newly established railway connection from Geermu (Golmud) to Lhasa is of course an absolute must-do. Being the highest railroad in the world, it has instantly become a classis amongst famous railway lines such as the Orient Express and de Trans-Siberian Railway. So, I decided to board this railway to the roof of the world, starting from Xi'an.
Buying train tickets in China is never an easy job, but getting one for the Lhasa line turned out to be a true mission impossible. Due to the limited number of trains allowed on the train track, and definitely not being aided by the fact that the tourist peak season had just started, I had to go queue up in Xi'an's train station for 3 times. This train station is one of busiest in China, so you can only imagine what the hall with over 60 ticket windows looks and feels like on a hot July morning just after the ticket windows open. The first two times, and after having stood in line for hours, I failed to obtain a ticket. But because in China, every morning there is a new (sometimes extremely) limited supply of tickets available, I didn't give up. And on my third morning in the noisy ticket hall, the grumpy lady behind the window nodded yes when I asked for a ticket. Although it wasn't what I had planned -it was ticket to Geermu instead of Lhasa, and because it was a hard seat ticket ticket instead of a hard sleeper- it still felt as an extremely glorious moment.

Thus, being forced to make a stop-over in Geermu, I entered the train on an early (but already sweltering) July morning to start the 22 hour voyage form Xi'an (altitude 500m) to Qing Hai's outpost city of Geermu at an altitude of 2800 meters. The best thing about long and uncomfortable journeys is that you completely forget about them, the moment you arrive at your destination. And really; it wasn't that bad. Of course your behind starts to feel numb after a few hours on the hard seat, but on the other hand the changes in the landscape are interesting enough to keep one's mind away from this numbness for most of the time. Slowly ascending on China's heartland, the train passes trough a peculiar variety of scenes, so typical for the modern Chinese landscape. Sometimes winding through scenic, hilly countryside full of zigzagging streams and dotted with patches of lush trees, sometimes passing dirty and smog-filled factory towns like Lanzhou (currently amongst the top 3 of most polluted cities in the world)
Beside the scenery, my fellow travelers kept me entertained too. Curious about the only foreigner in the hard seat compartment, I got plenty of opportunity to practice my Chinese and it seemed everybody wanted to share their snacks with me. Because hard seat compartments are always packed, there is nothing like 'personal space' in it. Maybe this sounds horrible, but in fact, I think it's quite snug and makes for a relaxed atmosphere. And it wasn't before long, a Xining housewife was sleeping with her legs stretched upon my lap

Geermu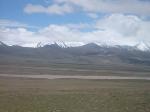 Located at the foot of the Kunlun mountain range, Geermu is the last big town before the vast Qinghai-Tibetan plateau that separates Tibet's core land from China proper, starts. While Lonely Planet discards this small city with the words "Unless you are convict on the run, there is no reason to visit this desolate town surrounded by an eerie moon landscape" I found it to be one of the most pleasant Chinese towns I've ever visited. The skies are blue, the streets are clean, the traffic is calm and orderly and the local menu absolutely delicious! Moreover, the desolate landscape surrounding the city radiates a peaceful tranquility. And in the distance, the rough Kunlun mountain peaks form a nice appetizer to a trip to Tibet. Besides all this, the city even boasts some tourist attractions, such as a one of China's biggest natural salt lakes and a wide grassland area, reminiscent of (Inner) Mongolia.

The ticket window lady in Xi'an had ensured me that buying a ticket to Lhasa was very easy in Geermu, but that turned out to be either a grave underestimation of her part or just a mean lie. Although Geermu's modest train station is a far cry from Xi'an's bustling counterpart; all the people that actually are at Geermu's station, are there for tickets to Lhasa. And even worse; train tickets were (at least during the period that I was there) only sold one day in advance and there number was very limited. A surprising amount of people, therefore decided to spend the night in the ticket hall, in order to be first in line when the ticket offices opened at 8 o'clock in the morning. After two unsuccessful attempts and waiting for many hours (one time I arrived as early as 5:45) I decided to approach one of the ever-present ticket dealers outside the station. In fact; they had approached me many times before that, but I was determined not to be such a "westerner" and to choose the easy way out by paying them an outrageous price for a ticket. But after these two mornings and without any guarantee for success in the days the come, my determination weakened and I started a fierce bargaining battle for a hard seat ticket. At last, I paid him the double price, which was quite reasonable considering the fact he first asked me a quadruple amount and also since it certainly saved me some queuing frustrations. The next morning I could finally resume my train journey to Tibet's capital.

The ultimate scenic railway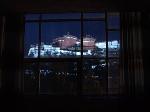 The railway track between Geermu and Lhasa averages on an altitude of about 4500 meters and travels over several passes in excess of 5000 meter. If there is one long distance railway trip, you really have to experience once in your life, it certainly is this one. The views during the 14 hour journey are so breathtakingly spectacular, that I sometimes really felt moved by the sheer beauty of it all.
Leaving Geermu, the trains quickly climbs trough the Kunlun mountain range and then reaches the edge of the incredibly vast Qing Hai - Tibetan plateau. The next 10 to 11 hours the train crosses this enormous and desolate plain and leaves you just glued to the window in awe. No sign of civilization in sight, the views are mythical and mysterious with all there shades of brown, grey and green. The train crosses a huge amount of mountain streams and in the distance huge ranges of pristine, snow topped mountains are always present. You even pass the world's highest sweet later lake, which is so clear that the reflection of the sunlight on its surface makes it impossible to make a good picture of this natural marvel.

The Lhasa line is plagued by some bad stories about a lot of people getting sick and even dying on the train due to the extreme altitude. In reality all trains to Lhasa are equipped with an oxygen supply system, similar to that used in airplane cabins. So, there's no way that you can be affected by the altitude. And just in case you might feel a bit light headed; every seat or bed in the train has it's own oxygen supply point and you can ask the train staff to provide you with a oxygen mask which you can then attach to this personal supplying device.

A few hours before you enter the Lhasa Valley, same sparse signs of habitation begin to appear. Sometimes just a single farm surrounded by some sheep and yaks solemnly stands on a hillside; but later also larger villages start to appear. Finally the descend into the Lhasa Valley (3600m) begins. Zigzagging through mountains and past oddly located villages, more and more small crop fields start to appear.
At about 9:30pm our train arrived at the modern Lhasa railway station. A strange feeling of fulfillment overwhelmed me, when I saw the illuminated outlines of the Potala Palace far in the distance. With some kind Japanese and Chinese people I met on the train, I shared a minibus to Lhasa's city center. We were dropped off at Barkhor square, after which we soon went our own ways, since I didn't want to stay in an expensive luxury hotel (like the Japanase) but also didn't care for one of the busy, famous backpacker hang-outs (like the Chinese).
Not being tired at all, I wandered trough Lhasa's streets, walked passed the magical Potala Palace and finally turned right after having walked passed the parks surrounding Potala. In this street I stopped at the small Huayuan Hotel which is not often visited by foreigners. The boss was clearly surprised to see me at this late hour and gave me private room including private bathroom for the incredible price of only 75 yuan a night. Suddenly overcome by weariness I entered the comfortable room and opened the curtains. Right in front of me, the grandly illuminated side of the Potala Palace towered over the city and formed a magnificent contrast with the pitch black Tibetan sky [see picture]. Which such a view, I fell happily onto my bed.


More
Tibet Travel Reviews
3.
Songkran
KYLE from CA
Apr 18, 2005 12:04