From the ancient metropolis to the countryside of the future
Shaanxi's Huxian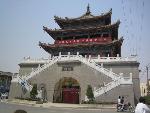 China's ancient capital city Xi'an is surrounded by a more rural area that is dotted with smaller cities and villages that often have played their own little part in Shaanxi's long history. Since I live in Xi'an I regularly make a trip to these nearby places and the small provincial city of Huxian (户县) that I visited with some friends on a sunny saturday, was definitely a nice 'discovery'

Although I've been told that you can get from Xi'an to Huxian by train, it's much more convenient to take one of the district busses that regularly leave from one of Xi'an's regional bus stations (South Station / 城南汽车站 at 朱雀大街 being a very convenient one). The ride takes about one and halve hour and costs around 15 RMB.
These days, every town in China wants to show their economic advancements by building some semi-modernist high-rise, using a lot of glass and steel. Huxian is no exception to that, but it's only little and luckily the rest of the city center is still a nice mix of small stores, markets and a whole array of snack and dining stalls. Provincial towns like these often have local peasants spreading there freshly picked produce out on blankets right in the middle of the sidewalks. I always like to buy some tomatoes or cucumbers from one these people; just for the heck of it.
Like Xi'an, Huxian also has an old bell tower right in the middle of the central crossroads. Obviously it's less impressive than its big brother in Xi'an, but still it's a nice piece of historic architecture [see picture]

A true Shaanxi town needs to have its own kind of noodle, and of course Huxian claims to have its local variant too. I neither saw nor tasted any difference to the already familiar kinds of noodles, but then I have to admit I am by no means a noodle-connoisseur. Huxian however does have another local product; and this one I could appreciate a lot more!
In Shaanxi province the town of Huxian is famous for its peasant paintings. These are a kind of naivist-style paintings that use simple shapes and bright colors to depict scenes of traditional peasant life. Originally these paintings were made by farmer women in their sparse spare time; but now they are almost exclusively made by a small group of artists. I first spotted a small artist shop selling them along the main street and couldn't stop myself from buying five of these very cool artworks. They really make great presents for the people at home.

There's a great big beautiful (and socialist) tomorrow!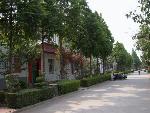 In my opinion the most interesting thing about Huxian, is something you'll find just south of the city, at the far end of the central street. Here, a few years ago, the Chinese government built a model farmers village, as a showcase of the bright future that the Chinese countryside faces in this era of economic growth.

This model village basically looks like a nice garden park full of white villa houses. Each villa is divided into 4 separate 'corner-houses' and surrounded by vegetable and flower gardens [see picture] The hub of the village is formed by a community hall, a big playground and an event square including an exhibition hall that currently shows farmers artwork.
The village really is a huge difference compared to what small peasant villages normally look like in this part of China. For us travelers it may sound as a cultural disaster, if the old villages in the future will be demolished and replaced by clones of this villa park; but I can certainly see how for a lot of Chinese farmer families this future vision seems like paradise coming to earth. Unfortunately for them and luckily for us; the changes of something like that happening are pretty slim; no matter what the flowery written government reports state.

Me and my accompanying friends turned out not to be only ones to find this socialist vision of China's rural future very interesting. Every year hundreds of American tourists visit this model town as part of some kind of thematic tour across China. And they not only just visit this village for a day; they also spend a night there. As a result there are numerous family-run guesthouses located within the town's white houses. And of course you don't have to be part of a tour like that: any visitor is welcome to stay there for the tiny amount of only 15 RMB a night. A great option if you want to escape Xi'an's metropolitan frenzy for a day or two, because a relaxing stay in this calm and green village will undoubtedly contribute to reloading your battery.
I didn't spend the night there, but when the owner of a guesthouse spotted my friends and me walking along one the village streets, she invited us into her little dining room. Like a dedicated mother she sat us down and served as a fantastic home made meal, using vegetables she had just picked from her garden outside. Delicious! After having finished the supper, she first refused to accept any money from us, because she just figured that the hungry foreigner traveler should be fed; whether staying in her guesthouse or not. Finally we managed to persuade her to accept some money, but only after we said we wanted her to use the money on her vegetable garden, so she could treat more tourists to her tasty cooking.

With both satisfied minds and satisfied stomachs we headed back to Xi'an.