When can I move?
A true experience....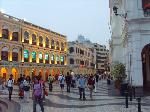 Having before not vetured far from the UK it was time to take the plunge, Macau! I travelled via Heathrow to Hong Kong & caught the quick & efficient Aerofoil boat (30 mins) to Macau. Possibly one of the most vibrant & busiest places on Earth. I stayed with a resident of Macau & got to experience the day to day life of a true Cantonese resident. What can I tell you? Don't bother with the casinos, seen one, seen them all. Go for a walk & experience the wonderful smells, tastes and visions of this fast but relaxed country. Meals out from £7 for 2! Everything is low cost, but the food is so fresh, local markets cater with the biggest selection of fresh fish I've seen, fresh pork & even fresher chickens! Beautiful vegetables, dried produce, a true culinary dream. A diverse little place with temples, sandy beaches, old forts, traditional Portugese buildings, busy streets, but above all there is a hidden serenity, the place is spotless, little rubbish, people are polite if a little wary of a white european (Gao?). I really, really enjoyed my time here & will be visiting from now on at least twice a year, I've fallen in love with the country, the food, the feelings and the people.
Jump?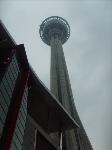 Whilst in Macau visit the Macau Tower, the 10th highest tower in the world. You can see for miles & miles, stunning views of Macau & whilst I visited the 1st time we enjoyed tea & cakes & watched the world below go by. For my second visit I decided to do the bungy jump, according to the Guiness Book of World Records this is the highest bungy jump in the world at 233 metres (786ft!), freefalling for around 6 seconds this was a breathtaking experience worth every penny of £65 including a t-shirt, certificate, photos & a DVD. So good I'm going to do it again!
Everything is within walking distance, a few places a little further afield required me to catch the regular & clean & efficient buses, cheap at 30MOP a trip. Taxis are abundant but not worth the extra cost.....

More
Macau Travel Reviews