<A> Xi'an's Majestic City Wall
Introduction to the City Wall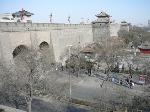 It is feasible, although never recommended, for a traveler to visit Beijing without ever laying eyes on the Great Wall. I was forced to do this on my first trip to Beijing, passing through on my way to XinJiang. It wasn't until 5 months later that I was able to spend enough time in the city to finally climb the Wall and "become a man" in Chairman Mao's eyes. In other words, you don't just accidentally run into the Great Wall when you're touring Beijing. To visit Xi'an, however, and miss seeing the majestic wall wrapped around the heart of the city is almost impossible. Whether you enter by the light of the sun allowing you to soak in the majesty of it all or by the light of the moon giving you just a glimpse of a ghost lined with lights and lanterns extending on forever, it is difficult not to be captured by the immensity of this historical relic which dates all the way back to the 1st century Tang Dynasty.

Thankfully this isn't the only remaining city wall still intact in China (although this is only due to many renovations), but it is by far the biggest and most accessible. Entry onto the wall can be found at many different places along the interior including the four city gates, but most people prefer to enter at the south gate. No matter where you enter, the entrance fee of RMB 40 is the same, with discounts for students, children, and seniors at RMB 20. The wall measures close to 12km in circumference (7.5 miles) and reaches between 12-15 meters in height (about 40-50 feet). One thing I've always had a problem getting used to in China has been the cramped quarters and crowded tourist venues, but thankfully this isn't much of a problem on Xian's city wall. First of all, people don't come to Xi'an to visit the wall; they come to visit the Warriors. Also the city wall is almost as wide as it is tall leaving plenty of room for scores of people to walk, bike or meander around without fear of claustrophobia. When you make a visit, take time to stop and read about the different towers, weapons of defense, and historical points which are marked on signs in both Chinese and English.
Preparations to Visit
A few minutes spent in preparation before visiting Xi'an's city wall can save you much heartache and even a little bit of money. First of all, if you have a student ID, bring it. I forgot mine and couldn't convince the teller I deserved a nice discount. Ouch. Second, bring plenty of water and snacks depending on how long you plan to visit. If you're anything like me, a nice 12km hike usually requires me to refill my energy tank. Such items are sold on the wall, but just like an airport or amusement park, they are priced way too high. Whether you walk or bike, especially in the summer, bring plenty of water. Even in the winter you lose more water than you realize on such a trek. I've been in the winter and found that even if the temperature within the city seems bearable, an added 12 meters of elevation can bring with it unbearable wind. If you plan on renting a bike keep in mind that the refundable deposits range from RMB 200-400, so budget accordingly. Also bring a watch because the shop that rents the bikes threaten late charges for those who arrive late. Finally, don't forget your camera! I cherish my pictures on the city wall more than those of the Terracotta Warriors mainly because there are so many different ways to view the city wall depending on location and weather. All my Terracotta Warriors pictures are no different than postcards with the exception of maybe a poorer quality.
Biking Around the City Wall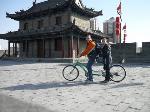 If you decide to spend some time on Xi'an's city wall, I highly recommend renting a bike. Weather permitting, this is by far the most enjoyable way to see the city wall. When you enter by the south gate walk east on the wall about 40 meters where you'll find a small shop that offers pictures, camera film, snacks, and of course, bicycles. Bikes are rented by the hour and they have both single and tandem bikes. The bikes are in decent condition, but don't expect a mountain bike with gears and shocks. My wife and I rented a tandem bike for RMB 40 (plus a deposit of RMB 250) for an hour long journey around the inner city. An hour was enough time to ride at a leisurely pace with occasional stops for pictures along the way, but if you want to really spend time with a camera or if you aren't sure that you're physically capable of riding 12km in an hour, don't hesitate to book for two hours. As mentioned before, the shop has a notice about fees for being late.

For those people who don't feel up to the physical challenge of walking or biking along the wall, never fear! There is still one more option for you. Electric carts can be rented to take you around the wall. I have not personally used this option but have seen it in use by many tourists. Although more expensive than renting a bicycle, it's a good idea for those who are either too tired or not in the same physical shape they were when they were teenagers!
A Different View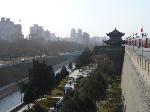 While on top of the wall you'll probably notice that located between the moat and the wall surrounding the city is a beautiful park with tables, benches, and paths. An early morning or late evening stroll along these paths, even if it is only between two main gates, can be quite a memorable experience. Here you'll run into folks playing Chinese chess, doing their exercises, walking or even practicing an instrument. It's a pleasant calm that is enhanced by the backdrop of the grand wall it borders. It's not considered rude to sit and listen to someone practice the erhu (a traditional Chinese instrument) or even stand to watch a couple of men playing chess, so take your time and soak it in!

Finally, if you ever pass through Xi'an during the Spring Festival, the largest holiday in China which usually takes place sometime between late January and early February, be sure to make the city wall one of your stops. Every year grand displays line the wall and are well lit in the evenings. As an American, I'll be honest with you that at first I was quite bored with the displays. There are rarely any English explanations and they are all static displays - nothing moves. If you really invest the time, though, you'll find that you can learn a lot about China just by studying these wire displays. Many show off the various historical customs and clothing of different people groups while others celebrate the animal of the Chinese zodiac (2008, for example, is the year of the rat). If possible, though, you can truly appreciate these exhibits if you get a chance to see them lit at night. It may be a bit chilly, but it will be worth the time spent.

No matter the season, weather, or mode of transportation, the Xi'an city wall is worth more than just a view from far away. It may be a restoration, but it is still a vital part of the history Xi'an, the former capital of China. Walk it, bike it...experience it. You'll be glad you did.

More
Xian Travel Reviews