October 2009 - a journey to Shanxi during the two festival holidays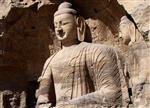 It was very rushed but we did it, Tianjin 天津 to Shanxi山西 and back..

Let me describe it to you

We set out on 4 October by train. It was a very old train, cold, crowded and uncomfortable, we couldn't get any sleep during the night on the train. We got on the train at 9:30 pm and arrived at the Datong 大同http://en.wikipedia.org/wiki/Datong at about 6:30am. After getting off the rain, we hurried to buy the return ticket. The ticket to Tianjin had sold out, so we could only buy tickets to Beijing. I was so exhausted that I could hardly stand up. It was tiring but still a little exciting.

In order to get to the first scenic sight early we had to catch the bus immediately (it's much cheaper than taking a taxi). We changed two buses before getting there, standing on the bus, it took us another hour, I felt awful, cold, hungry and tired.

After the breakfast, we started looking around the first site, Yungang Caves 云冈石窟 http://en.wikipedia.org/wiki/Yungang_Grottoes. After about 5 hours, we returned to the center of the city of Datong by the same bus. On arriving there, we started booking the hotel. That was easy, we sailed through getting a hotel quickly, it cost us 120yuan, a standard room with two single beds, over our budget; it was fairly comfortable. We slept well.. After we arranged the accommodation, we went out to get some special food, Sliced noodles 刀削面http://www.dianping.com/shop/3181117 . They are very tasty and we enjoyed the food so much that we forgot to take photos of the meal. After dinner we walked back to the hotel and soon went to sleep, looking forward to the following day.

Early in the next morning, we got up at 7:00 and left fin a hurry to see more sights, Hengshan Mountain 恒山http://www.chinaculture.org/gb/en_aboutchina/2003-09/24/content_21814.htm and Xuankong Temple 悬空寺, a temple hung/ built on the cliff. It took us 2 hours and cost us 100yuan to get there, we spent about 5 hours visiting the two sites and then went back to the center of the city of Datong and had wonderful food (my husband found the restaurant on the internet http://www.dianping.com/shop/2392582) a type of hot pot, 凯鸽肥牛. Then we hurried to the train station.

Two hours later, we got on the train at 10:30. It was much more crowded than the first one, and in contrast to the cold of that journey it was hotter than I could bear. Luckily, we met two girls, form Mexico, two students learning Chinese in Beijing Langue University for the last 8 months. They went to the same place and got on the train at the same station as we did. It was obvious that they still had troubles with Chinese and as they sat right opposite us I took the chance to chat with them and to be a temporary translator for them. On seeing the two foreigners, a few people gathered round and asked many questions. Many were very curious and wanted to know how long the girls have been in China, what the climate is like in their country, why they traveled by such an old train, how they bought their tickets without understanding Chinese well, even how much they spent on study abroad and how far their country is from the equator.

I was so nervous because of my poor English that I didn't remember their names. Although I spoke English not well at all, and I was even a little embarrassed, it was good practice for me, and maybe it helped them. One moment they got surprised at the answers with different culture, and one moment we were happy with chatting with each other. I did enjoy understanding them and making myself understood. Talking to them was the most interesting part of the trip.

Any way, it was exciting, interesting, and an unforgettable trip. I got the feeling of taking a little risk, and that's cool.