Hengshang Mountain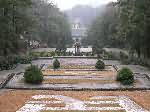 Oh no, it's holiday season again.
So where shall I go...first Beijing and...HengShan!!!...well, first it's Beijing West Station, a shuttle bus from the road to the right of Beijing Main Station only costs 5 RMB and is much less hassle than finding room for a backpack on the crowded public buses and quicker too.
Despite the busy trains the train to Changsha wasn't too bad, just one night on the train from Beijing West, (one of the more impressive stations around and a ten minute walk from the Millenium Monument and CCTV Cenre if you've a short stop-over).
At Changsha book into one of many cheap options if you don't mind public washrooms and cold rooms (well it's January so what can you expect). NB. In my experience many accomodation providers in southern areas don't use aircon on the whole, only more expensive hotels or western style hostels, remember, you've been warned.
A morning train to Hengshan Town and an onward bus to Nanyue where the mountain trail starts( 4RMB). If it's too full at the station walk away from the station and head left down the hill past the internet bar(left) chicken venders and you'll see plenty more buses.
When you reach Nanyue after about 45 minutes, accomodation is plentiful, most shops sell a mix of incense, souvenirs, food and have a room or two above the shop. Out of season the price of a gorgeous double room can half to just 60RMB.
There are many shops, so competition keeps prices low for souvenirs and incense, food is great and the locals are very friendly. There are no big supermarkets, but the local supermarkets have most things.
The main areas of interest are the mountain, (which is a longer but easier day than Tai Shan if you walk it all) and Nanyue Damiao, (Grand Temple). Just out of town lies a small gorge which houses Water Curtain Cave,(home of Monkey
King and topped by a beautifully designed dam). 8-10RMB in one of the countless minibus taxis and local drivers looking for extra cash should see you there, and back if you're lucky.
We walked the 5 km past the quiet Zhusheng Temple opposite the entrance to the falls which costs 20RMB/pp.
The Mountain.
In winter a good pair of boots are ok but if your boots lack grip on snow/ice you can buy grass tie-on shoes for 5RMB with fantastic grip but you'll only need them near the South Gate to Heaven and upwards.
Oh and take the steps it's shorter and much nicer, (and safer) than the winding road full of motorbike taxis and local boy racers in their VW Santana taxicabs.

Leave early, especially in the short winter days or you'll be descending in late afternoon clouds and snow or rain if you're unlucky.It's got to be nearly 12km from town to top!

There are plenty of side trips, a cable car for the tired, small food stops, photo opportunities and overpriced rooms if you don't want to start too early to see the sun-rise.
An excellent place to spend a few days, thoroughly recommended!