A visit to the No.1 Mansion in China - Hu Xueyan's Former Residence
This is not my first trip to Hangzhou, so I plan to skip the West Lake and explore something that I've never know about this city. A friend of mine suggested Hu Xueyan's Former Residence, which is said to be the 'No.1 Mansion in China'. I thought this luxury title is just an advertising gimmick. However, this place is worth of visiting, really.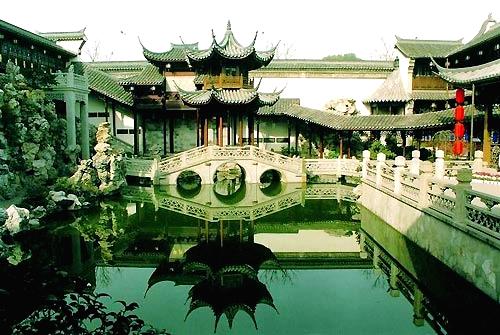 The old resident is in the historical and cultural reserve area of Dajing Xiange, next to Hefang Jie. It is a nice experience to walk along the lanes in Hangzhou and Suzhou into the depth. I had such a feeling once when I found the Kun Opera Museum in Suzhou. So, I took a taxi and tell the driver to the nearest lane entrance. Before saying how does the residence look like, I wanna walk about some background information about Hu Xueyan. This may be a stranger name especially for visitors from other countries. I first knew it from a history play. I was in high school. The other reason that I pay special attention to this man is because he was born in Anhui, so am I. His birthplace is Jixi, Anhui Province. He was a farmer and became rich for herbal medicine business. It is said that the Hu family in Jixi had two major branches. One is Hu Xueyan till the distant connection to Hu Shi (a noted writer in early modern times). The other branch has a celebrity known to world now, Hu Jintao, the current Chinese president.
I didn't know there is an old residence of Hu in Hangzhou, but actually he spent his last ten years here. It was built in 1872, the 11th year during the reign of Emperor Tongzhi. When I stepped on the bluestone alley of Yuanbao Jie, I was astonished by the 10-meter-high white wall with black roofs. I guess it is 10 meters, because it is much taller than the wall on the other side of the alley. It is said this kind of wall called 'wind and fire wall' to prevent wooden buildings from fire and theft. The entrance to the mansion is a small gate but I saw very spacious inside when I entered. The entire mansion is comprised of thirteen buildings and three small gardens. Only the first floor of those buildings is opened to the public.
A painting of Hu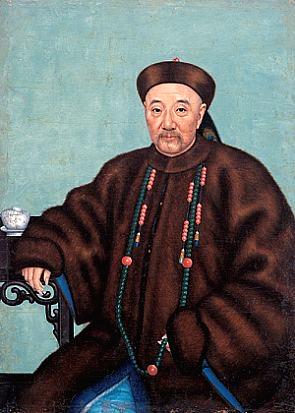 As a business man, Hu got the title of the second-ran official for his contribution to the recapture of Xinjiang from Russia. The government was poor and he denoted money to buy weapons. He was as rich as a country. Some data here proves this. During the most prosperous time in the Qing Dynasty, I mean the reign of Emperors Kangxi, Yongzheng and Qianlong, the nation's coffer had annual revenues of 80 million tales silver (a silver tael weighted around 40 grams). It became 23 million in the late years. Hu had a fortune of 40 million. So, the title of 'No.1 Mansion' came reasonably. He selected the most valuable wood material to build his house. Some of those materials were only used in the imperial palace and coffins. A previous pear wood door costs 700 thousand yuan currently. I don't know the price of antique furniture but those kinds of furniture make of precious woods are sold by kg now. I saw many blue glasses inlaid in doors and windows. I though glass was very expensive 150 years ago. Wooden carvings and brick carvings of Huizhou (old name for Anhui) are famous. Carvings in this mansion are something interesting to see.
I was swamped with towers, rockeries, corridors, pavilions, exquisite decorations, and now hesitating how to begin. Bai Shi Lou (A hundred Lions Tower) is the most important place to meet guests. It gained its name for there were a hundred lions carved on the rails upstairs. Back of the Bai Shi Lou, it is the best rooms of the mansion that Hu gave to his mother and wife. The garden here was only for his mother and wife too, other concubines were not allowed to come. By the way, Hu has a wife and twelve concubines. The biggest garden which occupies 1/4 land area of the whole mansion is west to Bai Shi Lou. It has a opera stage inside.
Hu was involved in the fight of the two most powerful officials in the court and followed a bad ending. When the family fell down, Hu's son sold the mansion at a price 1/10 of its actual cost. When he died, his concubines run away. Only one of them stayed and buried Hu, then committed suicide. This concubine lived in Yuanyang (Mandarin Duck, symbol of loving couple) Hall. There are many stories inside this mansion and I was wise to have a guide to explain every details. A half day here is enough. I walked to Hefang Jie then and it is within walkable distance to the West Lake. Well, the entrance fee is 20RMB. Got value for the money. The mansion is closed around 5:30pm. Get there a bit early for it worth of more hours.