Dalian's Forbidden City - Lushun
The closing of Lushun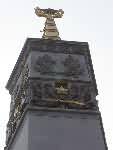 Most people know that Beijing's Forbidden City is the imperial palace complex, so called because ordinary people of imperial times were forbidden access. A few people also know that Shenyang, the capital of Liaoning province, also has a 'forbidden city', a Manchurian palace stylised after Beijing's. Few people, however, are aware that Liaoning's second largest city – Dalian – also has its own kind of forbidden city – Lushun.

Lushun's not a palace, but a naval port that's not forbidden to Chinese travellers, but to foreigners. The reason is that Lushunkou is situated in a harbour of great military and strategic importance, and has played a crucial role in warfare for centuries. It's the ideal place to keep a naval defense force strong enough to hold back an invading armada from entering the Bohai Gulf, which if so entered would allow enemy forces to sail rather too close to Beijing.

It's also an ice-free port, making it invaluable for trade. Ports further North on the continent freeze up in winter, and you may have noticed while looking at a map that above the Liaodong Peninsula, China doesn't have a port at all – Russia and North Korea meet each other at the coastline around Jilin Province, neither countries having had the good grace to allow china a mere 100m for a port in the post-war land carve up. Lushun is North China's treasure on the sea, and to this day they're very serious about protecting it.

For these reasons, however, Lushun's history is a tragic one. The multiple benefits of one location proved too much of a temptation for neighbouring powers, and during times of weakness the city was used to exploit and attack China. There are stories told of Lushun's part in ancient wars between China and Korea, but in modern history it was the first objective in the Japanese invasion of the mainland and was taken in 1894 when it was the Qing dynasty's primary naval port. The invasion was an international disgrace and Japan's first massacre in China – 20000 people were killed over a period of four days, and only 36 people were allowed to survive to bury the bodies. Within a few years, the Chinese government was humiliatingly forced to buy it back and allow concessions to the Russians, who had their own agenda for Lushun. They made the city the last stop on the great Manchurian railway line that stretches all the way back across Siberia to Moscow, and nowadays connects to Paris and London. The rail served a dual purpose of meeting sea-bound trade routes to the area and of transporting China's wealth up out through the Northeast.

After some time, the Japanese wrested back control of Dalian / Lushun and occupied it for the next 40 years, using it as a base for their further invasions of China. It was only after Chinese liberation that it was restored to its rightful owners, and even at that late stage they had to shoo the Russians away.

So, since then, Lushun's been a sore point and a painful memory for China, and as a result it's still quite understandably out of bounds for foreign guests and tourists. Unless, of course, you find a way around the rules – an essential skill if you're thinking of staying in China for any length of time.
The Road to Lushun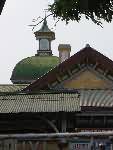 Getting to Lushun isn't hard: there's a bus that takes you directly there from Dalian's Heishijiao, and the bus drivers themselves won't think twice about taking you right into the middle of town. In these times, it's not even certain you'll be arrested, no matter what you look like. I had a Caucasian friend who stayed in Lushun for three days, and who walked around freely whilst staying with a friend's family without ever being asked a question, despite frequently wandering past the police. Another Japanese friend wasn't so lucky – he was arrested on Lushun's lookout point on White Jade Mountain. He hadn't said a word, and had even attempted to dress like the locals, but despite looking Chinese, the police could tell by his mannerisms that he wasn't from China. No true Chinese bows conspicuously when walking past the guards.

My chance came when I took on a teaching contract in Dalian city, for a headmaster who was a Lushun native. Via the complicated dealings of personal/business relationships known as guanxi, he had obtained permission from the police for me to take an English class for a remote middle school in the Lushun farmlands. Lushun is a well-populated city now, with locals who have international aspirations – the fact that their political predicament disallows the presence of native English teachers is something of an annoyance to them. I was delighted – not only did I have the opportunity to see the Lushun of today, my visit would be official, legitimate, and warmly welcomed.

I set off from Dalian in a private minivan early in the morning, when the regular mists blowing in from the Yellow sea had only just begun to clear. We were to take the Southern route to Dalian, a road that twists along the shoreline from Dalian Bay all the way to the center of town. We passed through Dalian's Southern suburbs, dominated by great clusters of twenty-story high apartment blocks all decorated in pastel colours with ornaments reminiscent of European classical design. These, and the roadside lanterns that look more like candelabras than streetlamps, are part of the legacy of Dalian's popular mayor, native Dalianese Bo Xi Lai, who has since risen high in the ranks of the Central Party thanks to his impeccable politics and unparalleled popularity.

It was the middle of Summer, a time when the scraggy mountains surrounding Dalian become quite suddenly covered in green, and the soft heat carries the smell of fresh soil and sea salt through the rich, moist air. The overwhelming colour of this part of Dalian, however, as you leave the suburbs and start to ascend the cliffside roads, is the palest of light blues. The sky over Dalian is said to be one of China's bluest, but it is a blue softened by cool white sunlight, and hardly compares to the ocean, which is as blue as the evening and populated with a thousand fishing boats of every kind and every size. Even the wooden window frames of the old earth brick houses are painted over in blue.

I'd taken this road once before in the springtime to Longwangtang, a small park of cherry trees that comes into spectacular blossom in early-mid March. Sakura flowers are common to Dalian, the gentle fading echoes of a barbaric occupation under the Japanese army. Take the upper route to Lushun in Spring and you'll pass through a mountain village of peach orchards, a fairyland in bloom. All the roadways to Lushun are open, and worth a ride on a bicycle if you're energetic enough.

I love the road to Lushun. The farms and mountain views could be miles away from anywhere, and with the frequent appearance through the vegetation of the seaside scenery, great vistas of ocean, islands and wooden seacraft and kilometres of nets, I felt closer to the Liaoning heartlands than I could in the Dalian business-scape or industrial Shenyang. The only difference between here and the farmlands of central Liaoning is the produce – the primary economy of Dalian's coast is based on fish (including jellyfish and shellfish), seaweed and fruit.

Allowed into Lushun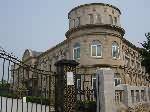 The road passed through the last tunnel, and our minivan disappeared into darkness for a few moments before emerging suddenly right above Lushun. It was a magnificent sight – separated culturally from the mainland by its gestation under foreign rule, Lushunkou is a marvelous welding together of Japanese, Russian and native Chinese architecture. Blue domes atop nineteenth century European towers jostle against the functional Japanese pentagonal roofs, and between them the Chinese socialist, functional apartment high-rises of concrete and brick. Lushun, as a city that retains an older, more mature character than Dalian, is more beautiful than its open and affluent sister city in this regard.

I was driven around the central areas, and was most impressed by the Russian monuments throughout the town. Despite the bad behaviour of the Russians in colonial times, they are still close allies of the Chinese and they are respected still in Lushun – several columns with old soviet insignias can still be seen in public squares all over Lushun. Some historic buildings remain of unique beauty also – the Lushun museum, the old governor's house (known as the owl building for its foremost circular windows resembling owl eyes) and the train station. Of these, Lushun's train station is particularly remarkable, a wooden construction built by the Russian army and the only one of its kind in the whole of China.

We drove out of town, past the imposing naval gates and under White Jade Mountain, which retains at its summit a Japanese-erected column topped with an unexploded bomb. From the mountaintop it's possible to see the curl of land stretching out from the coastline that resembles a tiger's tail that is the symbol of Lushun.

I was dropped at the school gates of number 58 Middle School right in the countryside, and waited for the teachers to receive me. There, amidst the surrounding mountains, the school playing fields of turned earth, the wide fields and in the clean Lushun air, I was alone for just a few moments and took the opportunity to appreciate those minutes of freedom, one foreigner allowed briefly right into the heart of the forbidden city.