<A>The Uphill Journey
Badaling Great Wall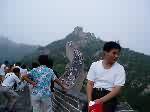 I have seen many pictures in travel books concerning China and its breath-taking wonders, like that of the Great Wall. The Wall always has intrigued me, so much so that I adoringly have desired to have an up close and personal view. However, it was not until July 2005 that I finally was granted my heart's yearning.

One of the many tourists' sights visited during my five days and four nights in Beijing is that of the Badaling Great Wall. Needless to say, this dream come true is the highlight of my tour because the Badaling Great Wall literally comes alive for me. In my humble opinion, climbing any section of the Great Wall is the only way that anyone can thoroughly enjoy the rich incarnate splendor this wall personifies.

Notwithstanding the historic significance of China's Great Wall, the Badaling portion is absolutely arresting. Thanks to the Ming Dynasty (1368-1644), what began as separate walls protecting vassal states has become a genuine work of art—poetry in motion. For me, the Badaling Great Wall ranks right up there with the baffling Egyptian pyramids, being equally as mysterious and as majestic.

This steep Jundu Mountain pass, Badaling being the highest point of north end of the Guan'gou gorge, is made from humongous stone slabs measuring from two meters up to over eight meters in height and weighing hundreds of kilograms. Over the years, the striking features of Badaling Great Wall have contributed to this portion becoming the most traveled section of the Great Wall, especially since the wall's extensive renovation.

Although Badaling Great Wall also is a rough and rugged portion that snakes its way across the mountains, twisting and turning atop the mountains, myriads of people, Chinese and foreigners alike, on a daily basis, make this somewhat arduous uphill journey. Like others before me, I, too, slink right along with the wall, pausing from time-to-time to catch my breath and to take in its alluring beauty.