<A>Go Ahead...Look Back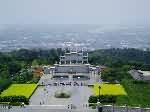 Go Ahead…Look Back

So many times in this life, sages, psychologists, counselors, spiritual guides, relationship experts, and well-meaning people will advise that it is not healthy for broken-hearted individuals to live in the past. This advice often is given to friends, loved ones, and acquaintances and usually phrased practically the same way: get over it; forget about the past; look to the future, and "don't look back."

"Don't look back," as well as "don't look down," also are expressions of advice given to acrophobics, especially if they are in a high place having a panic attack because of their fear of falling. As a way of helping individuals who have a fear of heights overcome their phobia, unfortunately some therapists resort to cruel and unusual punishment. They make the acrophobics face their fears by getting them to experience very high places, which more often than not heightens their fears. As a result, the therapists frequently have advised them to NOT look back or don't look down.

In the case of novice rock and mountain climbers, they, too, often are advised to NOT look back and don't look down. The first summit ascent, in and of itself, often can overwhelm beginning rock and mountain climbers so much so that they, too, may suffer from the fear of heights or the fear of falling. So, expert climbers will make it a point to advise novices to NOT look back and don't look down. This advice invariably is given before the climb begins and, again, if and when some climbers begin to suffer with acrophobia.

Without a doubt, there are times when people should follow the "don't look back" advice of sages, psychologists, counselors, spiritual guides, relationship experts, and people who mean well. But, while you are standing directly under the Mother Buddha's throne is not one of those times. In fact, Xiqiao Mountain tourists never are offered the "don't look back" advice. Since they have endured the uphill trek from the base of the mountain to Daxian Peak, the highest of the mountain's 72 peaks, they are encouraged and expected to take a backwards look. Indeed, the customary recommendation from countless tour guides and travel bugs frequenting Daxian Peak has been articulated in this manner:

Go ahead…look back; enjoy this mountain-top experience.
Check out the panoramic view of the Guanyin Cultural
Garden's extraordinary landscape. Just phenomenal, isn't it?

The look back from atop Daxian Peak will take your breath away; your heart will beat rapidly; you may even be sweating at this point, but rest assured that you are not having a panic attack. These symptoms are those associated with pure delight and awe.

Sure you're tired, maybe even experiencing shortness of breath, but none of that matters now. You have made it to the peak's top, which is 292 meters above sea level. Someone has said to you: "Look at that!" So, with all of the strength that you can muster, you do an about face and look back upon from whence you came. Immediately, your weary traveler state dissipates. Quickened within you is a newness of life—a spiritual awakening. As you stand on the top of Xiqiao Mountain and look off into the limitless distance, you begin to marvel at the endless exquisiteness and wonder to yourself, "Have I died and gone to heaven"? No, you haven't; however, you have found a piece of heaven right here on earth, and it is located in the vicinity of the Pearl River Delta, in the southwestern area of Nanhai City.


Nanhai Gold Mine: Xiqiao Mountain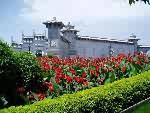 There are four famous mountains in Guangdong Province, and they are: Luofu Mountain in Huizhou City, Danxia Mountain in Shaoguan City, Dinghu Mountain in Zhaoqing City, and Xiqiao Mountain in Nanhai City. One of these four famous mountains is just sixty-eight kilometers (42 miles) from Guangzhou and merely fifty kilometers (31miles) from Foshan, and that mountain is Xiqiao Mountain. A particular feature that makes Xiqiao Mountain so famous is its elaborate gardens from which the mountain earns its nickname of the "Front Garden" of Guangzhou. The mountain also has earned the honor of being called "Spring Mountain." When all of Xiqiao Mountain's features are taken into consideration, it is easy to see how the gardens, waterfalls, caves, crags, peaks, and springs blend together to make this mountain a virtual gold mine.

The wealth of Xiqiao Mountain is apparent in its picturesque scenery. Both the richness of the mountain's colors and the abundance of its natural splendors will dazzle your senses. Your cup will run over, as the 28 flying waterfalls, 72 peaks, 21 crags, 36 caves, 8 mountain villages, and 208 clear springs will seem almost too much for you to absorb.

This long ago dominant volcano now grabs everyone's attention in a non-destructive yet equally spectacular manner. For instance, The Thousand Foot Waterfall (Feiliuqianchi, translated "Water Flies a Thousand Feet," a metaphor from an ancient Chinese poem) cascades from the cliffs down into the valley, forming five small mountain lakes. This is one of the reasons why The Thousand Foot Waterfall is deemed the most spectacular of the 28 flying waterfalls.

Then there are the poems and essays that poets, scholars and philosophers have inscribed on the mountain's many rocks. They have been writing these essays and poems on Xiqiao Mountain for many centuries. Also, legend has it that the Ming scholar, He Baiyun, studied in the most famous cave on the mountain—White Cloud Cave (Baiyundong)—which is located at the foot of Xiqiao Mountain. White Cloud Cave is deep and serene, covering an area of 1.1 square kilometers. Finally, it is said that if someone wanted to get to know Xiqiao Mountain that the place he or she should start should be White Cloud Cave.


The Mother Buddha (Guanyin)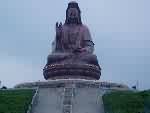 At a vista on the Daxian Peak sits perhaps the most extravagant Chinese idol on Xiqiao Mountain. She's the 61.9 meters high bronze-copper statue of Mother Buddha (a.k.a. Guanyin, Chinese Buddhist goddess of mercy). Her height symbolizes the memorial date of June 19 on the Chinese lunar calendar year, and this statue is believed to be the largest bronze-copper statue of its kind in the world.

Despite the fact that Nanhai City recently created Guanyin (Bodhisattva) Cultural Center, which includes the Guanyin Cultural Gardens, Fairyland, Fairyland Market, Fortune and Longevity Lotus Pond, and Big and Clear Lake, without a doubt, the Mother Buddha statue is the showpiece of Xiqiao Mountain. This gigantic Guanyin attracts tourists' attention immediately, and the closer they get to Daxian Peak the more they see of her, as she appears to rise, little by little, until she seems to be sitting on top of the trees.

As tourists get closer and closer, they will notice that Mother Buddha is wearing a pearl-shaped crown but very plain holy garments. Her eyes are almost shut, and she is looking downward, which symbolizes her humble and merciful demeanor. Her throne is in the form of a lotus flower, 36 meters in diameter and 14. 9 meters high. The throne/seat has three layers consisting of 66 lotus leaves. Apropos, her lotus-flower throne is surrounded by water over which are four bridges.

Additionally, there are huge halls inside the Mother Buddha that are five-storeys tall. In many of the halls there are Chinese vendors with their wares, everything from joss sticks to a variety of ice creams and sodas. The commercialism, however, tends to rob the Mother Buddha of some of her regal and endearing beauty.
  
Travel Tips

Nanhai Guanyin (Bodhisattva) Cultural Center Opening time: 7:30 am – 5:30pm
(Nanhai Bodhisattva Culture Garden, Tianhu Lake scenic spot: 7:30a m – 11:00pm)
Through ticket price: 50 yuan;
Inquiry by telephone: 0757-8688-0360, 0757 –8688-0036