A Relaxing Tour to Yangshuo
My friend likes the multi-culture of Yangshuo West Street while I prefer the natural scenic area with clear water and green mountain, so we decided to go to Yangshuo to spend our holiday. The flight was delayed by two hours and arrived at Guilin airport at 2130. We were so excited to see rows of coconut trees once got out of the airport, which was very different from Shanghai. There were shuttle buses from airport to downtown, rmb20 per one. If you travel by taxi, it will take about rmb100. We used neither of them, because our hotel had pick-up service. But the bus turned out to be bad-conditioned and we two even didn't have a seat. Fortunately, the hotel room was clean and comfortable.
Since our destination was Yangshuo, we didn't spend much time in Guilin and headed for Yangshuo by boat the following morning. The scenery was attractive along the Li River: strange hills, clear water, blue sky and green paddy fields lying one by one, just like a landscape painting. The only annoying thing was the noisy motor of the boat.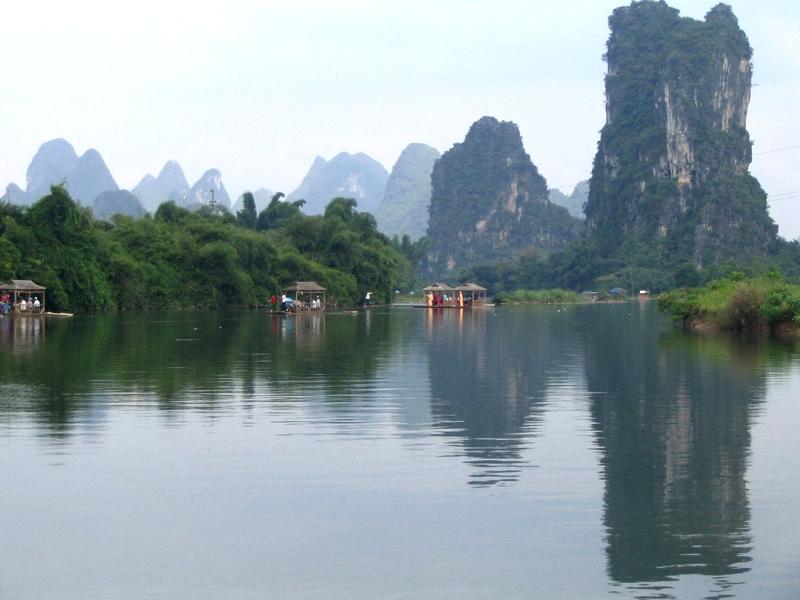 Li River
Upon arrival, we first checked in for the hotel, then strolled to the famous West Street, which was abundant in bars. We had a meal in one of the restaurants and then changed to a quiet bar to have the afternoon tea leisurely. Then after, we toured the small county on foot the rest of the day. We didn't plan our itinerary beforehand and just wanted to have a relaxing tour, so we were not in a hurry to tour the beautiful scene in a limited time. We left 5 days to do it, which was far more enough.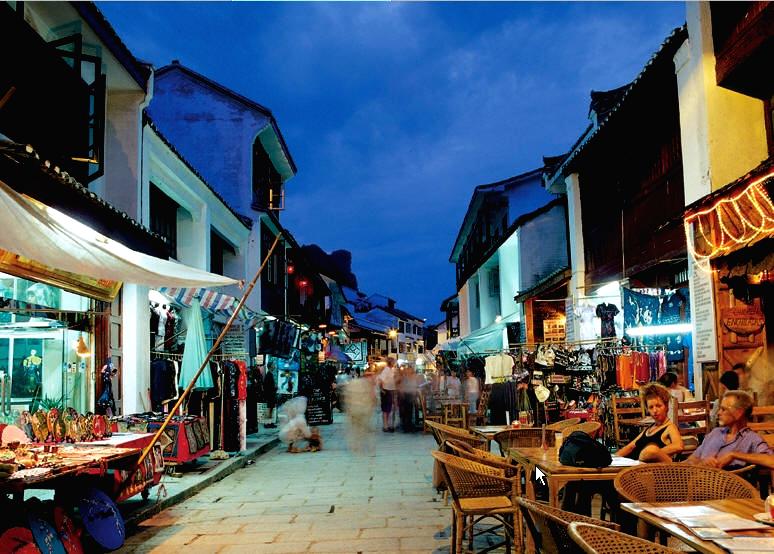 West Street
I liked the morning in Yangshuo, which was quiet and calm, very different from the noisy night. After breakfast, we had another cruise along one of the Li River's branches. We cruised on a bamboo raft and asked the owner tried not to use the motor. Sitting on the raft, breathing clean air, feasted by charming natural scenery and playing water with feet freely, what a satisfied life! For the rest of the days in Yangshuo, we just did whatever we liked. If we wanted to taste the quiet and beautiful natural scenery, we traveled to the countryside by foot or bike (there were a lot to be discovered there); if we wanted to experience the international atmosphere, we just went to the West Street to chatter with travelers from all over the world; if we were tired, we just stayed in the hotel, slept or had a cup of tea in the attached bar.
Picturesque Yangshuo
Anyway, this holiday in Yangshuo was really relaxing. And the suburban Yangshuo was charming and amazing. I recommend Yangshuo if you want to get close to nature.