An exploration to the northwest part of China I
This Golden Week, I didn't stay at home to kill time. Instead, I joined a group tour to explore the northwest part of China. Honestly, I prefer to travel alone so that I can map out my time and travel freely. However, it is very difficult for me to buy the train tickets, arrange my accommodation during the golden week as well as the travel peak. Thus, I have no other options but to join a group tour.
To be frank, I didn't expect too much on the group tour. But this tour did surprise me a lot. The leader was a young handsome man. He arranged our tour very well. And I got familiar with many other travelers in the group and made friends with them. It was a very pleasant trip.
My itinerary as follow:
Day 1 Gathered together at the East Gate of Shaanxi Provincial Stadium and set off
Day 2 Arrived in Zhangye at noon next morning, had lunch, traveled in Danxia Geopark, took wonderful pictures of Danxia landform under the shine of the setting sun and lived there for a night
Day 3 Headed for the Jiayuguan City to visit Jiayuguan Pass after breakfast, enjoyed lunch and went to Dunhuang in the afternoon. During the journey to the Dunhuang, we appreciated the Gobi Dessert and mirage and then arrived in Dunhuang in the evening.
Day 4 Went to visit Mnsha Shan (Echoing-Sand Mountain) and Crescent Lake after lunch, had fun in Demon Cities of Yadan Landform in the afternoon and then stayed in Dunhuang for a night.
Day 5 Visited Mogao Cave, passed through Jiayuguan, Jiuquan and Gobi Dessert to reach Ejina Qi and stayed there for a night.
Day 6 Appreciated the sunrise in the early morning, visited Black Water City (Heishui Cheng), Withered Euphrates Poplar Forest, Juyan Sea and Ceke Entry Port and stayed in Ejina Qi.
Day 7 Visited Yidao Qiao, Erdao Qiao, Sidao Qiao, Badao Qiao and took amazing pictures of Euphrates Poplar and got on the bus to get back home.
Day 8 Spent a whole day on the bus and arrived at home in mid night.
Total cost: around 2000 RMB.
PS: I have prepared fully for this tour, buying a big backpack, a tent, a sleeping bag, a damp-proof mat and a shutter release for my DSLR.
Day 1 & 2 A hard but exciting beginning
We set off at around 20:00 on Sep. 30 and finally arrived in Zhangye after 20 hours on Oct. 1. Frankly speaking, I had never been sitting and sleeping on the bus for so long. At the beginning, I just sat there and didn't dare to drink some water because I was worried that I might waste time to pee on my way to Zhangye. Actually, I felt a bit nervous while staying with more than 20 other travelers. Gradually, I was getting familiar with other travelers on the bus. We chatted for a while but were all attracted to a Chinese TV soap opera. None of us got off the bus when the driver stopped at a parking area and gave us some time to answer the nature's call or stretch our arms and legs.
You know, I didn't sleep on the bus before. During the first night, I was pissed off by an old man who kept snoring beside me. I couldn't fall into sleep but he had a very sound sleep. At that moment, I really wanted to kick him out of the bus but I couldn't. So I was just hoping we could get to Zhangye very quickly.
After more than 20 hours on the bus, we finally got there nearly at noon. All travelers on the bus had their lunch quickly and waited for getting to Zhangye Danxia Landform Geopark. I learned about this geopark from A Simple Noodle Story, a movie directed by Zhang Yimou. I forgot the plots about the movie but I still remember the beautiful landform.
The whole scenic area is divided into four parts and the scenery in each part is different. They have their own beauty.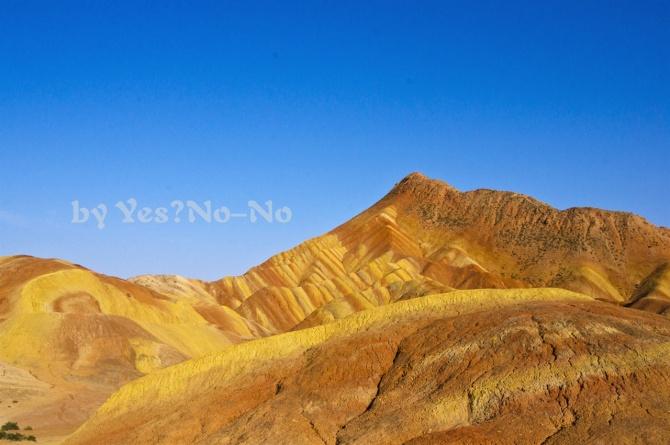 zhangye2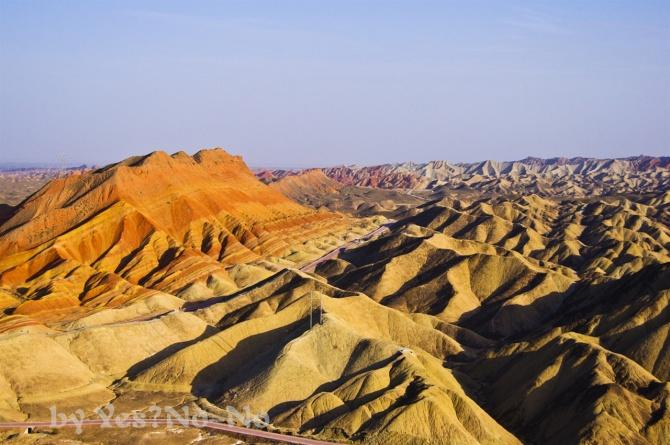 201110138225166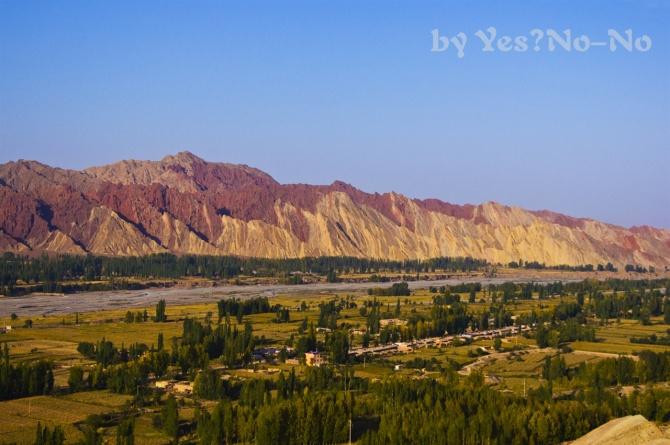 20111013823122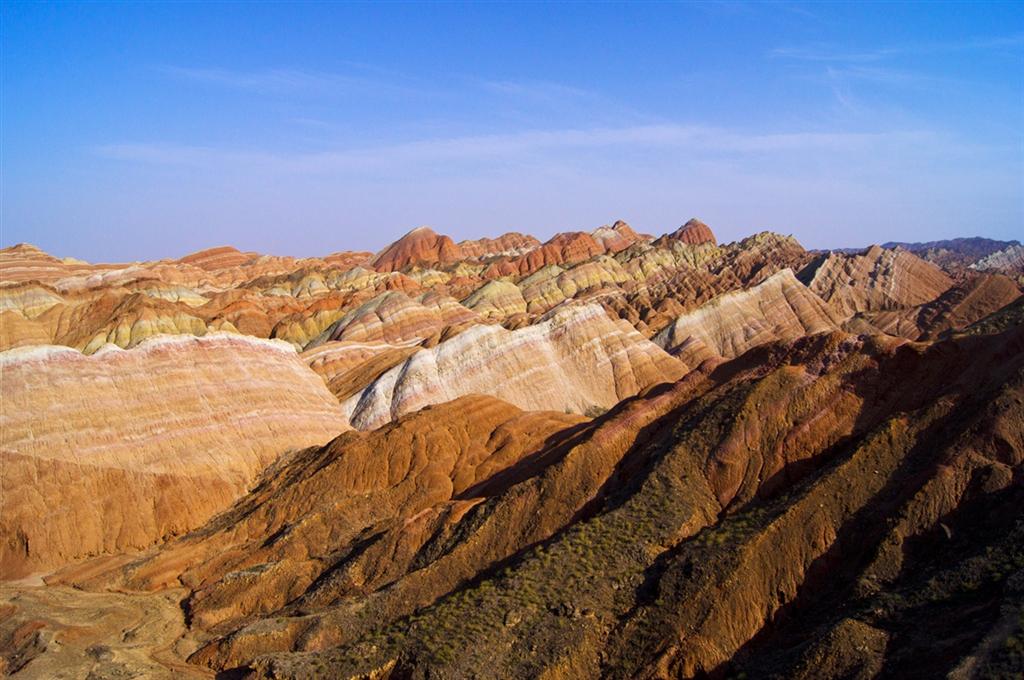 psuCA44YJ4U
The noodle restaurant in Zhang Yimou's movie still stands there it has become a dangerous building. I planned to visit that noodle restaurant but didn't make it because it was too late and we had to get back to our hotel.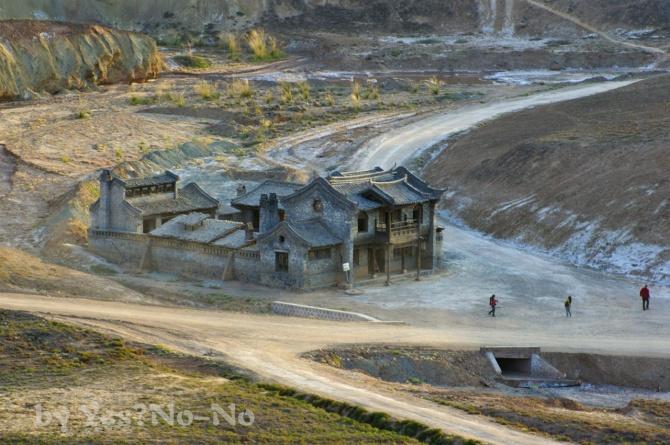 The Noodle Restaurant
I was happy on our way to the hotel because I didn't have to bear that old man's snore and could sleep on the soft bed again.
Honestly speaking, I didn't have much impression on the city of Zhang Ye. As you see, the Danxia Landform is amazing and I just ignored of seeing the city. All I remembered is the Bell Tower in the city, which looks very smiliar to the Bell Tower in Xian.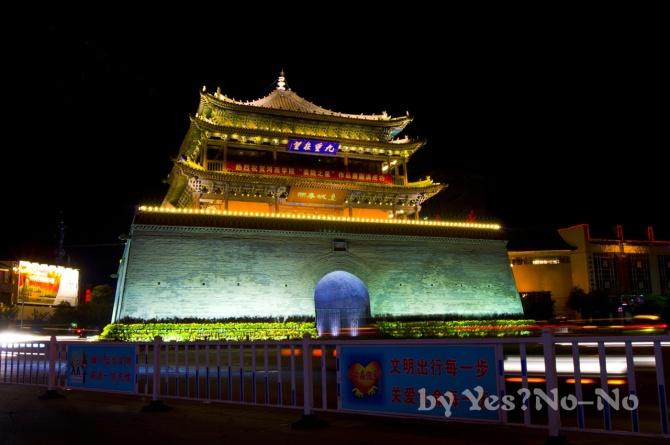 201110128281357
Day 3 Jiayuguan Pass, the First Fire Tower of the Great Wall and the River Cable Car
After having a sound sleep, our bus set off again at 7:00 in the morning. Our next stop was Jiayuguan, which is unfamiliar to me. The leader on the bus did a brief introduction about Jiayuguan and I just remembered that Jiayuguan is the west starting point of the Great Wall in China. Wait, it was also served as an important fortress on the ancient Silk Road.
It seems that Chinese directors prefer to choose famous tourist attraction to shoot movies. The tour guide told us that Jiayuguan was once served as the shooting location of the 14 Blades (Jin Yi Wei in Chinese).

201110138294698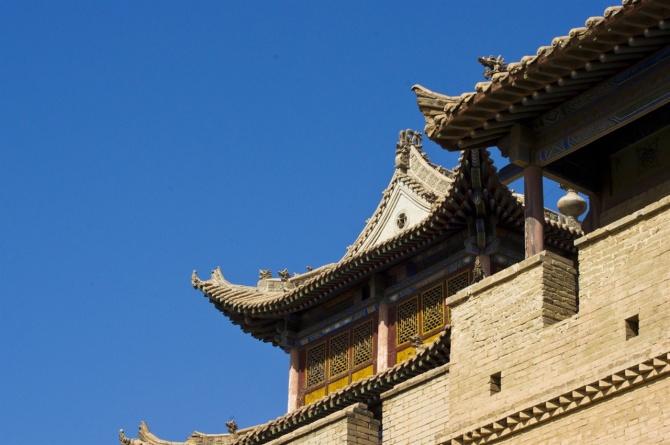 201110148262443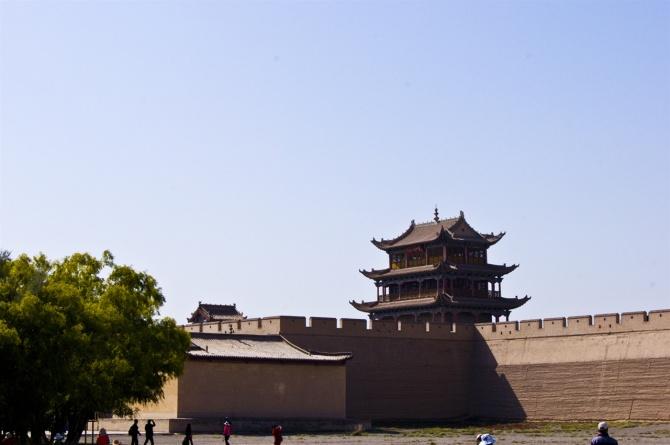 201110148255813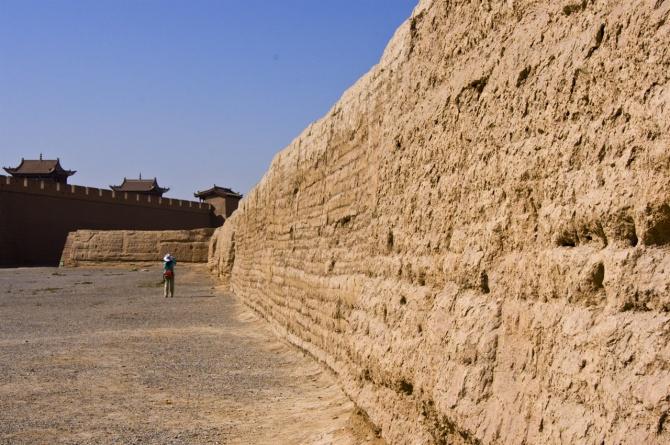 20111014826556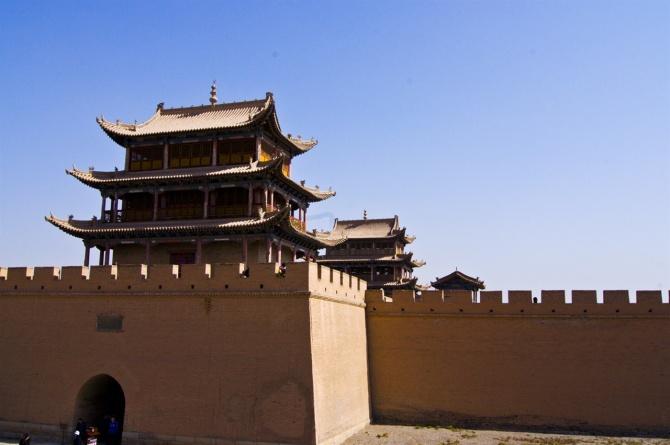 201110148294697
We just stayed at the Jiayuguan Pass for a while and then headed to The First Fire Tower of the Great Wall. To people who don't know about Chinese History, t is just a huge mound. If you listen to the tour guide's lecture, you will know that it has a significant role in Chinese history.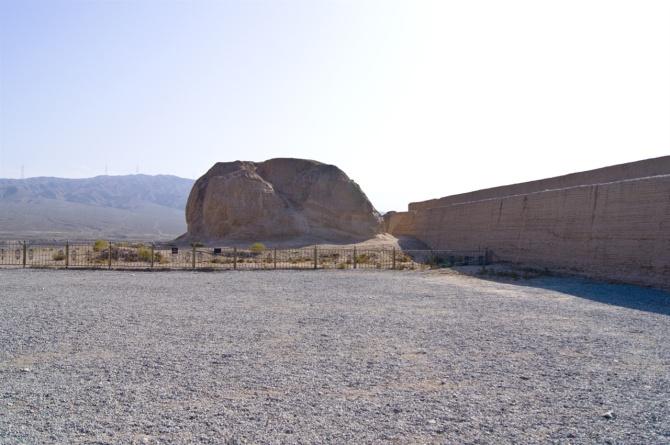 201110138302868
I had no interest in the fire tower because the river cable car was more "attractive". Taking the river cable car, I can fly from to the other side of the river. But I wouldn't suggest people who are afraid of height take the cable car because you need fly across the river from a cliff.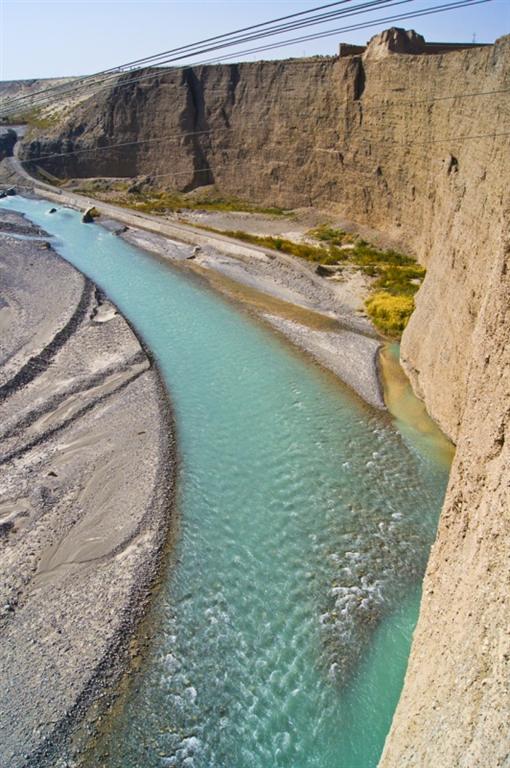 201110138304962
Forget to say, you can ride the horses in Jiayuguan. Just imagine that you are a lonely swordsman in the dessert.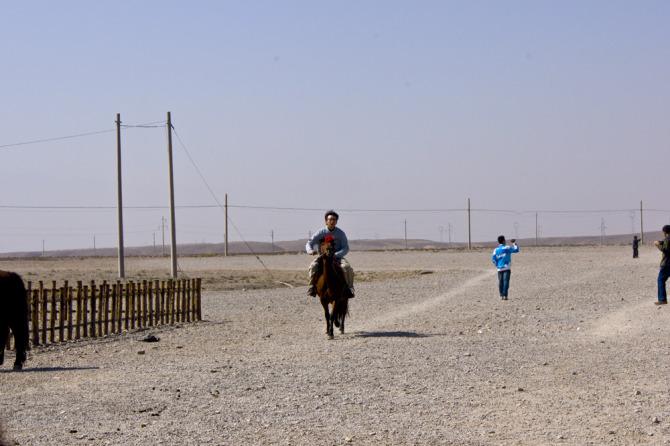 20111013830106
If you look at my itinerary carefully, you would know that we have to visit all the attractions in 7 days. It is no easy job. To save time, we didn't waste our time at every scenic spot.
After experiencing the river cable car, we gathered together and hurried to our next destination---Dunhuang. I thought that I had been used to the bus tour because I didn't feel uncomfortable.
We arrived in Dunhuang City at 21:00 and then a problem came up. It was Golden Week and we couldn't find a place to sleep. At last, all the travelers were separated to stay at five guesthouses. The guesthouse where I stayed was cheap but the accommodation wasn't good. There was no hot water in the room. You needed to get the thermos from the owner. I went there a bit late and didn't get one. But the location of my guesthouse was good. I could go to the night market easily.
After feeding my stomach at the night market, I went up to my guesthouse quickly. I needed to have a good rest. Next morning, we would visit Echoing-Sand Mountain and Crescent Lake.

More
Other Travel Reviews