An Unconventional Route Part Three - Showering in Xiangtan
Xiang Cai in the Morning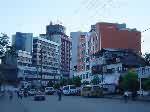 They say the best laid plans of mice and men go oft astray, and my cunning plans to arrive at Changsha from Dalian via a faster and more interesting route had already been frustrated enough. A boat ride and early morning bus trip to Qingdao city had been wasted when my contact there had failed to help me book a connecting train ticket in advance, and an overnight bus I took from Qingdao as an alternative only got me halfway there, to the city of Hefei in Anhui province. The only realistic way to get to Changsha from Hefei had been another sleeper bus, and so I finally got to the long distance bus terminal in Changsha early the following day.

I'd slept well: the Hefei to Changsha bus was far nicer than the one I'd taken the night previously, with softer mattresses and relatively fewer people smoking and talking all night. I didn't wake up until the bus stopped at the station itself, and so although I was relieved to finally be where I had wanted to be since the beginning, I was also a little dazed and disoriented – and on top of that, quite dirty. We Westerners tend to shower in the mornings instead of at night, which means that I hadn't had a shower since the morning of three days earlier, and it was beginning to become evident. My face was grubby from sweat and the dust of three provinces; my beard was growing like it was on vitamins and my hair, which never looks right at the best of times, had set itself in a style that would make Tintin look like he had a straight cut. The stares I got as I was walking through the station were far more than what Europeans in China usually attract; rank in Changsha's infamous late summer heat, I was the embodiment of the foreign devil.

I cared little: I was finally on my way to my old friend Lao Hei's home in the Changsha suburb of Dongtan, where I could at last shower and rest. Lao Hei was about to leave China with his fiancée to get married, and I wanted to be together with them for their last few days in China, as it would be quite some time before I could see the pair of them again.

So much for best laid plans. I called Lao Hei for directions, and received no answer from his phone line. I didn't know the reason at the time, but later I found out that because he hadn't known about my change of schedule, he'd accepted a stand-in teaching job for the day. Apart from the name of the suburb, I had no idea where he lived, and as he didn't carry a mobile phone, I had few options open. I decided to go out to try to find some breakfast.

Next to the station was a short row of eateries and I wandered past them hungrily. The fare on display in each of them was identical – several large trays of bright-red chillied dishes, mostly meats swilling with oil and spice.

I love spicy food. I adore Korean Kimchee, I go crazy for Indian curries, Pad Thai and strong Sichuanese kebabs. But of all habits that one must change when living in a foreign country, possibly the hardest of all is breakfast. When you've just woken up and are feeling hungry after a hard snooze, what most people really want is a taste of home. For me, I grew up on cornflakes and toast, possibly the lightest meal out there – lighter than an egg. To me, the thought of diving into a bowl of an unfamiliar concoction of unrecognizable chillied somethings to have them sit in my stomach like a ten pound sack just wasn't a way to improve my morning. I bought a five-kuai piece of stale bread from the station tuck shop and tried Lao Hei's number again, unsuccessfully.

I checked my phone list, and dialled the number I had for his fiancée. Thankfully, she answered – but to my dismay, she was another hour away in a different city with her parents. I explained my situation and she told me that the best thing I could do under the circumstances was to get on another long-distance bus and go to meet her in Xiangtan.
Xiang Jiang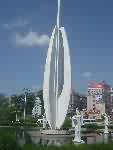 It should go without saying that I was secretly delighted to have a chance to have a look around Xiangtan. I love seeing new places, and Xiangtan is a particularly sweet Hunanese city with a distinctive feel. Lao Hei used to say that it wasn't until he'd stayed in Xiangtan that he began to love Hunan. An hour away from the province's capital, it has a population of only half a million and has a spacious, clean look and an atmosphere that is strangely musical. It derives its name from the Xiang River where it is located, at a 180 degree turn in the river's path. The Xiang River also lends its name to the province as a whole – Hunan in its abbreviated form is written 'Xiang'.

The Chinese character for Hunan's 'Xiang' is, by the way, quite beautiful and simple. Most Chinese words break into components which give clues for pronunciation as well as meaning. This 'Xiang' has two parts, one being a common character also pronounced 'xiang', which reminds you how to say the word, and the other being the radical for 'water', which in this case indicates that it is the name of a river, just as the 'Fei' river passing Hefei adds a water radical to the word used in the name of the city. Both characters have no other meaning except to serve as those rivers' names: it's as if the river water has surged up into the language so that it can flow between speakers at the speed of sound.

Xiangtan's sole claim to fame is that it is the birthplace of Chairman Mao. He wasn't actually born in Xiangtan city itself, but in a smaller city in Xiangtan Prefecture called Shaoshan – a city which has become so culturally important to the Chinese people that a special railway line has been constructed from Xiangtan City to terminate close to the Great Helmsman's home.

I'd gotten straight onto the next bus after ending the conversation with Lao Hei's fiancée and was soon on the highway. Hunan's countryside is some of the most spectacular in the country, but the distance between Changsha and Xiangtan is mainly suburban in character. I watched the procession of small homes pass my window, looking a hundred years old if it wasn't for the great, gaudy neon signs above all the restaurants, unilluminated but still sparkling in the sunshine. Advertising conventions in China have pierced even the most traditional old towns – where once signs above doorways were hand-brushed and functional only, now large, bright characters surrounded by as many lights and annotations as possible are increasingly the norm. Maybe this is one of the pleasures of travelling in modern China: that no matter where you are in the country, one look at the colourful signs above restaurant doors gives you that feeling of connection.

Before long I was crossing the icon of the city, Xiangtan's First Great Bridge, and looking out over the calm Xiang waters and across to the invitingly green city area.
Water of the Rain and the Lake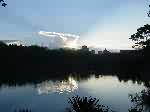 Lao Hei's fiancée's greeting was so enthusiastic I'd forgotten what a mess I looked. I'd hoped she'd give me the chance to go to her family home so I could wash up, but she insisted on treating me to a big lunch, and I was too polite to refuse such a tempting invitation. The effects of the old bread had worn off and I was already more than prepared for a meal of Xiang delicacies, and we ate together at a small, unassuming eatery serving punishingly hot eggplant and tofu, she the young bride to be, and I looking more like a hooligan than anything else.

On the way to her home, I was quite taken with the place, and felt that I could understand Lao Hei's appraisal of it. In particular I loved the accent – Xiangtan's dialect of Hunanese is markedly different from that of Changsha with its rough consonants. All of those fall away in Xiangtan Hua and only the smooth vowels remain, resulting in a melodious tongue that is reminiscent of standard Mandarin but with the pitches in completely different places. I found it to be one of China's most refreshing dialects.

Lao Hei's fiancée could see how much I was enjoying walking around her home town and asked me if I would like to walk through a public park before getting home. To be completely honest, I was still totally uncomfortable in the clothes that had been my pyjamas for three straight nights, but agreed anyway and soon we were passing the shady tree-lined avenue past Xiangtan's evocatively named Rain Lake Park.

Parks like this are the domain of poets and lovers: Rain Lake Park is an impressive example of that Chinese ability to make the installations and facilities of a garden sit naturally with the waters, trees and sky. We paused over enchanting little bridges over quiet waterways between the lakewaters to watch the shapes of cloud weave themselves across the clear surface of the clean water. The mood of the park fits precisely in with that of the city as a whole. Calm. Unpretentious. Tranquil.

Walking back to her family home at last through back streets grey-blue in the afternoon cool, I was inwardly in the most capital frame of mind. I had circumvented overloaded train carriages and inconvenient travel conditions halfway down the country to arrive at one of Hunan's most serene and appealing locations; never quite where I was supposed to be, but rewarded for the inconvenience many times over by the unexpected sights of surprise destinations. Now, all I really needed was a shower.

More
Hunan Travel Reviews