<A>A travel back in the time, Pingyao...
<A> A travel back in time, Pingyao...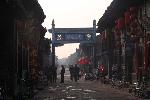 A travel back in time, Pingyao…

I am that kind of person that really likes little places, ancient towns, observes nice old people playing cards in a park, and just enjoys the simple things of life. I do not need a huge Great Wall or a Terracotta Army to feel proud of a travelling experience.
And that is why I really wanted to travel to Pingyao, one of the most ancient and well preserved Qing and Ming cities in China!!!
That was the perfect place for me, so I decided to visit it two weeks ago (middle of November 2005) with some friends.

Unfortunately just some days before the journey one of they became sick and the other one was not in a travelling mud…but should I stay in the grey Beijing city just because nobody could join it? And actually I thought it would be a really nice experience to do it by myself, just enjoying the place, and being able to spend 20 minutes to take one picture without thinking that somebody has to wait for me or taking care that everybody likes the same, and not having an argue because one wanted to eat in one place and the other in a different one.

So, my night train to Taiyuan departed at 10:00 pm, and I had been sleeping so bad the week before, that just right after turning the light off I fall completely sleep until the next morning.
I just did not wanted to travel directly to Pingyao because it is really difficult to get back tickets to Beijing from there, so I thought that stopping in Taiyuan first would give me the chance to by my back ticket one and a half day in advance…but I was completely wrong!!! In Taiyuan train station people are not allowed to buy in advanced, so I had to wait until my return day to buy it, hopping that the train would not be overbooked, because otherwise I would not be able to get on time to my Monday's classes.
(And to you that were thinking on going to the booking office in the corner of Qingnian Lu, do not even try it, because the office was completely lonely and empty when I got there after a 30 minutes walk…the point is that my guide is a pretty old one…and maybe yours is not the newest version too, who knows…)
In any case, by this time of the year, not many people are travelling and I did not have to worry that much about the tickets or about booking a hotel room.

After taking a cheap but wonderful Chinese style breakfast in a hotel near the train station, I joined a private van for Chinese people for 20 RMB…it was not the best ride ever, but once you get used to the smoky atmosphere and the kungfu movie, you can really understand some basics of the modern culture too.

After 2 hours of a boring landscape we reached the bus station (that is just the parking of the train station), that is the meeting point of all buses coming and leaving the city and that is just 5 minutes by walk from the perfectly preserved wall, that leads you to a really amazing place, the old city of Pingyao.
When crossing the walls you have the feeling that you have travelled back in the time…

Actually I did not walk into it, because there are hundreds of golf cars are waiting in the bus station to bring the tourist to their "recommended" guesthouses. Obviously I wanted to see some of them before deciding where would I spend the night, but how to decline the offer, while the little golf car was following me the whole walk? It was just ridiculous…so thinking that the situation was just stupid, I jumped into it and tell him, that if I did not like it, I would not stay…"mei you wenti" (No problem) answer him in a friendly tone.

Actually the Harmony guesthouse, where he brought me was really clean and nice, but I really wanted to see the LonelyPlanet recommended hostel, The Tian Yuan Kui guesthouse, and also one that one friend I met in a tryp to Wutai Shan recommended me, The Hong Yu Yuan Hostel.
The three places where really nice and clean, but the Tian Yuan Kui was without a doubt the best, had the best location, and the courtyard, the walk to my room, and the room old Chinese style, made you feel as if you were living in the romantic old China. And after bargaining the price, I got the room for 30 yuan (a good price considering that it was low season).

After having a place to sleep I was prepared to explore the city by myself and taking hundreds of pictures of the so many interesting characters I had seen while I was visiting the hostels.

Men selling yellow apples under the sunshine, butchers cutting their huge pieces of meat, a couple making some kind of Pingyao special pancakes, an old shoe maker repairing a pair of boots, old men playing cards in the corners, and the old streets leading you to so many narrow passages in which to get lost was just wonderful…
Just the souvenirs remembered you that you were in a tourist place.

The temperature was between -6 and 3 Cº, and this time I was really prepared with warm underwear and lots of shirts and a wind stop jacket…I am from an island in Spain, so I really cannot stand the cold Chinese winter! Actually I was expecting to feel colder than I did, better for me…
But the sun disappeared before 6 pm, and the chilly wind made me go back to the hostel. But how a wonderful walk back with all those red lamps lightning the way and every courtyard!
Actually I think that one day excursion is enough to visit the city, but if you are travelling with time, it was really nice to expend the night in that nice hostel and looking throw the window the illuminated streets while drinking a hot tea and playing majong with some others travellers I met there.

I woke up early on Sunday's morning, my last day, because I wanted to visit The God Temple and the city wall, but also visit the Shuanglin temple just 6 km far away from it.

The God temple was nice, I mean very similar to others I had already visit, but just the smell of the incense burning bars made me feel so relaxed that it was worth the money….at least for me!
The entrance of the temple was plenty with the villagers who asked me about my country and that were really nice and talkative to me! It seamed that the tourist attraction was me!!!  But in any case I enjoyed practising my few Chinese sentences and taking pictures to them as a remembering.
After picking up my backpack from the guesthouse I took one of those little golf cars in the outside of the city wall to go to the Shuanglin Temple just a 20 minutes ride from the bus station.
The wind was so cold that I could not hold my camera because my hands were nearly blue, and I just did as tortoises do, put my head inside the jacket, and waited until we arrived.
Actually it was really disappointing, or maybe I was just expecting another kind of place…there were no monks in it, and it was isolated…I did not like it at all!

But anyway, my next stop was the Qiao Family Compound, in the middle of the way back to Taiyuan. (It's said that the Wang Family Compound, also in the surrounding of Pinyao, is much better and bigger, but I had not the time for it because it was futher away in the opposite direction...). In any case, going back to the Qiao Compound, this old mansion pertained to a rich businessman that started selling tee and became rich in Qing years. The whole place has six courtyards with more than 300 completely decorated rooms, representing the old way of life in the place and the family habits.
Something that really fascinated me was that one whole room was dedicated to the respect that Chinese children must show to their parents and to older people. Twenty four amazing histories tried to teach them that obey orders from parents and being polite towards them is the main important attitude that a kid must have. I think many western children should learn that too…

I also experienced a really nice walk through the compound's roofs (despite it was forbidden) while the sun was disappearing behind the horizon.

After negotiating with a local driver, they put me on a bus way back to Taiyuan, where after a hot noodle soup, I took my train back to the real time…Back to my life…Back to the school…Back to Beijing.