Early Impressions of Shenyang
The Discovery of the Pedestrian Mall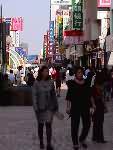 During the time when I was living in Shenyang, I was staying in a small suburb to the south of the city called Hua Xiang. Being unfamiliar with getting around in the city, I was fairly dependent on the family I was staying with, and had little opportunity to get out on my own. All I saw of Shenyang was small and simple – and it confused me, because I knew that Shenyang was a huge city with a population of around ten million people.

I had reasoned that for a city of this size, there must be some kind of inner city shopping area that was fairly modern in design - perhaps something as familiar as the central business district in my own home town of Auckland. Finally, on the evening upon which I'd visited the Imperial Palace, I'd spotted it, and decided then to check it out at the earliest opportunity. Perhaps I was lonely for coffee, for there seemed to be none of quality to be found in the city - and perhaps, I feared, in the whole country. After living under foreign conditions, at certain moments the universality of metropolitan life beckons temptingly.

Within a few days, I managed a quick peek whilst shopping for glasses and took the excuse, upon needing to go to pick them up, to explore the urban centre. Shenyang, to be honest, has no 'downtown' as such, but there are a few built-up areas in various places in which there is a greater congregation of expensive stores than in others. One of the cleanest of these is Tai Yuan Jie, named after the capital of Shanxi Province.

The streets were fairly crowded, and the wares were not cheap – I didn't realise then that to get a good deal, you had to be prepared to haggle for it. Despite the numerous hotels in the area, I found that the waiguoren density was still appreciably low, and apart from the occasional swarthy old European businessman, the hairy, unsociable types that are usually sent overseas, I was still a subject of curiosity for the local shoppers and merchants.

KFC seemed a convenient place to escape for a moment. The prices were fairly standard in international terms, which made the restaurant a little more expensive than most local eateries, and the fare was disappointing. There are some people who are under the impression that Chinese people are short – I've discovered that's not necessarily true (Yao Ming, the famous basketball player from Shanghai, is 2.26m tall!) but certainly the chickens used for the KFC restaurants have some serious issues with height. The microscopic drumsticks I was served led me to believe that China is home to the world's shortest chickens. I asked for a white coffee too, and was given a sachet of milk powder to accompany the low grade filter - they didn't seem to appreciate the pleasures of fresh milk as I did, although it was available for sale on premises... Indeed, in all places where I was later to be offered powdered coffee, powdered milk was considered to be the natural and harmonious compliment. A little hard to take for someone from one of the world's dairy capitals.

Otherwise, there was little to fascinate on the extent of the street. Fashion stores abounded, their only oddity being the staff who were employed to applaud the store, standing at the entrance. These employees stand clapping all day in hope of attracting customers, a job which is appreciably underpaid. The habit, I was told, dates back to the restrictions placed on competitive business practice in China's stricter days. Stores of the same type all opened along the same stretch, and nothing was permitted to differentiate them from each other in product choice or price. The only way that store owners could encourage customers to visit their shops as opposed to those of others was by standing outside their front entrance and clapping to attract attention. So the rumour goes.

In the plush foyers of hotels, I did find cafés - although steered clear of them, for the ancillary fees which customers were expected to pay. An hour with a cappuccino can cost up to 50 yuan, with the price of the coffee itself, the serving fee (apparently, after you buy the coffee, you must also pay to have them serve it to you over the counter), the 'sitting fee' for using their chairs, and the tip. In such top class hotels, I was later to discover, this kind of charging is the norm, although in recent times this has become less and less common in China as the number of foreign guests has increased and competition for their patronage has grown.
Pearl Tea at Xian Zong Lin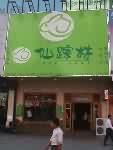 I found what I was looking for at Xian Zong Lin, otherwise known as the RBT restaurant chain, which was the closest thing I'd seen to a true café in the city thus far. Xian Zong Lin is a franchise with stores as far away as Sydney and Toronto, and can be found in every major city in China. Its speciality product is Pearl Tea, a kind of milky iced tea which contains 'pearls' of jelly that are sucked through large fat straws. The flavours vary from blueberry and coconut, to coloured layers of orange juice and apple tea. To my delight, creamy, milky lattes were also on the menu.

The interior of Xian Zong Lin is decked out like an overgrown garden complete with swings on ropes and picnic tables. I was delighted to find a place where the concept of sitting and relaxing in a pleasant environment with a drink was not foreign. The tea itself was unusual but delicious.

I noticed that the patrons were younger people, predominantly in their early twenties. Also represented were businesspeople who'd come for an informal place in which to conduct their dealings. The atmosphere was great, and the music was strangely familiar, too. It took me a few moments to identify it - it was one of Faye Wong's more esoteric tracks covered by a thrashy guitar band. Having heard little of China's underground music scene, I was shocked to be listening to an example of new generation Chinese rock, particularly one which tributed more conventional (if Faye can be accused of being conventional) Cantopop.

The whole experience was a small suggestion of the way in which China has been developing over the last ten years. Most accounts I have read of Westerners in China are now dated considering the economic changes China has experienced. Xian Zong Lin is a genuine product of China's cautious open-door policies, and also tells of a youth culture that is more familiar with the world beyond China than were those of days gone by.

The Dancers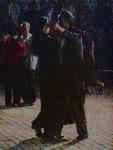 One evening I decided to go out to watch the dancing behind the local night markets, which assemble themselves every evening in Hua Xiang. Small carts and trucks arrive, park, and unload poles that are used to erect large boxy tents, within which are hung items of clothing, bags, toys, etc. There are always crowds - I wondered how so many people could be attracted to the same merchandise night after night, and then reflected that the population density in apartment block districts like Hua Xiang is deceptively high - there are suburbs-worth of people crammed into every street. Even if individual locals elected to come merely once each fortnight, the streets would still be packed every night.
Behind the stores is a broad empty square. It's the size of two football fields, is separated by long shallow sets of stairs, and seems to have been constructed to provide some relief from the monotony of apartment blocks and restaurants.

On the left, one group practice dragon dancing. An ensemble of around four musicians play a continuous scalar melody that is improvised according to a traditional form. One plays a two-headed reed instrument that sounds like a clarinet with a particularly nasal tone, one plays a large beat drum, others play small cymbals. The dancers dress traditionally or in slacks depending on their enthusiasm, and seem to be comprised of locals who have come out just for something to do. They come every night, waving fans and marching around the pavement in synchronised patterns.

To the right of the platform, locals dance in their own bunker of a ballroom, pairs in casual attire step like swans to the music of a small tape recorder playing old-style Chinese pop.

What struck me most was the scores of people who had come merely to watch, like myself, and who similarly come every night. Were the locals really that desperate for entertainment? I couldn't really know until I joined them.

I sat in the midst of the crowd. It was between numbers, children ran across the pavement as their parents chose partners. One small child, in crotchless pants, squatted to urinate in the middle of the square before 500 people. There was no snickering or cooing, because children know no better. The pee spread between the stone tiles like a Maltese cross. His mother collected him as the music began.

The courtyard was lit by five or six spotlights lined along the footpath. Grecian columns rose along one side, and the other backed onto a wire fence, on the other side of which were the towering grotesque constructions of Hua Xiang park. Slowly, the dancers began to make their elegant turns across the square.

Beside the square, stained stacks of soily flats stood like soviet goliaths. The crisp night air was thick with dust and fumes, passers-by hoicked up gummy spitballs on the footpath like cowboys. I sat amongst a tired crowd who were enthralled by the refined passage of the dancers. It seemed that this was a show performed for no reason other than to defy the shadow of a tired and unattractive part of town. It was a practiced and disciplined spectacle that deserved its nightly following, and something I fancied I could understand. Here, in the midst of the dirty suburbs of Shenyang, this small platform was a capsule of grace.