The Changchun Exposition
Changchun, the Cleanest Capital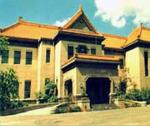 It was a classic situation - I was called upon by a friend to represent his business - an English school - as an educational consultant during an expositional fair in Changchun city. I didn't know anything about his school, and I had no idea what would be required of me, but the free plane ticket would have been enough to convince anybody - and so I agreed, carried the bogus namecards they'd already printed out for me, and packed my things. In any case, Changchun had always fascinated me ever since my days in Shenyang, a little way to its south, when I'd passed through it by train on my way up to Harbin in the north. These three cities are the capitals of the three provinces that make up Dongbei, and Changchun in the middle is, culturally speaking, perhaps the most remote. The whole of Jilin province is a mystery to most Chinese people, less industrialised than the more well-known Liaoning, and thought to be a virtual desert of poor farmlands - which is what much of Jilin actually is.

Changchun, as the capital, is of course a little more developed, and I anticipated rather correctly that it is a well-planned city with long avenues and a plethora of sharp-looking old buildings dating back from the days of Japanese occupation. When the Japanese forces openly invaded Manchurian China in 1932, they set up a makeshift capital in Changchun and dubbed the entire region 'Manchukuo' in a move to spiritually separate the provinces from the rest of China. During the Second World War era they even coerced deposed Qing Emperor Pu Yi (known as the 'Last Emperor' of China) to act as a powerless head of state. Visitors to Changchun can now visit many of the stately old governmental buildings dating from the time - illusory palaces for a Puppet Emperor.

Put a map of Changchun on the wall and you could well use it as a dart board - concentric rings of long, straight roads encircle the centre of Changchun, a small roundabout at the People's Square - and riding along these boulevards after my arrival, I struck upon my first impression of the city. Unlike many crowded Dongbei towns, Changchun was exceptionally clean, and the sky was surprisingly clear. I asked the friend of mine who'd met me at the airport, who'd chosen this place above all others to do business, if this was always the case. She told me that Changchun is a fresh and beautiful place to live, spacious and thriving - adjectives I'd never before heard used to describe cities in the Chinese Northeast. Taking the long, broad central North-South running street (Great Renmin Street) down towards the plush hotel where I would be staying, we passed the small Children's Park, a sweet, leafy affair with a small lake in the centre of town, and continued down to Nanhu (South Lake) Park, which is the largest piece of green on the map. Great Renmin Street runs parallel to the city's river, the Yitong, which divides the nicer parts of town from the barer suburbs to the East.
South Lake Hotel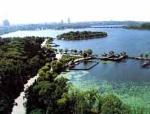 Like most independent travellers, I'm used to staying in positively shocking conditions when on the road. The cheaper the better, and if the pillow's dirty, just roll up your sweater and make do. When travelling, even showers are expendable to save a few kuai. I was therefore astonished to arrive at the South Lake Hotel of Jilin Province, perhaps the best hotel I've ever seen in China. I'd already become rather enamoured of the park since crossing the Great South Lake Bridge over the lake itself and seeing the smooth, green pine forest commanding the view ahead. I also looked over to the centre of the lake, where a small island was politely adorned with traditional pagodas and small walking bridges, almost ornamental in the semi-distance.

We drove through the pine trees until arriving at the hotel, or rather, cluster of hotel buildings - for the South Lake Hotel is a collection of luxury quarters, ranging from houses to mansions to palaces of suites, all hidden in different corners of the pine forest. We pulled up to the main building and I registered - certainly not in the most opulent quarters, but nonetheless in a more than acceptable condition - and I set out on the long walk along corridor after courtyard after corridor to my room.

I wasn't due to attend the expo until the morning, and so I sat on my bed for a while and tried to learn as much as I could about Changchun from the promotional material I had with me. The tourist pictures were primarily of those Japanese palaces - some of them looking like Eastern versions of stately Austrian castles. Most interesting was the Puppet Manchurian Imperial Palace, a poor imitation in the style of the Forbidden City in Beijing, Emperor Pu Yi's original home where he was a bizarre kind of prisoner of luxury during his childhood years. The Changchun version must have been a miserable symbol of royal impotence, as Pu Yi would have almost certainly been aware, and from the pictures it seemed as dreary as the history it represents.

Otherwise, Changchun is really only known for its industry, in particular for the automobile factories located in the town which manufacture the Liberation truck, famous nationwide. Specialising in cars for many years, Changchun factories are also responsible for making Beijing's subway carriages.

In the late afternoon, I took a walk around the park, watching the little yellow squirrels running between the trees. The unfarmed, natural areas of Jilin province are largely covered in pine forest, and in autumn the countryside is quilted in red and orange pines like the burning embers of a fire. In summer, cloaked in the brightest of greens, Nanhu Park was stunning, and after the sun went down, I walked through the darkened dirt paths between the trees and felt as if I was miles from civilisation.
The Education Fair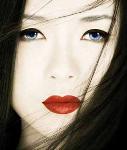 Christine had something that most Chinese people could never dream of having - a pair of stunning, sapphire blue eyes. When she greeted me at the education fair, I was quite taken aback by her cool gaze, and spent half of the morning wondering whether I should ask her if she was wearing coloured contacts, because every time she looked at me, I was shy to look away. Blue eyes and ebony black hair are an enchanting combination, a little uncommon even amongst Caucasian people: on a Chinese girl, they were positively irresistible.

The fair was being held in Changchun's Shangri-la hotel, right in the centre of town on Chongqing Road, near People's Square. The district is impressively well developed, and the Shangri-la hotel itself was as elegant as it is all over the world. Held in the hotel's exhibition hall, a few hundred small stalls were sectioned off, each representing an English school in a foreign country. Foreigners were everywhere and in the New Zealand section I met a principal from my country's capital city who spoke charming Mandarin. Another Chinese-speaking foreigner from Germany, who was living in Beijing, told me how competitive the foreign education business is getting these days. More and more Chinese people are hoping to go abroad to study English, he told me, although the foreign countries, overwhelmed with students, are getting less and less welcoming.

Sadly, relatively few people were interested in New Zealand, and I spent a lot of time sitting next to Christine, the school's Changchun representative, wondering about her eyes. I finally got the chance to ask when she invited me out to lunch.

Assuming I wouldn't enjoy Chinese food, she was preparing to take me to a McDonald's when I noticed a branch of the Yonghe chain I particularly like that serves delicious dou jiang - a bean based hot drink I'd come to love since moving to China. I noticed her glancing hungrily at the store - it was hard not to notice anything she did with those blue eyes - and so took her arm, leading her straight across the road to the outlet.

We were getting stuck in to our Youtiao fried bread when I finally asked the question. She looked directly at me and batted her eyelashes shyly, and told me that her eye colour was indeed natural. Christine, from Jilin City not far away from Changchun, was the only Chinese person she knew besides her brother who had blue eyes. And yes, she is pure Chinese, and both of her parents have rich brown eyes.

Genes are sly creatures, and the part of human DNA that determines blue eye colour is an elusive gene that can hide in a family for generations. The only rational explanation for her colour must lie in a story lost long ago, when a sweet Russian farmer's daughter married a handsome Chinese man, and sent her blues eyes through the generations to colour Christine's with their cobalt hue.

I told Christine I loved Changchun, and she told me that Jilin City is even more captivating, especially in the winter when the city holds an annual ice festival, similar to Harbin's, and when the pines become candelabras of snow. She invited me to see them with her sometime, and as I looked into her eyes, her irises shining with their ice-crystal light, I rather believed I would.