The Mountains of the Miao Majority
Leishan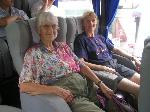 The Miao are one of China's most colourful minority groups with the majority of them living in traditional rural villages across the southern provinces. My introduction to these colourful people who love to sing and dance came on the first of many trips to Guizhou. A day tour to Huangguoshu waterfalls included a visit to a very small village where guests were welcomed in off the street with music and singing, offered a sip of a very potent local alcohol, entertained by a display of bamboo pole square dancing and the courting traditions of the younger generation. While I was here I met a French tourist who, armed only with a 'Lonely Planet' and a handful of phrases, had spent the previous few days alone exploring other more remote and isolated Miao villages around Kaili to the east of the Capital Guiyang.

I was determined to discover more about them. The following summer, another chance came while travelling with my mother and my sister. Our only source of information at that time was also the LP which suggested a village south of Kaili. After spending the night in Guiyang we caught an early bus to Kaili - more like first class flying - stopping only long enough to use the toilet before our connection to Leishan left. The bus picked up locals all along the way - a little lady with a toddler in one arm and clutching a chicken by its wings in her other hand was offered a small stool in the aisle but many others remained standing.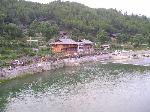 Not long after leaving Kaili we entered a valley where the road followed the river. On either side small villages of traditional timber and tiled or thatched homes blended into the wooded hillsides. Along the river banks grew other crops amongst the terraces of rice. Near each village a long narrow suspension bridge crossed the river and sometimes a larger stone arched bridge carried a new road access across. In every water hole people swam or washed clothes or cars and bikes. It was tempting to get off the bus to have a swim at one of the small resorts along the stony river bed or to wander into one of the villages to take a closer look.

Leishan is the largest town in the district and students come from miles around to attend the middle school located on the outskirts of town. The bus dropped us near the 'centre' of town just off the main commercial and shopping streets but still some distance from the bus station. We went in search of a hotel which should have been easy in a small town like this. When we finally arrived at the bus station where several are supposed to be located we asked the locals who seemed to know little or care less and the LP wasn't much use either. Eventually we hired a motorcab to take us to the hotel that someone indicated was across the river that splits the town in two.

After checking in to two large clean rooms on the third floor in what appeared to be a relatively new hotel we discovered there was no water available until after seven that evening. As it was still early afternoon, but very hot and humid we were not impressed with this lack of service considering the room rate we were paying. We went out for lunch informing the landlord that we expected our money back if there was still no water when we returned. While we were out we discovered that there was cheaper accommodation available with water and we were prepared to move if necessary.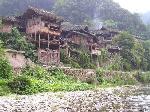 We ate upstairs in the small restaurant we had found on the corner near the river on the way into town. While we waited for a table and our meal to be prepared we ordered a cold glass of beer and the staff entertained us by asking a lot of questions. They made the best crispy fried chips that we had eaten so far on our trip despite being really hot with chilli. In the absence of any other choices we ate there again the next evening, this time outside on the footpath.

After dinner we returned to give the owner and her daughter some coins and some small koala stickers for the shop window which my sister carried as gifts for people we met. What an impression these made. We could not leave the restaurant without a reciprocal gift – a bag of local green tea and a bottle of local kiwifruit wine. While this was a generous gesture on the part our hosts neither was particularly tasty or enjoyable and I carried the tea around for weeks before we ever tried it.

In the interests of good customer relations the water was on when we returned to our hotel but there was no hot water in one of the rooms. The housemaid pointed to the unplugged hot water system in the way of an explanation. Yes we can see that it's not plugged in because the power point appears to be burnt out – the wall around it was black and charred. Perhaps we could have another room where everything works and we can take a hot shower? We are eventually shown another room and moved our things but the door to this room would not stay closed unless locked from either the inside or the outside.
It amazed us that the kids swimming in the river above the weir seemed not to notice the disgusting mustard colour of the water discharging from outlets all around them. Strangely their only complaint was that they were cold as they stood shivering on the bank in the late afternoon sun. After following the tree lined street along the riverbank back into town we wandered through a few blocks of residential buildings under construction and by the relatively new local hospital. As we went we took note of any restaurants and diners, stores and small guesthouses which seemed to be cheap, clean and in good supply.

Beyond the towns main intersection we came across the local markets which spilled out on the street. We stood watching a group of stall holders playing cards and were invited to sit and chat and soon had a small crowd of curious locals standing about asking us questions about our age and families and where we were from. Having recently celebrated her 75th birthday, my mother's age and seemingly good health never ceased to impress them. As we browsed the many stalls we were amused by the hot pink underwear with a zippered pocket in the front wondering whether this was for stashing cash or some other valuables.

Back out on the street women wearing face masks and dusty clothes unloaded heavy sacks of cement from the back of a truck. We bought ourselves an ice-cream each making a choice based on the illustration on each packet. Mine was chocolate crackle coated or so I expected but in reality it was green and gold and pink jelly. The seller laughed heartily at my dismay and made no apology for the misrepresentation. So I ate it anyway as we wandered off to explore the narrow pedestrian back streets where groups of older women sat chatting, embroidering or playing cards in the shade.
These women were playing with a strange pack of slim line cards of many coloured dots which I have seen several times before but fail to understand. The Miao women carry their babies and small children on their backs in exquisitely embroidered slings which hang almost to the knees. The colours are bright and designs include birds, flowers and animals. Two small shops along this street sold these slings along with the webbing used to tie the children securely to their mothers.

Legend has it that Miao women were looking for some way to distinguish themselves from other women so a mother and daughter decided to make a special skirt to symbolize their culture. Others in their village saw this and also learned to make these beautifully pleated skirts from hand made, hand dyed fabrics in blues and purples. Over the skirts the women wear a delicately embroidered bib under a collarless jacket with embroidered edging. The women of Leishan traditionally wore a finely pleated skirt as short as 20cm. Over time some interesting distinctions in dress and customs developed with different branches of the Miao now known as the Long Skirts, Short Skirts, Black, Flowery and Long Horned.

There are literally thousands of villages in the mountains around Kaili. While not all of them are picturesque, large or well known they do offer something that is unique to a visitor's China experience that cannot be found in cities and other popular tourist attractions. Come with me as we visit some for these villages and meet the Miao majority who still live very traditional lives in their mountain homes. See how simple and sometimes hard life is for much of rural China and experience the hospitality and humour of these warm hearted people.


More
Kaili Travel Reviews