The seaside in Rizhao
I love ocean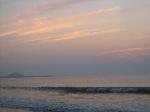 I don't know why the ocean can always bring me the excitement and peaceful mind at the same time. Just feel it's a biggest treasure box full filled with joy, I can get something new every time when I meet it. When I was being with it, I'd like to be a greedy child who can spend the whole day just by playing the waves and sands on the beach for the whole day.
I went to Rizhao city of Shandong province alone just a few days ago. Feel so refreshed after coming back. The oceans in different places are very different from each other, but they always keep one thing in common which is being beautiful and attractive.
Still remember the story about a little boy who always keeps on picking up sea shells and throwing them back to ocean where their real home is. Their lives seems not so important to us, but means everything for themselves, yes, the little fish cares what he did, even though what he did seems kind of silly in adults' eyes. Anyway, it's not too bad to be an innocent kid sometimes, and experience something new.

3.
Taishan
DENNIS
Oct 16, 2004 13:10