Kunming's World Horti-Expo Garden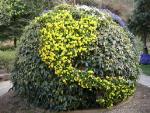 The world horticultural garden exposition in northest Kunming is a global exposition of the highest degree. First opened in May of 1999, this theme park remains a dazzling display of sights, sounds and colors. Containing dozens of theme gardens, this park will impress and amaze anyone interested in natural or man-made science, art, poetry or Chinese architecture.

I took the #71 bus from Beijing Lu in downtown Kunming to the main entrance to the gardens. The bus fare was only 1 RMB. Entrance into the gardens was 100 RMB. Although this entrance fee may seem high, compared to other destination theme parks, I thought it was very fair. After I paid the entrance fee, I was given a plastic card and a colorful map to enter the park. Being a naturalist-at-heart and a gardener by trade, I knew upon entering the gates that this place was special.

Once inside the gates, one walks through a flower garden road. The colors and varieties of flowers, planted in colorful patterns, is very vivid. Along this flower garden road there are flower columns, flower streams, a flowered sailing ship and a flower clock to view. Also bi-lingual tour guides offer their services as companion guides complete with video cameras and expertise. The Chinese man who approached me, however, only spoke rudimentary english and i was set to experience this park on my own.

The World Horti-Expo garden contains 5 large exhibition halls, 7 special gardens, 34 domestic (Chinese) gardens, 28 international gardens and numerous trails into the natural hillside forests. Perhaps because of the size and complexity of this park, very little english information was available as far as what this place has to offer. Fortunately the garden tour maps and directional signs are written in both chinese and english.

As I walked along the flower garden road, map in hand, I was intent on visiting the 34 Chinese exhibition gardens. Each of these gardens display unique characteristics and plants found in different Chinese Provinces. Since there are too many so many to comment on, I will mention only 3: I was most impressed by the Shandong province qihu garden, least impressed by the Fujian Province garden and the Yunnan province garden won my praise as being the most colorful and exciting. Within each of these 34 exhibition gardens there are not only a vast amount of native plant varieties, but unique architecture, sculptures, water displays (fountains, ponds, streams, waterfalls) and other items used to descibe each Provinces' natural character and heritage.

The Qilu garden of Shandong Province exhibited the natural and cultural history found there. The entrance to this garden was an impressive Chinese Tang dynasty-style gate, measuring 32 meters in width. The garden included a representation of the first mountain in China-the Taishan mountain; the first spring in China-the Baotu spring; and the great Saint Confucious. This "one mountain, one spring, one saint" display made the Qilu garden unique and inspiring in its' own way. After one walks through the gate to view this garden a large, man-made mountain landscape dazzles the eye. On it is a waterfall, several old pinetrees, growing in the stunted-style of trees found in nature, Shrubs, grasses and wildflowers. These mountain plants, especially the trees are planted abundantly giving this garden a virtual 'step into the wild mountains' feeling.

The Yunnan Province garden was built around a large bronze statue of a peacock. This peacocks head was shining brightly from all of the hands that have caressed it in a gesture of bringing good luck. A myriad of flowers, planted in a wavy design gave this garden a bright, colorful and wide open appearance. Perhaps most impressive was at the back of the garden were two large, stately cedar trees that gave this garden a sense of enclosure and independence.

The Fujian garden, although planted abundantly with native palm trees,local vegetation and even a thatched-roof gazebo was not very interesting or picturesque. The entrance walkway winds around a small pond and into a gift shop filled with what looked like Yunnan srt collectables, not Fujian art. The pond already was overrun with algae and it didn't see any fishes swimming in it as I did in the other gardens.

Artitistic stone and Flower garden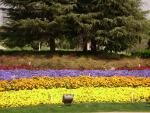 I did find the time to tour several international gardens, as well as 2 special gardens. Worth noting was the Australian garden. Kunming's sister city, Walla Walla, is located in the outback of Australia. This garden gave me a real sense of what the outback vegetation looks like, complete with native sagebrush, grasses and thorny flowers. In the middle of this garden is a wooden house that had a very rustic and frontier-like look to it. The Tree garden was a pleasant walk through local vegetation located on a hillside near the rear of the park. Lots of people were sitting and relaxing on this cool, grass-covered and shaded garden.

The Artistic Stone and Special Flower Garden was a marvel! Etched Chinese characters (Hanzi) in stones were prevelant throughout this park, but especially in this special garden. I had a Chinese couple interpret the meanings (in english) of some of these etchings. They were delighted to do so, although rather vague in their interpretation. Chinese people are very proud of their cultural heritage, and once a person learns to read this Hanzi, one could believe that living in this "Middle Kingdom" is the next best thing to being in heaven.

Beneath the flowering plum trees, with a soft northwestern breeze blowing in from the western mountains in Yunnan, I trult felt touched by a little slice of heaven on earth this day. The World Horti-Expo Garden truly lived up to its' claim as being a world-class global exhibition. I not only recommend you visit it when in Kunming, but advise you to spend at least a full day, maybe more, to take in the wonders on display there.