Kashgar Memories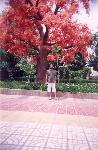 Flung out far to the west on the other side of the great vastness of the tarim pendi, lies Kashi (kashgar) on the Tumen river. Kashgar is closer to the Islamabad, Delhi, Kabul, Tehran and even Baghdad than it is to Beijing, with the borders of Kyrgyzstan, Tajikistan, Afghanistan and Pakistan nearby.
He climate is extreme in winter the temperature can fall to -24C (-11F) and in the summer months it is regularly peaks above 40C.
The famous place is Aitika Mosque (id Kah Mosque) its largest in the china,
Kashgar is nice small town, a place with nice and friendly people.