The curious capital of the grasslands
The city as a history book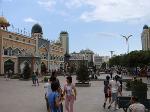 As urban scientist John Rennie Short wrote in his famous book "The Urban Order" , cities are a direct reflection of society. And because cities are built over a long time, they are the result of the visions and decisions of both the historical and contemporary societies that lived and live in the city. This is what makes every city unique.

Beijing's broad avenues and wide squares as well as the whole urban lay-out and street pattern are a reflection of the city's imperial past. When you walk trough Shanghai you can see both the signs of the rich (Western) history of the city, as well as modern-day Shanghainese status and power. By looking at architecture, street patterns, topographic names etc. in this way, every city can be read as a history book. And in Inner Mongolia's capital of Hohhot (Huhehaote/呼和浩特) this book is both thick and diverse. It is a city of mosques and bazaar-like streets, huge malls and modern high-rise, traditional Chinese looking temples and a whole collection of (sometimes bizarre looking) architecture referring to the nomadic-Mongolian past of the city. In my opinion exactly the right mix to make a visit to the capital of the Grasslands worthwhile.

Hohhot's Highlights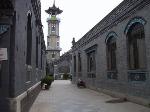 Although being a city of considerable size, both Hohhot's train station and airport are of modest dimensions. The latter (officially named Hohhot Baita International Airport) is located surprisingly close to the city's downtown area and it only took me a 30 minute taxi ride to get from the (newly opened) airport terminal to the center of the city. It isn't hard to notice the obscure mix of architecture this city offers its visitors. Aladdin-style office buildings and towers with huge Mongolian-tent dome roofs are mixed with both traditional Chinese as modern Western architecture. Even though an eclectic style mix is common for modern Chinese cities; Hohhot really takes it all another step further and therefore often reminded me of both Las Vegas and Disneyland [see picture above]

If you really want to envelope yourself in an Arabian atmosphere, the Muslim Quarter of Hohhot is the place to be; A huge neighborhood full of zigzagging streets, covered market halls, several mosques and delicious pastry shops. The highlight of the area is undoubtedly the old great mosque, which is a big religious compound amidst the bustling streets of this chaotic part of the city. A striking feature is the high minaret which is a curious mix of Eastern and Middle-Eastern design [see picture] Even better is the fact that it is free to visit the mosque complex, although the grumpy gatekeeper was very strict about which clothes were suitable enough to enter. So especially the women shouldn't forget to wear something 'decent' when they want to visit this place.
The markets in this Muslim Quarter offer a huge assortment of special products like beautiful carpets, all kinds of things made of camel hair and I especially liked all the pastry and dried fruit snacks they sold. Especially a kind of dark brown cake made with rose buds is certainly worth the try! Just leisurely browsing the quarter's markets, having a taste here and there, can easily fill up your entire afternoon.

Not far from the Muslim Area lies the oldest buildings of Hohhot; the Dazhao temple (大昭寺) and the neighboring Xilituzhao Lama Temple. When I visited the temples they were doing a lot of restoration works and therefore many buildings were off-limits, but I still was impressed by the detailed murals, a nice silver Buddha sculpture and huge statues that were freshly repainted in magnificently bright colors. Entrance fee was an okay 30RMB.

Although this temple area probably used to be the center of Hohhot in a time long ago, it's currently more or less located at the edge of the city, in area which is not very lively. Across the road there is one historic street left of what once was Hohhot's inner city. The street is now filled with souvenir shops and other then that, there actually isn't much to do. But this may change very soon, because all around this street and the Dazhao temple, Hohhot is building a huge new 'historic' inner city area. Seeing the scale and design of this project, I again found myself thinking of Disneyland "Coming to you soon: A new themed land for all to enjoy; Main Street USA" uhm..sorry... "Main Street Hohhot"

Dairy & Bread: A small tribute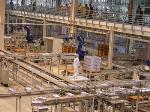 Some people say I have sort of an obsession when it comes to food. But I would just call it a passion for delicious things. And it's really not as bad as it sounds; but I am just one of these persons who -just after waking up in the morning- can already look forward to supper time. I can feel joy and fulfillment beforehand, just by thinking what kinds of things I am going to eat that day or even the coming days. Maybe this is one of the reasons why I feel so at home in China; it seems that many Chinese people share this passion for food.

Although I truly enjoy Chinese dishes, I am a born European and therefore I sometimes long for a nice piece of brown bread or a good glass of butter milk. Unfortunately these are two things which are hard to get in China. In bigger supermarkets they do sell brown bread, but it's always soft and sweet; not hard and salty like European bread. The same goes for dairy; of course they have it in China, but it's always sweetened or it has some other flavor to it which makes it taste less 'natural'

Having said all this you can imagine my happiness in Hohhot where they not only have many varieties of good brown bread, but also sell real sour yoghurt and butter milk everywhere. For bread I wholeheartedly advise the local bakery chain called Eanin (意林) which has shops throughout the entire city that offer treats such as whole-wheat buns and dark rye bread. And if that isn't enough, Hohhot -being a grassland city- boasts many milk products. The most famous one being milk candy (奶糖) but even better are the authentic, unsweetened yoghurt products that can be bought all over the town.

If you want to have a real dairy-experience you can opt to visit the factory compound of Mengniu (蒙牛) which is one the largest and most famous producers of milk products in China, and is located at about a 1 hour drive from central Hohhot. I joined a half-day tour and was amazed by the sheer scale of the Mengniu plant. It is more like a factory city. Visitors obviously are only allowed in a small number of buildings. Still, it was amazing to see the whole high-tech production line of several dairy products [see picture]. Even better is the taste-our-products-feast that visitors are invited to after the tour.

Linger longer
Hohhot city is generally not regarded as a destination on itself. Most people just spend one or a maximum of two days there before traveling on. If, for some reason, you have more to spend in the city (like I had) you can check out the newly built East District with some amazing architecture; especially look for the new Provincial Theatre. Also to be found is this new area is the Movie Fountain. A nighttime show on the water with fountains, music and water screens on which a variety of scenes is projected. And all this nocturnal entertainment can be enjoyed absolutely free of charge!
Next there is the (also new) Hohhot Safari Park in the northern mountains of the city. Unlike most Chinese zoos the animals are kept in large enclosures here which are landscaped to simulate their natural habitat. For me this was my first Chinese zoo experience that didn't leave feeling sad and ashamed (Well to be fair; the newer parts of the Beijing Zoo are fine too)

But the reason why most people visit Hohhot is of course to travel to the outlying grassland areas. In fact, city statistics say that most travelers don't even really visit the city itself; they just spend the night there on their way to and from the Xilamuren or Gegentala grasslands. And although I certainly acknowledge that the surrounding grasslands are by far the most interesting sites in the Hohhot area, I do hope that –after reading this article- you'll consider hanging around in the city itself for a few days. It's definitely an interesting walk-trough 'history book'!