Taking the train, winter travel & some tips
Why everyone should arrive into Beijing (Central) Train Station at least once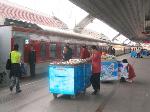 If you haven't arrived into Beijing via the train at least once then you've possibly got too much money, and more importantly, you haven't lived.

Travelling by train in China is a unique experience worthy of an article all to itself, so I won't cover it here, but there's something about arriving in central Beijing – at any time of year – that gives me an extra buzz every time.

In the middle of summer it's an unwelcome buzz of heat, smog and pressure-cooker like crowds, but in the winter it's altogether cooler.

You know you're close to Beijing when the train's intercom starts blasting an instrumental version of "Auld Lang Syne". I don't know about elsewhere in the world but in the UK the only time you EVER hear this song is on New Year's Eve, at midnight, when you've usually had too much to drink and are dancing with someone you'd never look twice at if you were sober. Enough said.

There's a shock of cold as you step out of the artificially warm train and into the reality of the outside temperature, which is above zero if you're lucky. A hundred thousand other passengers seem to be with you and you are moved along the platform by sheer volume of people rather than by any will of your own. It's by collective shove that you negotiate the steps and find your way to the exit, which has the advantage that you'll never lose your way.

On the very edge of the exit there's the inevitable bottleneck as the crowds are squeezed through one-at-a-time gates where official looking railway staff check, or relieve you of, your ticket. A good tip is always to keep your ticket to hand when getting on and off trains in China.

If you didn't realise it before, you'll notice how the Chinese in general aren't ones for giving way, and it's an ugly scrum of bodies that fight through the gates.

You should make it out of the train station with no more damage than a stepped-on foot or two but you'll definitely feel like you've just been churned up in a waterfall.

After the closeness of bodies, the way you're left bereft on the big concourse is what I can imagine flotsam and jetsam feel like washed up on some unknown shore. There's a brief moment where you'll lack momentum and just stand staring, before somebody somewhere will notice you're a foreigner...

When this happens touts will descend on you like birds of prey around a startled mouse and you're best bet is to be confident and not show that you actually fear for your life. A brisk "bùyàole" (literally in English: I don't want [whatever it is you're offering]) should suffice to all but the most stubborn tout, for this is Beijing, and there are plenty more where you just came from. Failing this, just walk away and ignore them.

Most touts are offering you accommodation, and will wave laminated sheets in your face with luxurious looking rooms, their English will be limited to "hotel, hotel", "look-ee, look-ee" and "cheap for you, cheap for you". Others will be shouting "taxi, taxi".

On my first visit to Beijing, I was expecting someone from the hostel to meet me at the station. When someone approached me saying "Tracey, Tracey" I followed them nodding, only to discover it was a tout with a private car (not a taxi), trying to make some money on the side, and that he was actually saying "taxi, taxi". I made a quick get-away, feeling rather foolish, but then I had been in China only 2 months and was still very green. It was a useful lesson and I would advise you never to take an unlicensed "taxi" from one of the railway station touts.

There are plenty of licensed taxis that come and go from a big rank where the concourse meets the road. I've never done this as there's always an almighty queue and public transport is cheaper. They work to fix rate metres based on a price per kilometre, and the metres even talk to you in English "Welcoming" you to Beijing. Touts very often will over-charge or have no idea how to get to the place you want to go to. I don't have direct experience, but I've heard the stories of those who have.

Surviving all this you may find yourself at the edge of the crowd with time to put down your bag and look around. The station is in permanent flux, and even the normally tiny-framed Chinese will appear chubby in down-filled jackets and extra layers, rather like migrating birds puffed up against the cold.

If you're alone and doing it yourself, a good idea is to hop over the pedestrian bridge which spans the road and go into the shopping arcade. There are plenty of cafes here where you can sit down, get out your map and plan your next move. Alternatively, you might just want to contemplate that you've just experienced and survived train travel in China. Congratulations!
Why Travel in Winter ?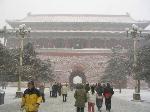 Let me tell you a secret, winter is one of the best times to travel in China. It's true! You may prefer to hibernate during this season and reserve travelling for when it's warmer, but you'd be missing a great opportunity to see China off-season.

Avoid "travel" during the Spring Festival itself as public transport is stretched to the limit. The Spring Festival is based on the lunar calendar which means it occurs on different dates every year. It is in either January or February, so be aware of this when planning your travels!


Advantages

1. FEWER people, winter is one of the quietest travelling times in China (be careful to avoid the Spring Festival), which means transport and scenic spots are much quieter. Note: this doesn't mean empty, just quietER. Beijing, for example, is never quiet!

2. SNOW. OK if you're like me and love snow, there's plenty of it to be found in the North, and sometimes in the South. It adds a fresh beauty to "old" tourist haunts. Skiing, ice-skating, ice & snow festivals and all manner of snow-related activities are on offer.

3. FOOD. Call me crazy but one of my favourite things about winter travel is that after all that wandering around in the cold, I can find a restaurant to escape into and try a selection of the local dishes.

4. CHEAPER prices. This is an aspect of winter travel not to be sniffed at. Generally, Spring Festival aside, hotels are much cheaper and many tourist attractions offer discounted tickets.

Disadvantages

1. COLD, yes it's cold, in fact in the North outside it's freezing (or colder!), so if you don't like the cold, then perhaps you're better off hibernating.

2. SOME hotels and restaurants in smaller cities might be closed, so your choice may be rather more limited than usual.

3. IT'S cold. OK, so this is the same as number 1, but I can't think of any other disadvantages and it's the main reason most people don't travel at this time of year!

If this has whetted your appetite and made you think again, great. There's still at least two months of winter left so get out there and get travelling.
Tips & Advice For First Time Travellers in Beijing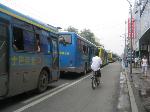 1. BUY A GUIDE BOOK. Ahem, before you come to China, books in any other language are hard to find, even in Beijing. It doesn't matter which one but make sure that it has place names, attractions etc in CHINESE CHARACTERS throughout, this will enable native Chinese to read it. Pinyin (the Romanised form of Chinese) might help you, but it won't mean much to your average native speaker.

2. BUY A MAP. If you buy anything from a tout, let it be this. There's no shortage of map-sellers and you'll recognise their perfect English when it comes to their sales cry: "English – map".

3. BE PREPARED. OK this sounds obvious, but if I tell you that when I first went to Beijing I was expecting a pick-up from my hostel at the station. When I got there, I couldn't find anyone and when I tried to call them on the number I kept getting a "the number you have dialled has not been recognised" type message. I had neglected to bring the hostel address, in CHINESE CHARACTERS and only had it in English, so no taxi driver could understand. I tried to make my way there by public transport and ended up lost and bewildered. After many hours spent wandering in complete confusion I eventually realised I'd missed off the Beijing dialling code from the number, managed to call the hostel who told me not to panic and that I should flag down a taxi, call the hostel back, and they would speak to the driver. I did this and the taxi driver was a real star, delivering me right to the door and taking my bags into the reception too.

4. GET A BUSINESS CARD from the place you're staying at. It should have their name, address and phone number, this means wherever you go you can always get back. Most taxi drivers can read Chinese, but an extra tip is to hand the card to them upside down, if they turn it around, you know for sure they can read it!

5. USE PUBLIC TRANSPORT. OK, so the buses might be over-crowded, perpetually stuck in traffic jams, and the underground might seem a mystery, but if you take a little time to work out bus routes and underground stations, then using public transport is all part of the fun. It's here you'll meet the real "Beijingers" and get a taste of what it's like to live in China's capital.

6. HIRE A BIKE. Millions of Beijingers ride their bicycles to work every day. Beijing loves them. Bikes are great for exploring the downtown and especially the intricate narrow Hutong. As the saying goes, when in Rome...

7. EAT TANGHULU. If you see someone on the street selling what looks like a kebab, but is actually fruit, skewered on a wooden stick and covered with sugar, why not try one ? They'll cost no more that 5RMB and are delicious (even in winter!).

8. AVOID SCAMS. The most frequent one happens around Tiananmen Square and usually involves students or young Chinese who can speak English. They will tell you that they are having an art exhibition and that it is the last day etc, etc. The scam is that you will be taken to an art exhibition and be obliged to buy a painting, mass produced, for an inflated price. Another popular scam is well documented and I refer you to a recent posting on the forum: http://community.travelchinaguide.com/forum2.asp?i=41599
My advice is don't be too polite to say "NO" and don't be flattered into saying "YES"!

9. HAVE FUN. Beijing is diverse, bustling, culturally rich, full of fine food, crazy, surprising and bursting with things to see and do. Be sensible for sure, but don't be afraid to make mistakes or get lost from time to time. Just get yourself out there and have FUN.

10. TRAVEL CHINA GUIDE! Don't forget to check out TCG's pages on Beijing. There's information here from been-there, done-that travellers on every aspect of this city (and country) and if there's something you can't find, why not post a question in the forum ?