<A> CULTURE, CASINOS, AND CURRIES – THE 'ALL IN ONE' MACAU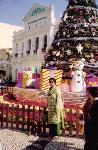 Landing at the Chek Lap Kok airport of Hong Kong, one is sure to be dazzled by its glitter of steel and chrome. This airport is indeed a marvel of architecture. It was early morning and the train from our landing terminal to the main terminal was fast and clean; these trains run every few minutes. We found the airport absolutely spick and span. The move through Immigration was quick though it included the issue of visa. There were plenty of baggage trolleys; these are free of charge. We also found that we could make local telephone calls free of charge.

Our local Chinese guide who met us had a Western name as most persons in the hospitality industry in China do. He had a terrible English accent but was most friendly and ever-smiling. Breakfast at the Regal Airport Hotel at 6.30 in the morning was sumptuous and indeed most welcome after our overnight flight. We travelled from the airport in an excellent bus through the clean and wide roads of Hong Kong straight to the Ferry terminal for the one hour ride to Macau.

Please do remember that to go to Macau, you need to take your passport for immigration formalities, though no separate visa is required. This so-called Ferry Terminal was no less than an excellent airport. And so was the ferry that could rival an international airliner for its comfortable seats and ambience. The journey was fast and smooth and as Macau came up on the horizon, we found the heartwarming sight of wide roads, greenery and gardens seen everywhere. The main part of Macau is the Peninsula which is well connected with the two islands of Taipa and Coloane by three classic elegant bridges. Taipa is also populated now with some of the big hotels like The Venetian being located on it.

Lying 60 km West of Hong Kong, Macau has had a Portuguese influence for over 400 years. Macau takes its name from A-Ma-Gau harbour, which in turn is named for A-Ma, the goddess of seafarers. The Portuguese first set foot here in 1513, and settled on the peninsula. After Hong Kong was handed over to China by the British in 1994, Macau was returned to China by the Portuguese in 1999. Like Hong Kong, Macau is now a Special Administrative Region (SAR) of China. In accordance with China's 'one country, two systems' formula, it retains a high degree of autonomy in all matters other than defence and foreign affairs.

Macau offers a wonderful palate of history, food, culture and of course, gambling. A sight for sore eyes is the tranquil beaches all around. Macau Jockey Club's horse racing attracts gamblers from the nearby areas. There is also the formula car racetrack where the Macau Grand Prix is held every November. Macau is really a stunning city with clean streets, gardens and hilly landscapes. Just 27 sq km of area, and half a million population, but Macau is booming. It is undergoing massive reclamation from the sea. No more the sleepy Macau of old, it is indeed in a boom phase. The Portuguese influence is clearly reflected in Macau's architecture, food, and the laid-back atmosphere. The cobbled alleys, grand churches, colonial style mansions, and the cafes are testimony of this.

The currency here is PATACA (MOP) but the Hong Kong Dollar is freely acceptable. One is well advised to take Hong Kong dollars along. Like Hong Kong, Macau is not a particularly tip-conscious place. However, taxi drivers would gladly accept a tip, where you may just round the fare up. The hotel staff though expects a tip, about ten patakas would be fine. Most hotels and many restaurants add a 10% service charge to the bill.
Macau still continues to enjoy its casino-led economy. We learnt that the famous billionaire Stanley Ho had monopolized the casino franchise since 1960s till recently when the government opened it up to competition. Now over 80, he mostly stays in Hong Kong. Casinos and more casinos all over the small island that is Macau, the 'Las Vegas of the East'. Casinos give Macau 40 % of its revenues and as such these are mushrooming. A few years back there were only two casinos and now there are 28. Today there are 11,000 hotel rooms but there would be a quantum jump to 77,000 rooms in the next three years. The latest hotel and casino is The Venetian, a replica of the one in Las Vegas, USA, built by the same person, Sheldon Adelman. Indeed it is a huge hotel; 3,000 rooms with none of these being less than 700 sq ft! Its casino is so huge that it can match the Wembley Stadium in size. The piece-de-resistance in this hotel is The Grand Canal. Though it is like the one in Italy's Venice, the remarkable thing is that this one is built inside the hotel. An artificial but real-like sky, gondolas moving in the canal with real Italian pilots; these are indeed a delight to see.

The Macau Tower is the pride of the city. Being the second highest tower after the CN Tower in Toronto, Canada, it is a major draw for both locals and tourists as it is also an entertainment Centre. Bungee Jumping facility was set up here on the 61st Floor by the famous A J Hacket. Here you can do a bungee jump, a skywalk, or a sky jump with your full safety being ensured.

Tourist sights are many; a good addition was the Lotus Square whose gold-plated Lotus was gifted by China in 1999. We visited Largo do Senado, the lovely city centre square with its cobblestone streets and elegant Portuguese style buildings. These were then all decked up for Christmas. Clothing shops, curio markets, snack stalls housed in the narrow alleyways gave us ample chance for shopping and eating.

Thanks to a huge restoration program, in 2005 UNESCO named 30 buildings and squares as the Historic Centre of Macau World Heritage Site. A walk up 66 stone steps led us to the city ruins of St. Paul's Church where now only the façade exists as this magnificent church was burnt down by Portuguese soldiers. The Monte Fort is one of the best-preserved places in Macau. It now has an escalator for easy access of tourists to the top. Situated in the southwest part of the city is A-Ma Temple, built in the Ming Dynasty (1368 - 1644), and it is dedicated to the sacred goddess A-Ma. As always, this temple was thronged by devotees and the incense burnt there was wallowing in the winds around. We saw three vendors selling incense sticks, shouting at the top of their voice with megaphones in their hands.


We were told that Macau is a paradise for food lovers with a wide range of cuisines from all over the world. We sampled the unparalleled Portuguese cuisine. It was also a pleasure to taste the traditional Cantonese cuisine. All kinds of dim sum ranging from almond cake, chicken cakes, and cheese rolls are served in the many Portuguese café. With large numbers of Indian tourists now coming to Macau and sensing a business opportunity, an Indian entrepreneur has opened an Indian Restaurant on the Peninsula.

And now we are off to mainland China, to visit Shenzen.




More
Macau Travel Reviews