Badaling-Ming Tombs Trip
I started very early to catch bus no.919 to Badaling Great Wall at Deshengmen Gate Station. There were so many 919 lines at the station which made me quite confused at first. I asked the ticket seller for the bus price. Finally I found the one which was sold at CNY 12, recommended by cyber-pals.

The bus took over one hour to Badaling Great Wall. At about 08:30, I started climbing the wall. A little knowledge about Chinese language was a bit useful for it could help me recognize the road signs and also made easy conversation with the travelers around. Badaling Great Wall was easy to walk on. It was brand new and very touristy. I took nice photos from any point of view. The wall, indeed like a huge dragon, extended its long body against the brightening sky. I could not help but admiring ancient laborers' faith and diligence. I spent over two hours on the wall (Quite enough for Badaling) and took the cable car to return. The single trip of a cable car was sold at CNY 40.

Climbing the steep wall at Badaling

My next destination was the Ming Tombs. Visitors who were interested in the history of Ming Dynasty were suggested visiting this place. I was also interested in history. My Chinese teacher told me a lot of Chinese history when I was learning Chinese language. Followed by cyber pals' suggestion, I took bus no.919 (slow line) and got off at Ming Dynasty Wax Museum, then took bus no.314 and reached Dingling Mausoleum. To consult the cyber pals was surely necessary for you would save valuable time and expenses from their experience.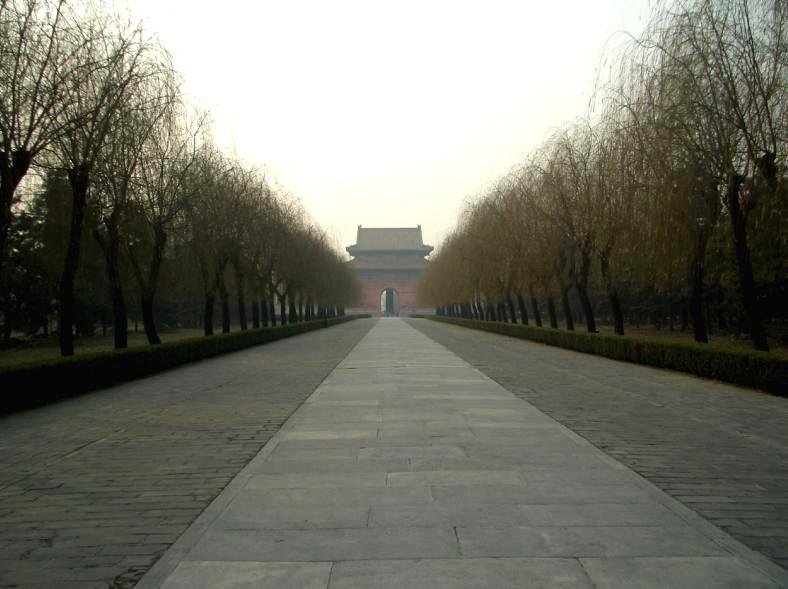 13 Tombs of the Ming Dynasty

Dingling Mausoleum belonged to the Emperor Zhu Yiyun and his two empresses. The ticket cost CNY 60. Passing the guard's gate, visitors had to go down from a five stories deep spiral stairs to enter the underground palace. The underground palace was very cold. The temperature varied greatly from the outside. Their coffins were put in the back room. But they were empty and reproduced. Big bottles which were used for ever-living lamps were put before the coffins. Dingling Mausoleum had bad luck because it had been burnt several times in history. The big fire burnt the original Ling'en Hall and Ling'en Gate into basements. The soldiers of Qin Dynasty once destroyed the mausoleum when they defeated the Ming Dynasty, according to the introduction in the mausoleum.

The museum of Dingling Mausoleum is also worth seeing. Visitors could watch the film about the excavation of this mausoleum, and a little knowledge of the background history is indeed necessary.

I returned at five o'clock. These two sites were all related to Ming Dynasty. Back to my university, I borrowed some history books; hopefully I could know more about that lapse of time.