A Letter from Beijing's Terminal 3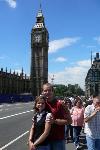 Dear Tom,

So I've finally arrived in Beijing after the long flight from London Heathrow and I have a few hours to kill as I sit here in Beijing's new Terminal 3, so here I am writing you a quick letter. We had a great visit with you and your wife and we appreciate your hospitality while we toured your city and its countryside. All our friends here in Xinjiang are going to love seeing all the pictures we took of Big Ben, the London Eye, the River Thames, and everything else that is taught in the British-written English textbooks here. Our flight from Heathrow to Beijing was uneventful although incredibly long and we are glad to be sitting on firm ground even though we know we are getting on another flight in five hours.

Right now my wife and I are resting in the middle of one of the largest…no wait, THE largest airport in the world. We flew into the new Terminal 3, fully opened in March of 2008, and we are in awe of the size of this place. I've read that it covers 986,000 square meters of floor space and cost an estimated US$3.5 billion. Even if it were to be considered an airport by itself (not including Terminals 1 and 2), it would be the largest airport according to land size, larger than all five of Heathrow's terminals combined with room to spare! The design is magnificent and the amount of open space makes it feel even bigger than it really is.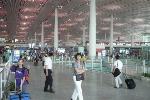 Let me see if I can describe this to you. It's shaped like a biconcave lens, thick at the ends and thin in the middle, with a roof displaying the lucky color of China – red. A tall wall of windows opens up the front of the terminal illuminating the main hall and is covered with a ceiling whose decorations are supposed to indicate directions for passengers. Indoor gardens, various decorations, and carvings help you escape from the fact that you are walking around an airport instead of wherever else you'd rather be. It really is a sight to see, a perfect way for China to impress all new visitors to the country, including its recent Olympic athletes and spectators. We, of course, live here, so we were more surprised by how much better it is than Terminal 1 or 2.
We arrived at about noon today and because of some ticketing issue we had to pick up our bags and re-check them for our flight to Urumqi. Believe it or not, we actually had to travel two kilometers to get from our arrival terminal to the baggage claim! It seems ridiculous until you realize that the new intra-terminal train shortened this trip to less than two minutes. All passengers departing and arriving must take this train to get anywhere within the airport, just another reminder of how massive this terminal is. Our trip became a little more complicated when a passengers mistook our baggage for theirs and we had to wait for a couple hours for them to return it, but don't worry, there was plenty to keep my then-starving stomach busy.
If you do get hungry, there might be no better place to appease a multi-cultural appetite in China than in this airport. McDonald's, Burger King, and Starbucks are just the tip of the iceberg if you desire a western fast-food cuisine, while the options for Chinese, Japanese, Korean, and European food fill just as many spots. This is a huge upgrade from Terminal 2 whose sole western representation is a small Subway and a KFC. During our luggage fiasco we had time to sit down and enjoy some ice cream at Haagen-Dazs before we were notified of our returned luggage. Thankfully nothing was taken, so don't worry.

Since we have another flight this evening we had to exit the baggage area and take an elevator to the top floor of Terminal 3, the check-in area. I won't lie to you that since we were more than 8 hours early for our flight, I was a bit worried that they wouldn't let me check in. In every airport I've visited in China, including Beijing's Terminal 1 and 2, they have a strict 90-minute rule that doesn't allow you to check in your luggage too early for your flight. You either have to sit patiently with your luggage and wait for hours or pay a substantial fee to drop it off at a luggage holding area. Thankfully, Terminal 3's luggage transfer system is so advanced that they claim they you can check in your luggage several hours or even days before your flight. This US$240 million baggage system is the reason why our luggage arrived at the baggage check area before we did. After spending a few minutes figuring out which row of check-in counters we were supposed to use, we were finally able to relieve ourselves of the burden of luggage and free ourselves to do other things.

So what in the world are you supposed do you do with 8 hours at an airport? We were worried we'd have to just sit around during our extended layover, something that neither of us really wanted to do. We could have taken the free shuttle bus to Terminals 1 and 2 which depart very frequently, but since we didn't have a flight over there such a trip would have been a waste of time. A much better option we chose was to take the Airport Express from the airport into the city to walk around and maybe do some shopping. This newly opened extension of the Beijing subway system goes from Terminal 3 to the Dongzhimen subway station (accessing lines 2 and 13) with stops at Terminal 2 and Sanyuanqiao. You can't beat a one-way price of 25 RMB per person when you consider that a taxi to the center of town can cost you upwards of 80 RMB and a bus just takes too long. The new trains are clean and beautiful, which offered us decent scenery during our 20-minute trip which was mostly above ground. So from the main hall at Terminal 3 we took a short ramp down to the train loading station and bought our tickets to freedom in the city.

We had a good time, enjoyed a sit-down dinner, and my wife did the obligatory window shopping. A few hours later we hopped right back on the Airport Express to finish our trip back home. Security was the same as most any airport and once through we again had to take the intra-terminal train to our section of the terminal, 3C. For an airport this size the amount of walking we've done has been surprisingly minimal.
So now here we sit waiting for our flight in seats that are comfortable enough and ceilings that it seems you could sky dive from. For the moment our wireless internet is free, although they say that pretty soon we'll have to pay a fee to use the internet, as I'm finding that most airports around the world are doing. I'm writing you from my laptop, but even if I didn't have one, they have a place here where I could access the internet. Even though I hate airports with a passion, I must say that I've never felt more comfortable in an airport in my life. China keeps proving to me both with the Olympics and this new terminal that bigger sometimes is better, although as you know I'm from Texas, so I'm already familiar with that idea. Ha!

Well, they just began boarding for our flight so I need to wrap up this letter. Thanks again for giving us your spare bedroom, and next time you pass Xinjiang let us know. If you ever do make it to China, though, make sure you travel through Terminal 3, although I believe that if you're traveling internationally you have no other option BUT to travel through this new terminal. The way China is growing I have a feeling that there will be a lot more people visiting China, but thanks to this new terminal they just made the door to the country much, much wider.

Zai jian, my friend!

Josh