Zengcheng Villages
Sa Chuen Village - Xintang, Zengcheng, Guandong Province.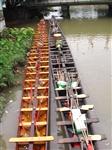 We had 4 days there in June - The Dragon Boat festival and Lay chee season. We went to Sa Chuen on the 9 June and had an excellent time visiting all the relatives. All families invite each other for a meal/snack - We went to 4 places in all. Pity it rained as we didn't see the boats racing at all.

The houses are all modern, several stories high. Each one I visited had lots of stairs. On the rooftop they had chickens, fruit trees, and vegetables.

I found the Chi Tong, converted to a food place. the Chi Tong still had the names of the founding father - a Chan village.

The old houses are still there, and are of the old green brick. One of our houses was left as it was, from the mid 1930s, after my Grandmother passed away. The other Grandmother's house was until recently occupied. It is now vacant and looking for a tenant.