Nanning
Nanning as a base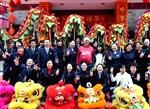 I have been to Nanning several tiimes and will be going back early next year (2010)
I have found the people to be largely unspoilt by tourists, honest and friendly. I have found that finding someone to speak english can be difficult. My wife is chinese which helps but I like to venture out by myself and mix as a foreigner. I am told there are places people should not go late at night as in all cities, but I like to walk around and through my ignorance, been down many streets at various times of the night - slightly intoxicated as well. I have never experienced any problems or felt threatened in any way. - Maybe just luck.

The airport is approx 30 kilometes from Nanning City. Nanning is also referred to as the Green City and they try to have many plants lining the streets and decorate major streets with lights.

Taxis are very reasonably priced, 7 yuan for the first 2 kilometers then the meter starts. They have a charge of 1 yuan extra per trip. This was at Jan 2009.

There are many attractions within or close to the city eg Green Mountain - which has a long Bamboo Covered walkway built in the old fashioned way (no nails), Temple, and beautiful gardens and sometimes have events for spectators.. Peoples Park and Nanhu Park are within the city but you need to like a walk in the park for these. They have a museum which I didn't like much as it mainly had chinese caligraphy pictures and art. They did have a cultural and ethnic display as Guangxi has more that 20 different ethnic groups living within its borders. Behind the museum is a cultural display of ethnic homes - this is worth a visit. The shop selling stuff on the side street (Gucheng Lu) has very reasonably priced items - (experience)

Every night there is a street (ZhongShan Lu) in the middle of the city centre and close to the Yongjiang Hotel that turns into a food street. You can eat here for very reasonable prices. It get very busy at times and don't be too fussy how the cooks or street looks, just make sure it is cooked fresh. They also have night markets every night - mainly cloths - in Pingdeng Street - s minute walk from the food street.

There is a very old temple next to the river (not much to see) called Wutong Temple. Most local people only go there on the 1st and 15th of the month

There is Yiling caves and and a hot water spa. on the outskirts of Nanning

There are many attractions that require a day or overnight trip.
Beihai which is on the southern coast - overnight trip
Pingxiang - vietnamese/china border town - overnight trip - can get vietnamese wood carvings - Australian customs allowed mine through as I declared it, but do not use my success as a guarantee of getting wood into Aust.
Detian Waterfall - vietnamese/china border - overnight trip
Chongzhuo Stone forest - day trip - very similar to the stone forest in Kunmimg but smaller - I have been to both and if you have seen one then you don't need to see the other.
Qing/Ming village - Yangmei Gu Zhen. - day trip - You can take a boat trip (more fun) or go by bus. They have many old buildings from the Qing and Ming Dynasties -
Dragon Tiger mountain (Longhu shan) - day trip - monkeys here
Guilin - tourist city - 3 day trip (check on internet) - It is approx 4 hours bus ride (forget actual time) from Nanning. Yangshuo is an area where many foriegners live and there is boat ride along the river from Guilin - There are many caves and Karsts to see. Also the famous Guilin Duck .(Cormorant)

There are other areas to visit. I discovered a good touist map on the wall at Yunde bus station on my last visit to Nanning. I haven't seen one of these before and don't know where else there is one. In this bus station they have a tourist bus that will take you around Nanning for 2 yuan.

If you want to find an English Bar, I found on my last visit called the Landing Zone. It is run by a New Zealander and they have western food and Hamburgers - wish I found them earlier.

I have stayed in a few hotels on my trips to Nanning and aim for 3 star hotels as they are in my price range and as I only sleep at the Hotel it just needs to be clean friendly and have a sit down toilet (my squatting days are over). The two better hotels I have stayed at is the Ludu (Green City) Hotel on Qixing Lu and Xinhua Hotel on Minzhu Dadao (Lu = Road and Dadao = Avenue). I usually stay for 1 month at a time and have found both to be very good for my needs. They are both very central or accessible to the city centre or business area. 7 minutes from the train station and within walking distance to most places - if you have time and like walking

Hope this information helps those thinking about going to Nanning

I have also been to Lhasa - Tibet, Shangri-La, Dali, Lijang, Kunming, Chengdu and Hanoi. These trips were all done from Nanning as my main stop.