My Experience in Boao,Hainan
Boao,where I prefer visiting and living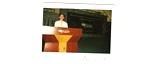 On November 12th,2001 I took a bus to Haian harbor in the morning. Unfortunately, all ferries to Haikou were suspended. I could not go home to wait. I stranded at Haian with other passengers waiting for next morning's ferry. I took a bus to Jiaji, Qionghai as soon as I arrived in Haikou.
I changed buses to Boao township. I looked for a private room to stay for five days.The owner charged 20 yuan per day.
I went to visit the permanent conference venue of Boao Forum for Asia. The impulse to visit Boao stemmed from TV media. CCTV reported that Boao is a very beautiful township with unique geographical location. The well-known Wanquan River end reaches to South China sea.

Excellent environments in Boao.
There are not chemical industry or any polluted sources in Boao. Air quality is superb.I breathed and felt comfortable.Coconuts, palm trees, mango trees, can be seen here and there. Green and luxuriant plantation covers the area.
Blessed is the able-bodied man who puts his trust in Jehovah,and whose confidence Jehovah has become.And he will certainly become like a tree planted by the waters, that sends out its roots right by the watercourse; and he will not see when heat comes, but his foliage will actually prove to be luxuriant. And in the year of drought he will not become anxious,nor will he leave off from producing fruit.JEREMIAH 17:7,8
Natives of Boao
The first native I met was a woman who made a living by transporting passengers with her three-wheel motorcycle. I speak Leizhou Dialect similar to Hainanese. Few natives of Boao speak Mandarin or English. It was convenient for them to communicate with me because we speak the same language. The motorcyclist charged me only 3 yuan from Boao Bus Station to Boao and Nanqiang villages. I saw a soccer course with dense grass beside the road while I passed by. It was said that the soccer course served Chinese National Man Soccer Team in winter.
I asked the motorcyclist to stop and got off when I got to Nanqiang village. I saw a new two-storied building, and I went up to greet a teenager, his name is Mo Cuining, he graduated from junior middle school in 2001. His mother came home after a while, I asked if she could rent her a bedroom for me to stay for five days.She said, no. And Mo Cuining invited me to have lunch with him at his home, his grandma lives in their old brick house.I gave 20 yuan to Mo Cuining, although he declined at first.I persuaded him to accept my money. Natives of Boao are plain,honest, kind and ready to help strangers.

Food in Boao
Wow,I had breakfast, lunch and supper at the restaurant on Haibin street. I ordered a bowl of saltwater fish head, soup,it was very inexpensive,(only CNY 5 yuan) fresh and delicious.I liked it very much. Fish head soup is dominant and brand -advertising dish in Boao. There is cooked black pig feet,black pigs are fed with natural food, such as tiny shrimp, small fish, crabs, sweet potato leaves., rice shell etc. Therefore, black pig pork is fragrant after being cooked.
Native fruit, ginger /rensen fruit, bananas, longans, coconuts, mangoes, pineapples, papayas, jackfruit etc.