Hong Kong—the Ever-Bright City
We got to the wrong departure lobby in Macau, it was already 6 o'clock in the evening when we arrived at Hong Kong. Quite in a hurry, we went to the Peak and were lost in the shopping mall on the way to MTR Station. We spent more than 40 minutes and asked many many people just to find the MTR station which is supposed to be very close. And I found the wrong person to ask the way, even when we started talk I didn't find anything wrong, latter my friend found that we can hardly understand each other.

Finally get out the MTR Station, we walk along the road signs to the Peak Tram station. Initially we planned to take the only open top bus in Hong Kong, but gradually we found a crowd and found that's the Peak Tram Station.

We got there in the weekend, so there was a long queue, in order to avoid the long queue and save time, we used the Octopus Card and immediately got on the tram. We've heard that the Peak Tram is operating on a nearly vertical line and the passengers will get extremely uncomfortable if standing there. Good thing was that we finally got two seats and didn't have to experience the extreme slant.

The first stop after the tram was Madame Tussauds, actually we came here just for snap shots, since there seems no other meaning down here. Many stars are not so alike, I didn't even recognize Bon Jovi~~ As an attraction, it is unavoidable for them to make money from this. Waxwork like Jackie Chan was not aloud to shoot privately, want a picture? Pay it~ this is something like compulsive consumption.

Next stop, the night view of Hong Kong, passionately, enthusiastically we took the escalator, but only to find that you have to pay HKD20 to the Tower, but we found we were cheated after bought the ticket, the tower was so crowded that you can't even get a nice shot if you have no professional equipment! Surely there are people thinking for visitors, if you want a perfect Hong Kong night view picture, pay for it~ The worse thing was the coin operated telescope, HKD5/time, we were intended to enjoy the night view from over the crowd and watch the villas on the peak, however, the time was over when we didn't even found out how to use it!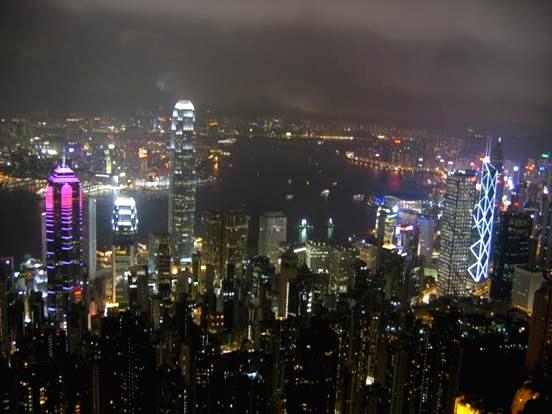 HongKong Night View
We decided to go another way down the hill, at the moment we were looking for the bus stop, a police car came and we asked the policeman. P.S, he looks like Daniel Wu! He pointed us the direction and even drew us a map after he know we are going to Tsim Sha Tsui! Out flight was scheduled 1500hrs the next day, so we decided to shop in Sasa for the last time, also a perfect ending for Hong Kong trip! The working hours in Hong Kong was so enviable, since the stores all open to late night, they would open till 10pm-11pm. The door was not open until we waited there for more than 1 hour. Again, I have to commend the sales clerks in Hong Kong, it is easy for part of the clerks greet the customers with "what can I do for you" everytime, but I think it must be a miracle and a sign of highly developed society when every clerk greet you with these words.

After the last shopping, we checked out the hotel and took bus A21 to airport for our flight home. I have to say, the fun of Hong Kong will never ended, I must be here some other time…