Some Tips about Sanya Travel
I just came back from Sanya. The refreshing air, warm sunshine, charming sea water and soft beach have offered me a quite pleasant holiday. Below are some of my personal but practical suggestions for the will-be visitors to Sanya.
Accommodation:
Sanya is a seaside city with long costal lines and the accommodation area can be divided into four: 1. Asian Dragon Bay, where star-level hotels gather. The environment and surrounding scenery are excellent, but the accommodation fee is too high, especially around the Chinese Spring Festival. Besides, it is far from the downtown area and there are no restaurants and shopping places nearby. You could only have meals in the hotel, which is very inconvenient.
2. Dadonghai, whose constructions are relatively new and the accommodation fee is lower than the Asian Dragon Bay.
3. Sanya Bay, which I recommend, for it is close to the downtown area and convenient for shopping, dinning and traveling. Besides, there are many family inns here. You could choose a newly built one whose equipment is better.
4. Downtown Sanya. I recommend it the last for it is noisy and the beach is dirty.
Transportation:
1. If you enter Sanya by train, I recommend you try the Eastern High-speed Railway. It only takes about 1.5 hours, much shorter and comfortable than a 3 hours ride on a long-distance bus. If you go there by flight, you could take the airport shuttle bus to the downtown. Or go to the 2nd floor to hire a taxi. The taxis on that floor do not pay for parking, so the taxi fee is lower. But don't take the suggestions of the taxi driver. There is a great chance they will take you to dine, sightsee or shop, from which they could earn extra money. You just head for your destination directly.
2. The transportation within Sanya is very convenient nowadays. City buses, tourism buses can take you to most attraction sites.
3. If you choose taxi, do not forget to bargain. You could ask the driver how much will it cost by meter, and then offer a 50% quotation. If it does not work, you could change another one and give 60% and that should work. If you will take the taxi to the airport to catch a flight before 0800, you'd better book one the day before. Because there are less taxis that time and the price is higher than other time.
4. You could try self drive. Sanya ia a great place to drive convertibles. You could rent one and tour Sanya freely as you like.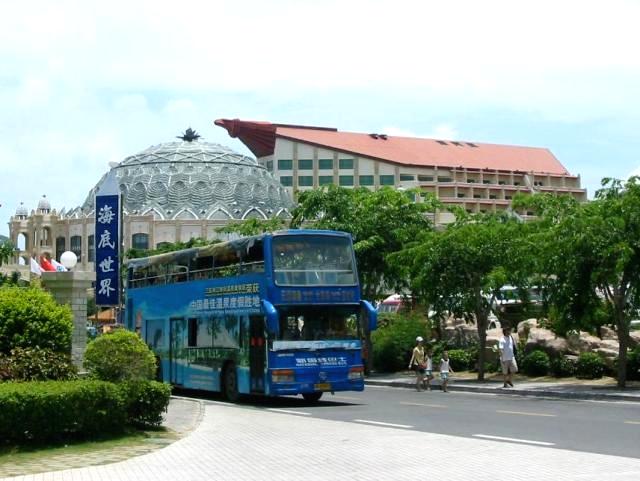 Sanya Tourism Bus
Sightseeing
Sanya is famous for its seaside scenery and there are many beautiful bays and beaches. This web has given a detailed introduction and I won't waste words any more. You could choose some from them based on your preference.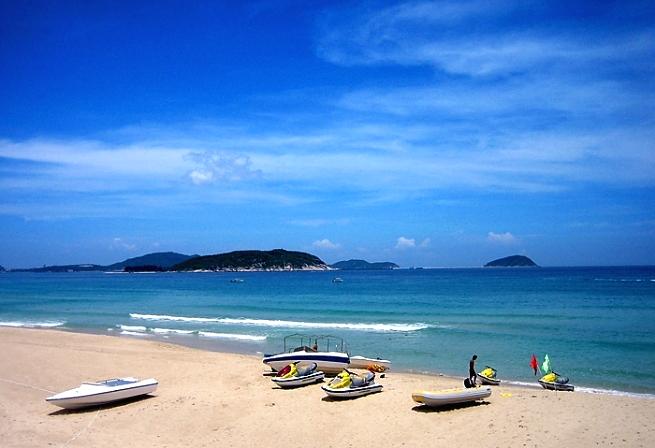 charming Asian Dragon Bay
Dinning
1. Do not go to these sidewalk snack booths advertised on the flyers or the ones offering free transfer. Believe me; otherwise you will be ripped off without a doubt.
2. I suggest you having breakfast in the hotel and lunch at leisure. About the dinner, you could have a luxurious one in the downtown to replenish energy. Dinner in the hotel is expensive and not necessarily good.
3. You shouldn't miss the seafood when visit Sanya. There are two famous places to eat seafood in Sanya: one is in the coconut grove in the eastern suburbs, which is very romantic and the price is a little higher; the other one is the Chuanyuan Seafood Square, in Chinese '春园海鲜广场', not '春源' or '春远'. They are the fake ones. The food here is cheap in price and excellent in quality.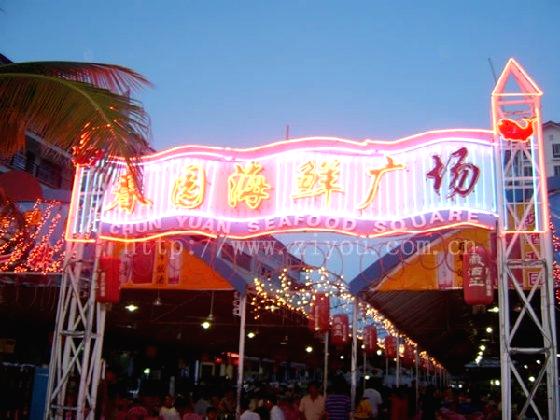 Chunyuan Seafood Square

More
Sanya Travel Reviews