A Wonderful Trip to Echoing-Sand Mountain and Crescent Lake
For a long time, I was not interested in the northwest part of China, which had impressed me as lonely, wild and poor. However, after touring Dunhuang, my impression of this vast land totally changed. I want to state that desert also has its beauty. The story went like this: our flight was changed to the next morning due to some unknown reasons, so my workmate and I killed the time by visiting the Echoing-Sand Mountain and Crescent Lake, which was about 7 kilometers away from the Dunhuang City. I am now very glad that the flight was changed and I will definitely visit other part of northwest China if I get any chance.
Entering the park, we were astonished by the sand mountains one after another. Since it was a long way to go before reaching the main peak, we chose to ride a camel. It was a wonderful and unique experience for me and I loved it. Just imagine a picture of blue sky, yellow sand and pleasant sound of camel rings, what an amazing life it was!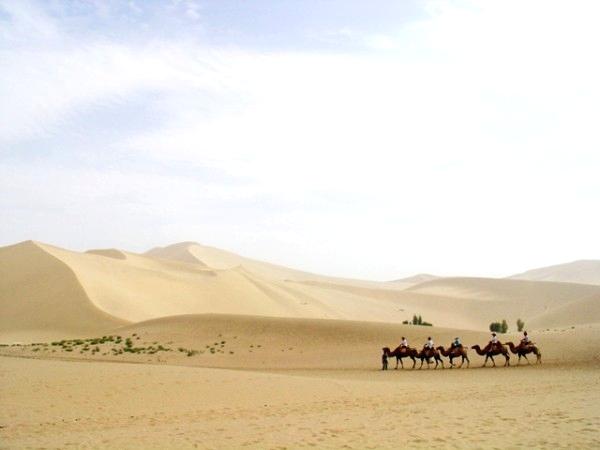 People Ride Camels among Sand Mountains
Arriving at the foot of the main peak, we began to climb the peak. Both of us wanted to experience how it would feel to climb a sand mountain, so we walked on bare feet and did not use the ladder. It turned out to be tiring but comfortable. It was tiring for our feet just sucked into the sand every time we made a step; it was comfortable because the sands were warm and it was like doing a massage while walking on them. I've heard from the local that it could cure the disease like beriberi by walking on the sands. The scene from the peak was even more attractive. We could survey the green Dunhuang city and the clear lake lying calmly among the sand mountains. There was no words could fully express my feelings. See my picture pasted below.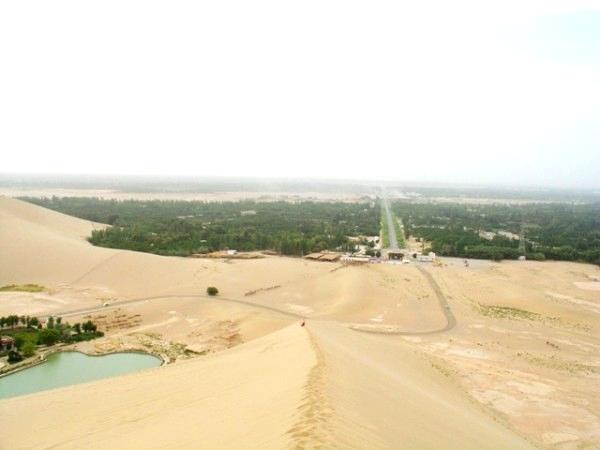 The Green Dunhuang City at a Distance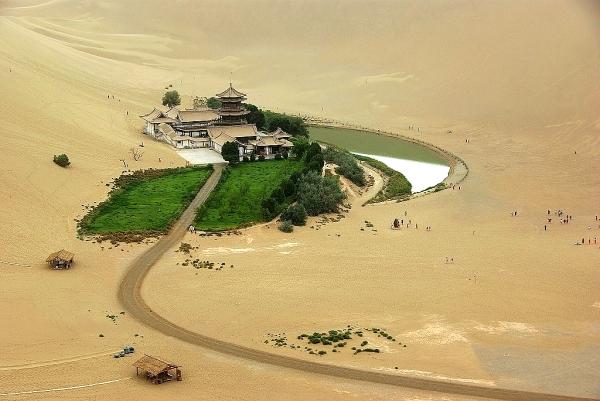 Crescent Lake
We got down the sand peak in a unique way too, sand sliding. It was so exciting and reminded me of my childhood when playing on the slide. Then walked about 200 meters, we arrived at the Crescent Lake. Lying there for hundreds of thousands of years without being buried by the surrounded sand mountains, don't you think it is a miracle? What's more, it was shaped like a crescent. Great nature, right? 
Tips:
1. It was said the best time to visit Echoing-Sand Mountain was around 05:00 and 06:00 and the late afternoon in summer days, when one could enjoy the sunrise and sunset of the desert. Also, the sands wouldn't be too hot at that time.
2. Do not use parasol when riding a camel, for the camel may got scared.
3. Take some measures to protect especially your eyes in case of a sand wind.
3.
Dunhuang
HITOMIONCONCORD
Nov 12, 2004 15:11