Hero Tablets on Badaling Great Wall
There is a famous saying in China: He who doesn't reach the Great Wall is not a real man. A hero tablet was thus set up on the highest point of Badaling Great Wall and many visitors seized the chance to take photo with this tablet, to certify that they had been to the Great Wall and was a true man. But the thing did not go so well.
Actually, this is a story told by one of my friends. He went to Badaling some time this year. You know what, he saw many hero tablets on the Badaling Great Wall rather than just one. He indeed felt queerish but didn't take it seriously. However, when he took out his camera and photographed one of the tablets, a man showed up and said: "two yuan for one pic". My friend asked why, for he had already paid to enter the scenic area. Then the man replied boldly and self-confidently: "It was me who built this hero tablet and you need to pay me to photo it." My friend refused and said: "I don't care who built it. Once it stands within the Badaling Scenic Area, which I have paid to visit, I won't pay you." As either of them did not give up and the situation gradually went out of control. At last, the man even threatened: "If you keep doing that (taking photos) without paying me, I'll break your camera." This really stirred my friend's bile and a big fight almost happened. Fortunately, some visitors stopped it and drew my friend aside. Till now, my friend is angry about it.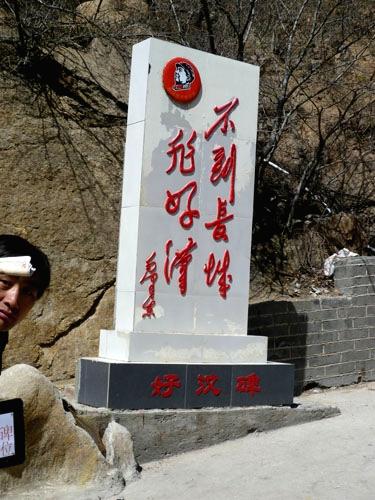 A Fake Hero Tablet on Badaling Great Wall
As I know, the real hero tablet is not on the Badaling any more. The ones standing on it nowadays are all fake, built by the local people living nearby. My advice is that: there is no need to take photos with those fake hero tablets just to certify you are a true man. A photo with the Wall can also do it. It's better to spare time to enjoy the magnificent and amazing scene of the Wall.