One week in Changsha HuNan
came to Changsha by train at night because of that I did not want to change hotels at the place I traveled from. The room I had which was booked and I had rented on the premises. In addition, I had the chance to get on the train without having Tickets bought in advance. It should be done in China, but I took a chance and did not come with the train I had intended, but was a train that departed later. When at half past two in the morning, only to say to taxi to wish a hotel room in the price range "so many RMB". They usually have a good handle on hotels (may be a small contribution from the hotel, they also recommend, why they like to get in into the hotel reception).

The day after I was out and about and the restaurant was pretty much more expensive than I thought initially, but saw interesting. They compose their meals by selecting different meats, fish and vegetables and chefs tweaked it. I chose some that I recognized from Wuhan and at the next table wondered if I lived in Wuhan. They wondered where I was and how long I've been in China and what I liked and so on. As usual, a lot of questions, Chinese are always interested and inquisitive.

I got a tip about an apartment complex and had to go with them there. There was usually one month's rent, but this one I could rent for a week. A lot more expensive than my hotel room, but close to the river and Xiangjiang Bridge No 1 and it was cooler near the water. It was very hot and I had to reduce the my walks and go slower. I had been in Changsha in the past but that time in the spring and had seen me around that time. Therefore I was satisfied with most being out on the long, narrow island which lies almost in the middle of the River. Xiangjiang is a tributary of the Yangtse River, but still pretty big. The noticeable when you go over the bridge to Wuyi town.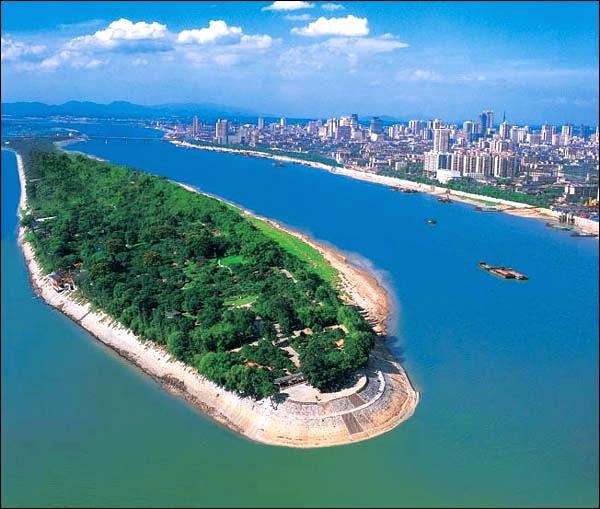 In Changsha, it is dealing with Mao Zedong who was born in the province. I have not done some visits to these places. However, it was very nicely down the River. It was fun to be out on the "island" where there were many paths that were covered with 3-4 cm round stones, and as people made their fotträningar on. Most of them had shoes almost as "sock, plastic" as they changed into. I had no such shoes, but it went well barefoot as well. Everyone thought it was funny to a "wai guo ren" (foreigner) who attended. It was very clean and neatly on the island and dricksvattensifoner that stood all around the island. The water is very good I thought.

A little south of the bridge is another small island Now it was the low tide, so the island was a peninsula. It was right many people in the water, so I went down to the beach and watched as the one raised on a stone and the other caught a small fish like eel. They would be a delicacy, but I have not tested. Nor did I try to catch these fish. They were very fast and I suspect the fish was much faster than me.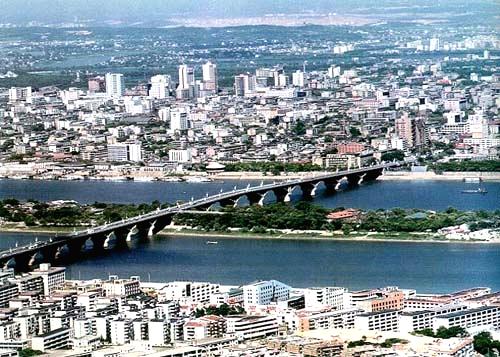 The apartment was on 30th floor with stunning views. One bedroom apartment and violently furnished and in the refrigerator much to drink (no alcohol, no beer). I did not use any of what was in the fridge. It was tea that was the drink for me.

It was amazing to just stand and look out the window across the river and all the "ants" that went to work in the low houses down there. Some girls who came out at 5 in the morning and was out on the stairs where they washed their hair before they went to work. Then came home around 20:30 to wash her hair in her little red plastic basin. Then for those, I think they just ate noodles. Always happy and on Sunday was working they are only half the day and could go out on the town and most window shopping I think.

One week went fast and I must go to the railway station, which is quite similar to that one in Shijiazhuang. The train came, and soon left to the provincial capital of Changsha in Hunan for further travel to Guangdong Province.