A journey to Chengdu, Jiuzhaigou and Huanglong Natural Reserve---Part II
The next morning after we finished our Chengdu trip, we started our amazing trip to Jiuzhaigou and Huanglong. Generally, it was an exhausting but very nice journey.

Me, my friends and colleague didn't fly or take long distance bus to Jiuzhaigou. My colleague just drove us to Jiuzhaigou by his own car. But the road trip was really dangerous. Our route: Chengdu-Guanghan-Deyang-Mianyang-Jiangyou-Pingwu-Jiuzhaigou.

Though we got up very early in the morning, we finally spent almost a whole day driving from Chengdu to Jiuzhaigou. My colleague didn't go to Jiuzhaigou before and his car didn't have GPS. But we had two mobile phones with GPS functions. Without the mobile phones, we couldn't reach Jiuzhaigou successfully.

A traffic accident on the Deyang-Mianyang expressway forced us to get off the high way and drive on the road to Mianyang. At around 11:30, we arrived in Mianyang City. There we took a rest, grabbed something for lunch and then kept driving to our final destination, Jiuzhaigou. The journey from Mianyang to Jiangyou was safe but we met another traffic accident during our way from Jiangyou to Pingwu. A traffic jam occurred due to the accident. We got stuck there for almost two hours, which made us miss the night party in the Jiuzhaigou Valley. You know, my colleague asked his friend to book the tickets for the night party in advance but we couldn't get there on time and enjoy the party. What a pity.

At last, we got to Pingwu. But the next road trip from Pingwu to Jiuzhaigou county was unforgettable because the mountain trip was really dangerous. One side of the road is the cliffs and the other side is abyss. If you didn't drive carefully, you might lose your life. No exaggeration! We didn't remember how many curves we had passed but finally we reached Jiuzhaigou county safely. My friend who sat beside the driver told me that she wouldn't sit there anymore. It was too freaking.

The night fell when we arrived at the Jiuzhaigou county. But we still had to drive around 40 kilometers to Jiuzhaigou Valley Scenic Area. Around 22:30, we got to the hotel booked in advance, not far from the entrance of the Jiuzhaigou. At that moment, we all felt relaxed because we didn't have to worry that we might fall into the abyss. But we missed the dinner and the dinning room of the hotel was closed already. Sigh! So we bought some instant noodles to fill the stomach.

Here I want to say THANK YOU to my colleague because he was the only driver during our journey. Without him, we couldn't finish it.

Next morning, we woke up very early because we were all excited to appreciate the beauty of Jiuzhaigou Valley. We got to the entrance a bit early. Waiting for around 20 minutes, we bought the tickets and entered the valley. Before going here, I had seen many nice pictures of Jiuzhaigou. But I wanted to say that the scenery in real was much better. The transportation inside the valley was very convenient. You could get on the sightseeing bus at any station if you bought the ticket fee when you entered the valley. We toured the main attractions in the valley according to the map on the back of the ticket. Since we had a plan to visit Huanglong Natural Reserve, we just spent one day visiting Jiuzhaigou.

PS: the best time to visit Jiuzhaigou is from mid October to mid November. Surely, there will be too many tourists there during that time. We came there in June and some pools were not full.

The scenery was amazing and I couldn't describe it with my limited words. So please look the photos.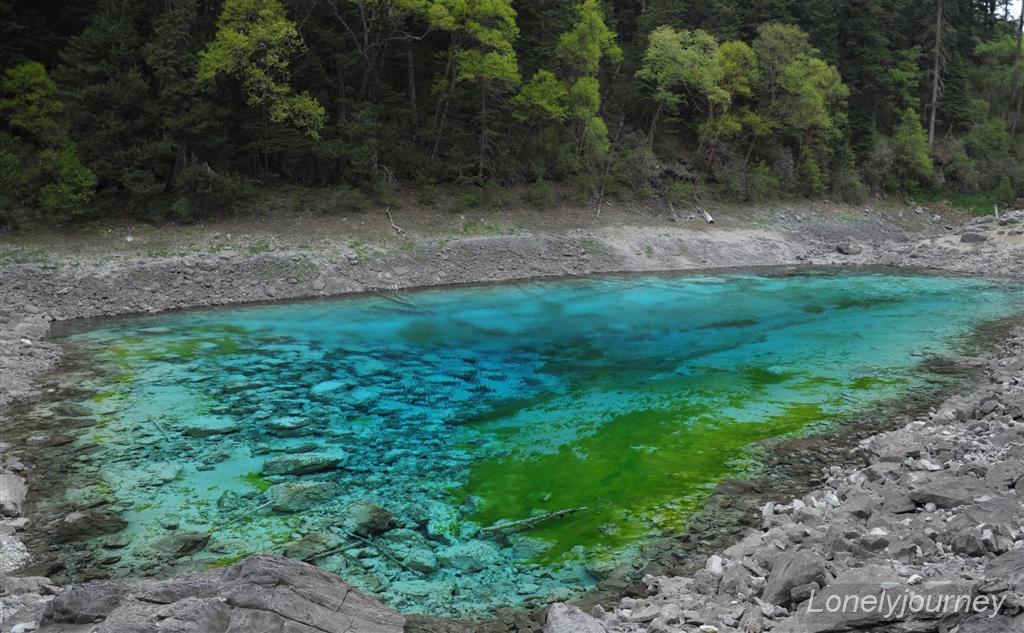 Five-Color Pool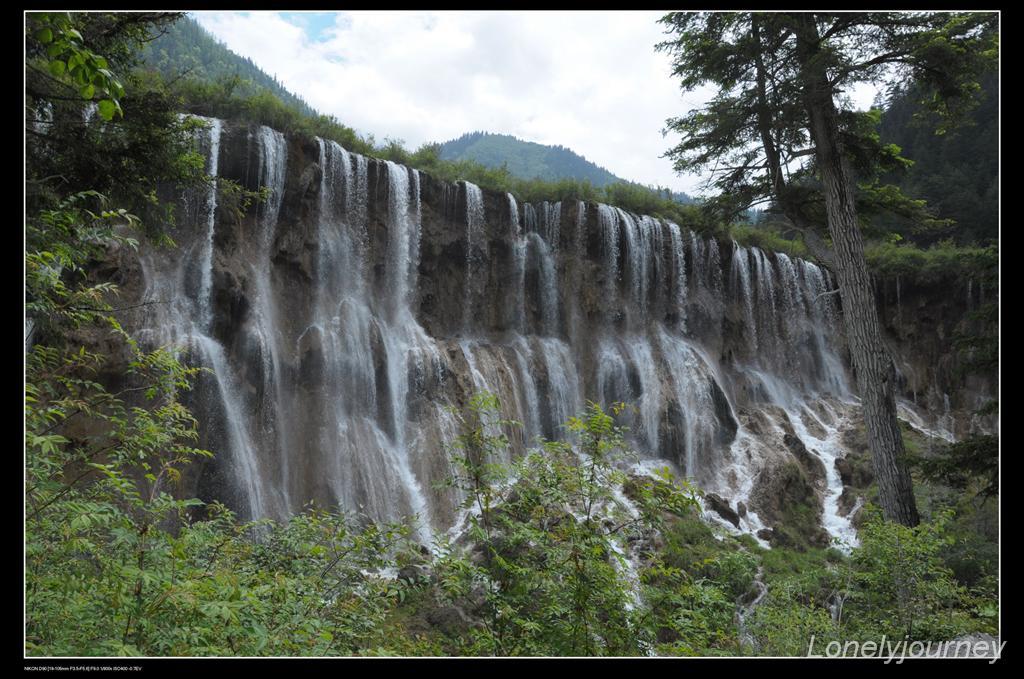 Waterfall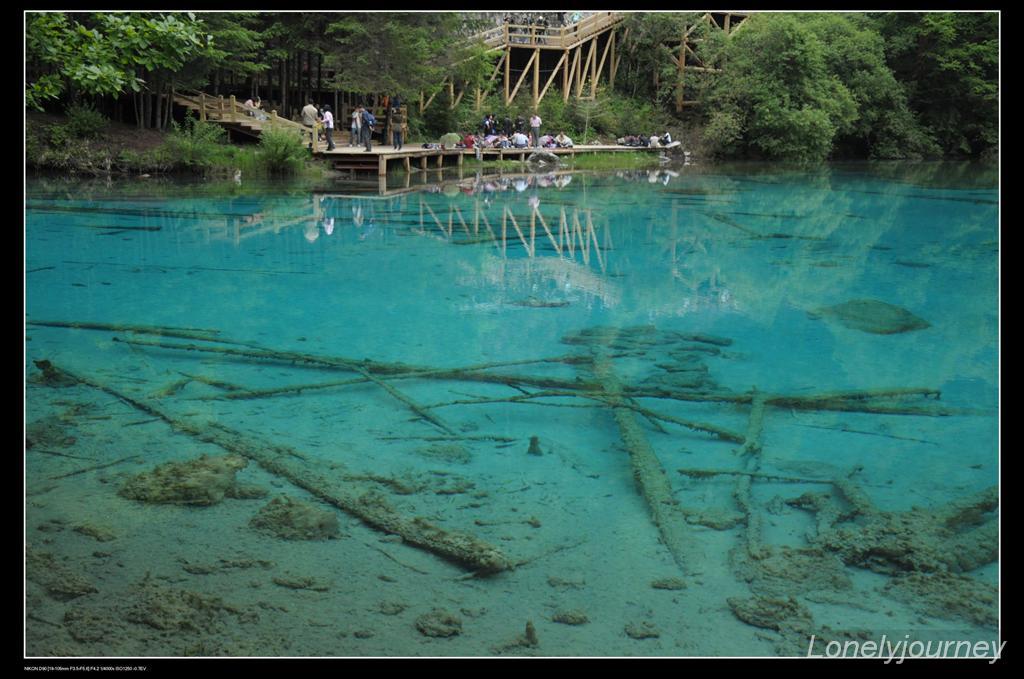 Woods in the water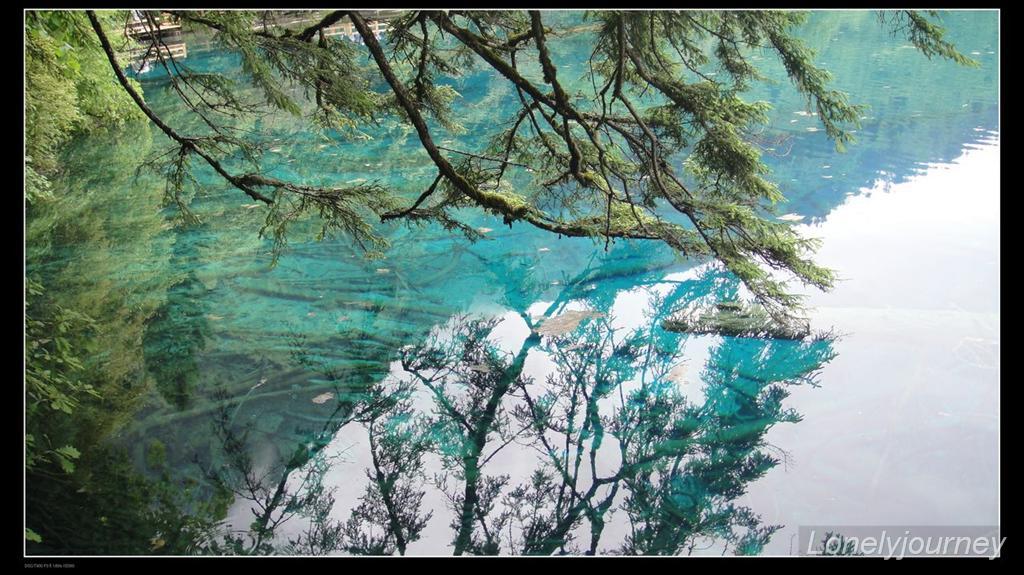 Reflection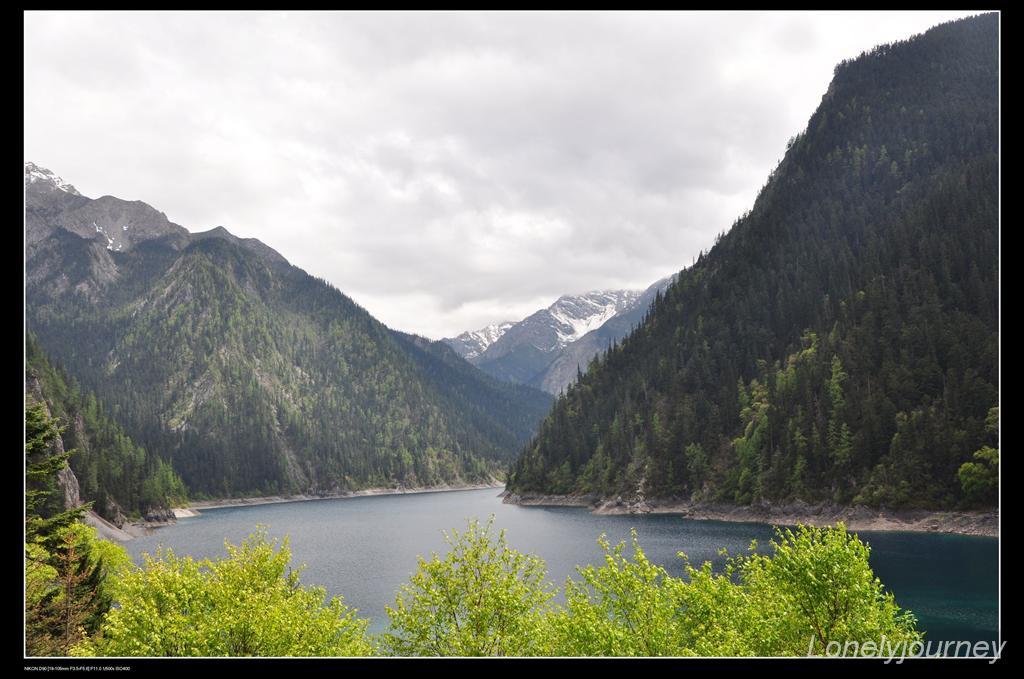 Tranquility
After finishing our trip in Jiuzhaigou, we were heading for the Huanglong Natural Reserve next morning. The road condition was better than we experienced before and the scenery along the road was beautiful. But it was cold outside the car due to the high latitude. So we just stopped several times to shoot some pictures and then got back to the car immediately. Forgot to say, we just drove through Chuanzhusi to reach the Huanglong Natural Reserve.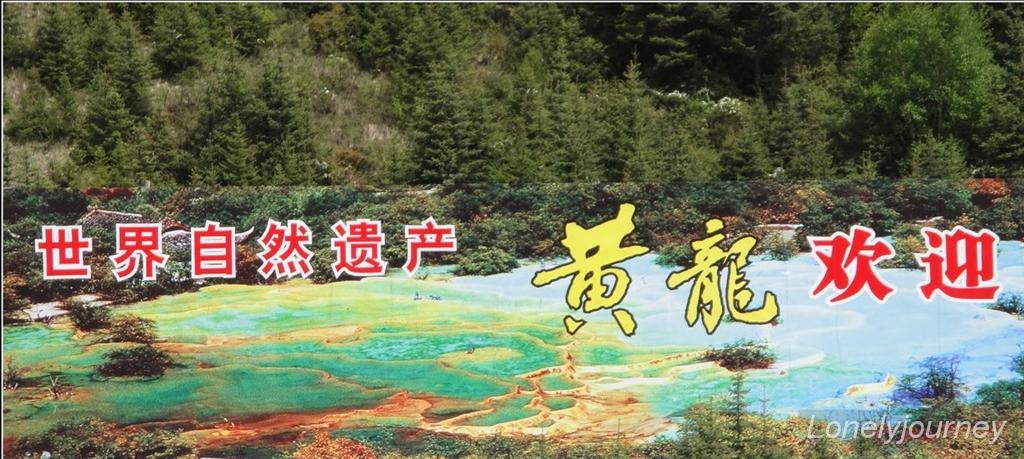 Huanglong Natural Reserve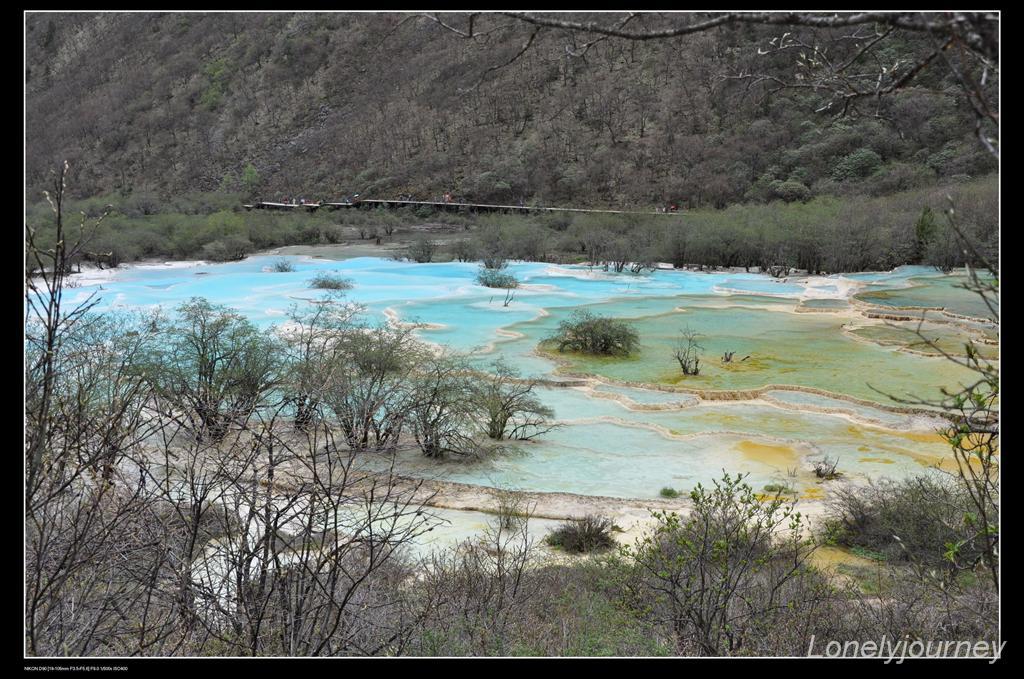 View from a distance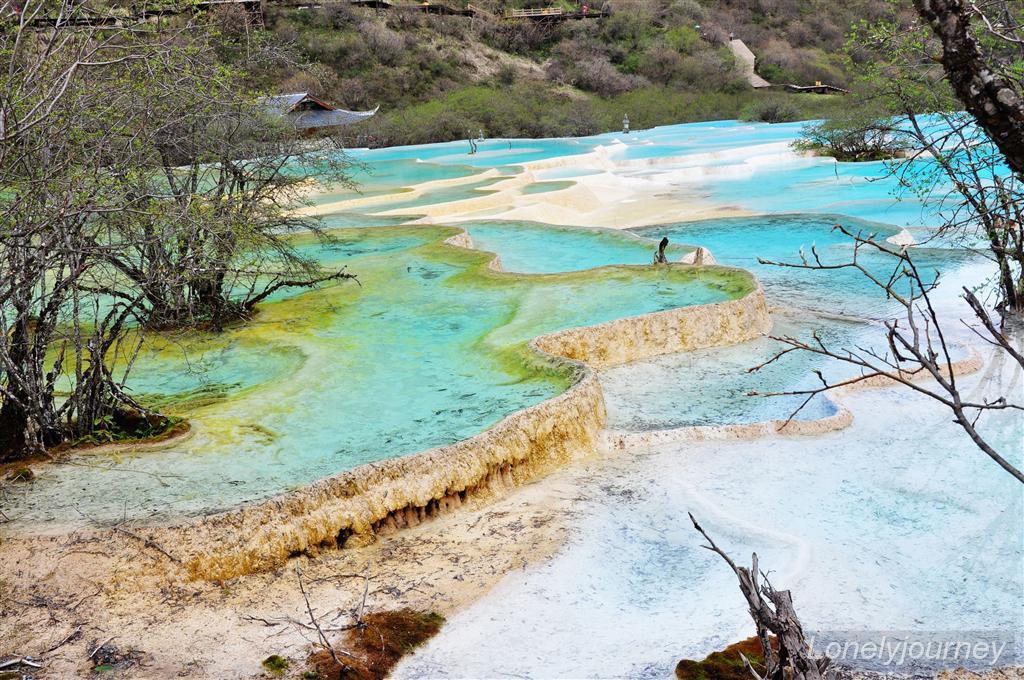 Magnificent travertine formations
The weather was unpredictable on high latitude areas. The moment we got off the car, it was still raining. But the sun was out when we walk to the entrance of Huanglong Natural Reserve. It just happened in 5 minutes. Unbelievable!
Well, most people visit Huanglong Natural Reserve after they go to Jiuzhaigou Valley. Actually, you needn't go there, in my opinion. The scenery in the Huanglong Natural Reserve was not as beautiful as that in Jiuzhaigou. Maybe, we didn't come there in at an opportune time.
For visitors who don't like hiking, they can take the cable car to tour the Huanglong Natural Reserve. We took the cable car to finish our short trip in the Huanglong Natural Reserve. We just spent the whole morning there.
It's time to go home after touring the Huanglong Natural Reserve. After having a rest, we drove back to Chengdu. Since the express way from Wenchuan to Dujiangyan was closed, we had to drive on the road again. My friend prayed that we could get back to Chengdu safely but it didn't work out. We were stuck in the traffic jam again. After a few hours of low speed driving, we got to Dujiangyan when the night fell. What's worse, it was raining. We were almost frustrated.
It was 23:00 until we got back to Chengdu. We were very hungry at that moment. My colleague brought us to eat Bo Bo Ji, a famous snack in Chengdu. After that, we went back to our hotel and had a sound sleep.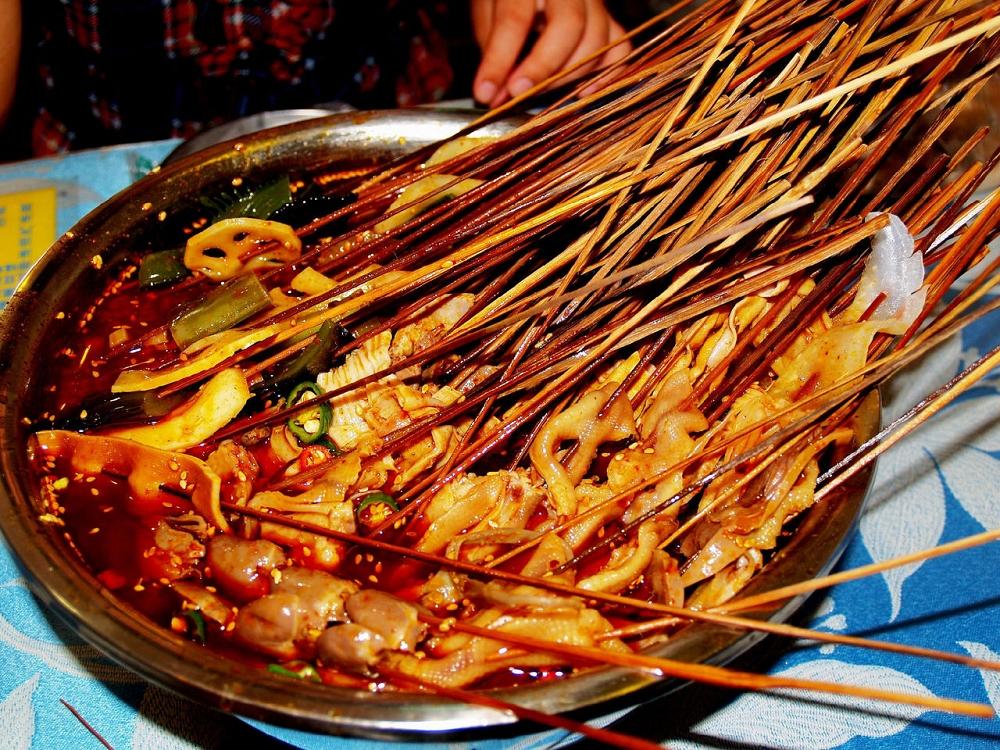 The next morning, my colleague drove his car to send my friends to the airport. After we got back from the airport, I went to the Chunxi Road for shopping. I bought some Chengdu specialties for my family and then got back to the hotel. Around 14:00, I went to Chengdu Railway Station to take train back home.
Although the trip from Chengdu to Jiuzhaigou and Huanglong was dangerous and difficult, I still felt lucky because I learnt an earthquake happened in Wenchuan again after I got back home. I felt lucky that the earthquake didn't occur when we drove back to Chengdu.
Some tips for those who plan to travel in Jiuzhaigou and Huanglong Natural Reserve:
1. Do bring an umbrella because the weather is unpredictable.
2. Bring some thick clothes. It is cold there in summer because the latitude is too high.