Spending Chinese Spring Festival in Harbin
My wife and kid told me that they didn't want to spend the 2012 Chinese Spring Festival at home. Thus, we decided to travel in Harbin during the Spring Festival.
Day 1 we flew from Chongqing to Harbin and then went to the Snow Town. We spent one night at Dong Bei Ren Jia.
Day 2 we had a one-day tour in the Snow Town and shot a lot of photos. At last we still accommodated at the Dong Bei Ren Jia.
Day 3 we had a good rest and had some fun at the Snow Town. Then we rented a car back to the city. Tonight we stayed at Bremen Holiday Hotel.
Day 4 we spent a whole day in the city and visited Dragon Tower and snow sculptures and had fun at the Ice & Snow World. Accommodation: Bremen Holiday Hotel.
Day 5 We wandered on the Harbin Central Avenue and visited St. Sophia Church, Stalin Park and Songhua River.
Day 6 We flew back to Chongqing.
Day 1
Tomorrow (Jan. 22, 2012) is the New Year's Eve. This year, we didn't spend the New Year's Eve at home with my parents. Instead, my wife and I brought our little girl to Harbin. We planned to spend the New Year's Eve there.
On Jan. 21, 2012, my wife, me and our little girl flew from Chongqing to Harbin. Our flight stopped at Jinan Airport for a second and then arrived at Harbin Peace Airport at 12:15. We noticed that the driver was already at the gate of the Arrival Hall while getting out of the plane. The driver arrived earlier than and waited us for a while. He picked us up successfully and then drove to the China's Snow Town. After four or five hours' journey, we arrived at the Snow Town safely.
It was 18:00. We found Dong Bei Ren Jia, put our luggage in the room and then had dinner together with the owner of the house. After the supper, we three went out to enjoy the night view of the Snow Town. About 30 minutes later, we went back to the room because it was tooooo cold outside. Then we went to sleep, saving energy for the next day's trip.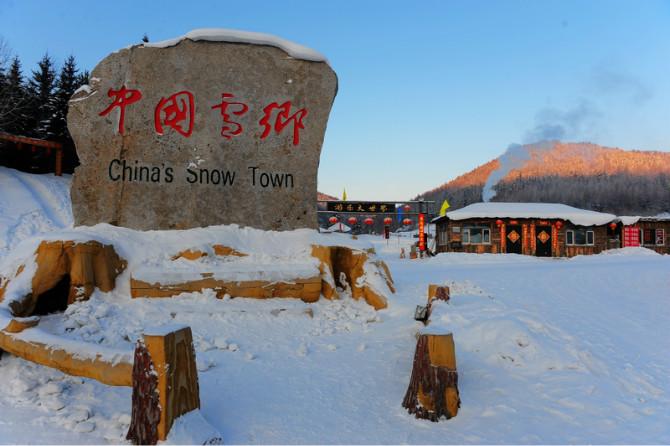 The Snow Town 3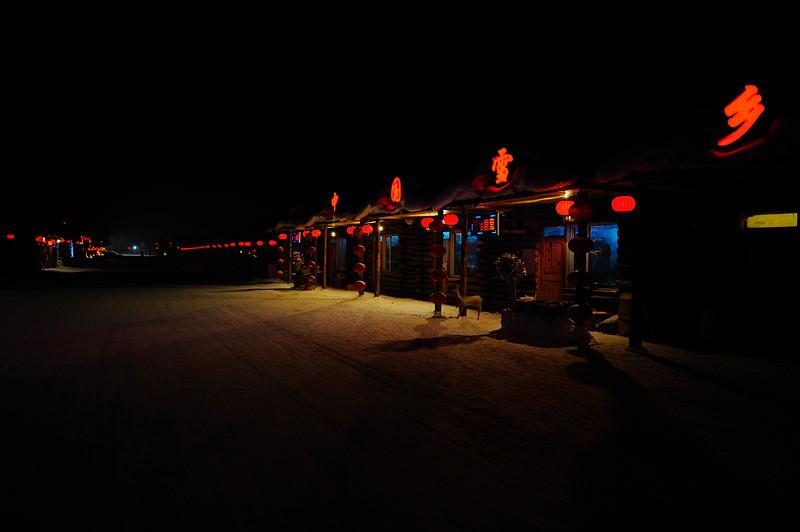 The Snown Town in night
Day 2
Today is the Chinese New Year's Eve. We got up at 05:20 and took bus to Mt. Yangcao to see the sunrise. The bus fare was CNY 160 for each person. We underestimated the coldness. My wife, my little girl and I didn't wear thick warm shoes. Our toes became unconscious. When the sun rose in the sky, we went back to the China's Snow Town as fast as we could.
Sunrise
You know, it seldom snows in the southern China. My little girl never saw heavy snow before. She played so happily in the snow field. With the help of us, she made a snowman. Of course, I shot many precious photos of my little girl and my lovely wife.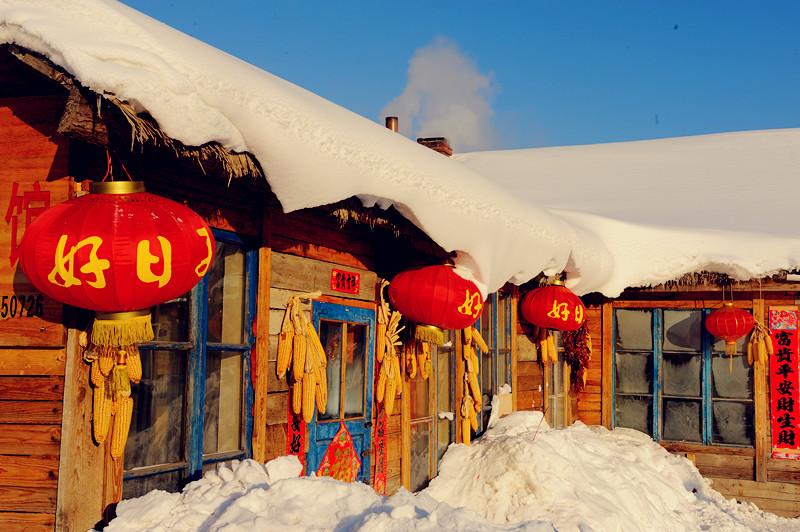 The Snow Town 2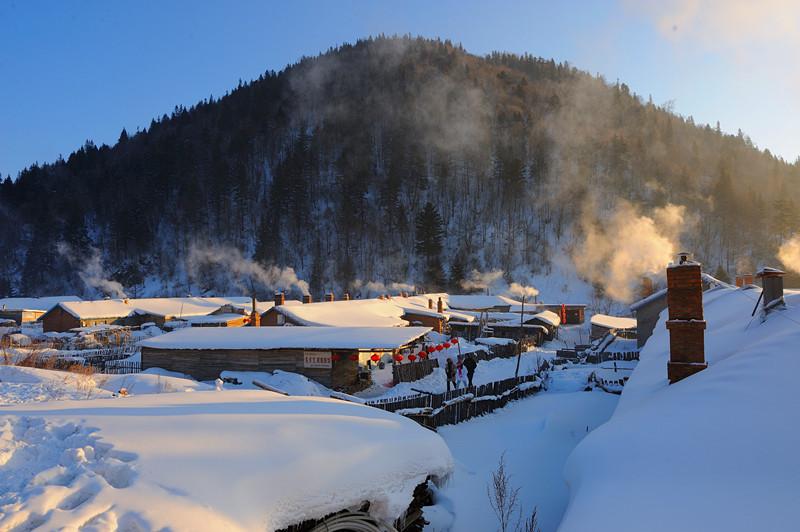 The Snow Town
Snow mushrooms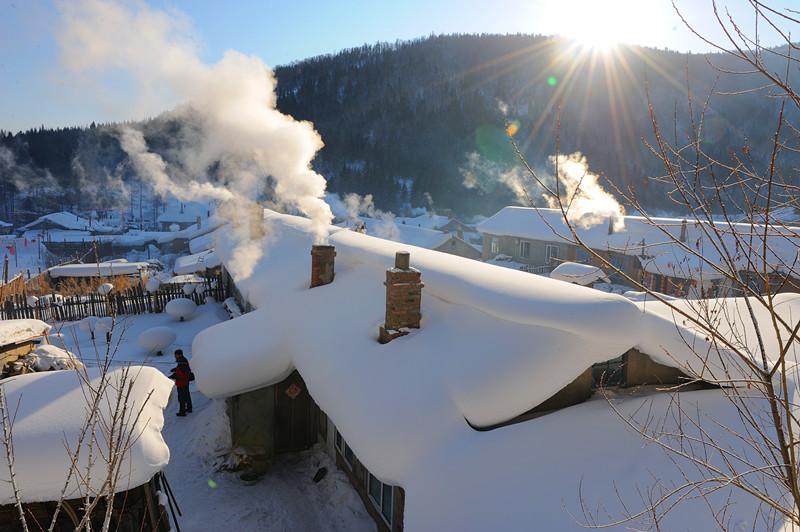 Snow-covered roof
After dinner, my wife, my little girl, I and other tourists in the house sat around the table to make dumplings and watched the CCTV Gala together. We couldn't understand what the hosts and hostesses said but we could feel that they were so happy. When the Spring Gala was over, we boiled and ate the dumplings together to celebrate the New Year's coming.
Day 3
Today (Jan. 23) is the first day of Chinese New Year. The temperature outside the house was -20 degrees. It's too cold. My wife, my little girl and I had a sound sleep. We were about to leave China's Snow Town at 09:00. Thus, we spent about half an hour having our last visit in the town.
The car arrived at 09:00 on time. It took four hours from the Snow Town to Harbin. In fact, we didn't take the same route as we took bus from Harbin to the Snow Town. This time, the driver drove toward north, passed by Yabuli Town and then kept running on the Harbin-Mudanjiang Highway. It saved one hour.
Tip: Better take Harbin-Yabuli Town-China's Snow Town route. It can save you one hour.
We went to Bremen Holiday Hotel after we arrived at the downtown area of Harbin. This hotel is just several minutes walk to St. Sophia Church. It also offers one-day tour in Harbin and afternoon tea for free. We went to visit the St. Sophia Church after we sorted out our luggage in the hotel room.
It was in winter but there were still many pigeons at the square. My little girl loved pigeons and fed them happily. I took some photos of the old church and then went shopping with my wife and my little girl. We also had lunch at the café located on the six floor of the shopping mall. After that, we headed back to the St. Sophia Church because I wanted to shoot some photos of the night view of the church. At last, we walked back to our hotel and went to sleep early.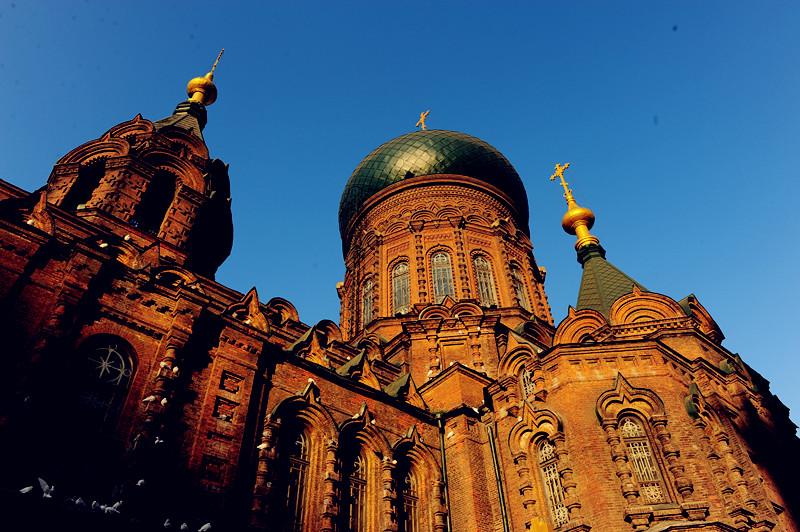 St. Sophia Church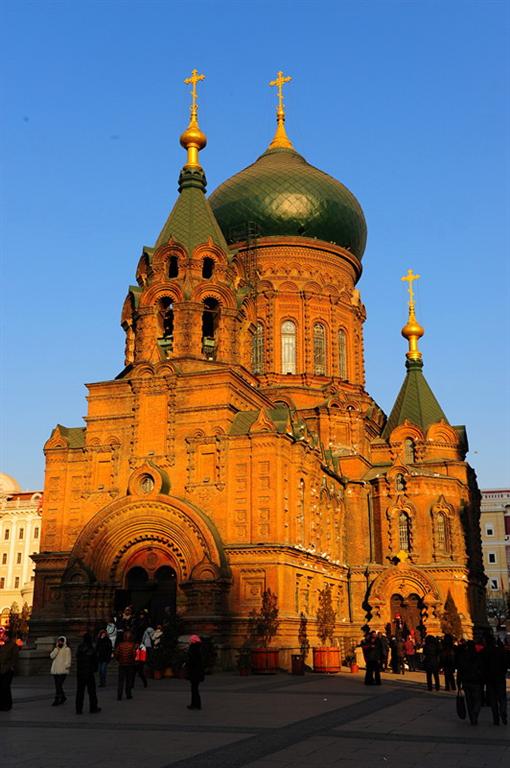 St. Sophia Church in daylight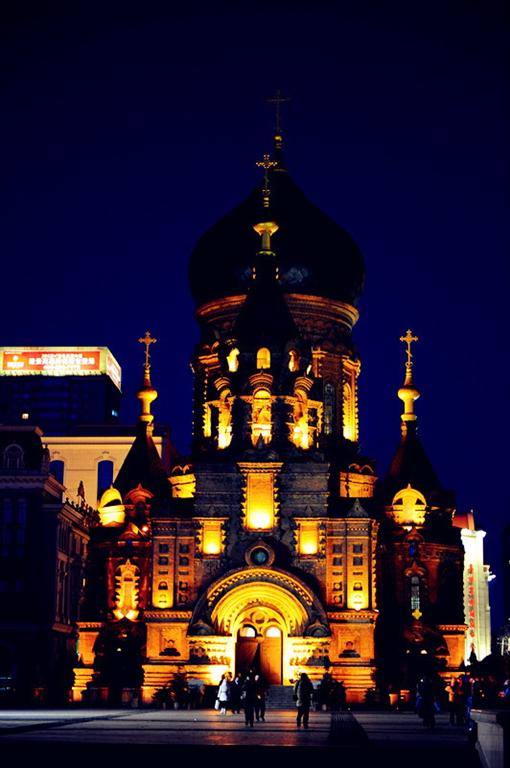 St. Sophia Church in night
Day 4 (Jan. 24, 2012)
Today, we joined the free one-day tour offered by the Bremen Holiday Hotel. The hotel arranged a MPV for my family and other two tourists. It was free but we had to buy the tickets for the tourist attractions.
At 08:30, a Chinese man called Xiao Chen met us at the hall of the hotel. He told us our first destination was the Dragon Tower. Actually it is just a steel structured tower with the height of 206 meters. Xiao Chen told us that we could have a bird view of the Harbin City at the top of the tower. We hesitated for a second and finally decided to climb the Dragon Tower. The ticket was CNY 150 for each person. Compared with the Oriental Pearl TV Tower in Shanghai, the Dragon Tower is too small and short.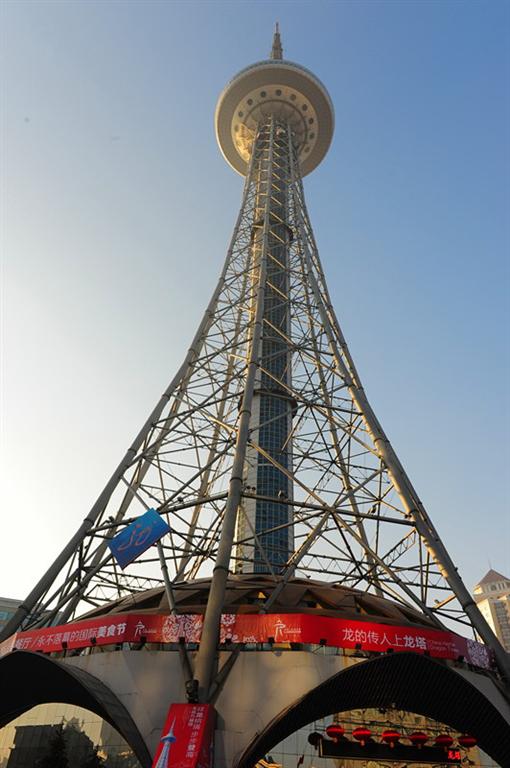 Dragon Tower
The next destination is the Songhua River. Our tour guide told us we were going to see people swim in the cold water and have fun on the iced river. It cost CNY 50 for each person. We thought it was boring. Thus, we just wandered near the Songhua River and took some photos.
like other tour guides, Xiao Chen brought us to a shopping mall, hoping that we could buy something. We just stayed in the shopping mall for a while and went out with nothing in hands. When we board the MPV, he asked where we planned to visit in the afternoon. My wife, my little girl and I decided to visit Russian Village (CNY 60/person), Snow EXPO (CNY 240/person) and Ice and Snow World (CNY330/person). The rest two passengers just wanted to visit Polar Land (CNY 150/person).
We gave the money to our tour guide and he said that he would buy all the tickets for us. Then he brought us to a restaurant. Entering the restaurant, we found that the customers were all the visitors who came to Harbin. Our tour guide told us that the restaurant was famed for its fish hunted in the Songhua River. He recommended us to give it a try. We refused because it was too expensive. 500 grams fish costs CNY 128. We just ordered fried potato shreds (CNY 28) and several other dishes.
After lunch, our tour guide told us that the driver was going to pick up his sister at the airport. Thus, he suggested that we go to the Russian Village first. After that, he brought us to the Snow Expo and then handed us over to another tour guide named Xiao Shi. Xiao Chen said Xiao Shi would take u to the Polar Land and Ice & Snow World. We realized that we were sold to another tour guide but we couldn't do anything because we were unfamiliar with Harbin.
We didn't spend much time at the Russian Village because our tour guide Xiao Chen told us we should be quick because we had to visit other destinations. The Russian Village was small and wasn't worth a visit.
After we came to the Snow Expo, Xiao Chen bought us the tickets, led us into the park and then said 'byebye' to us. In fact, Xiao Chen didn't buy all the tickets for us in advance as he said. Instead, he bought the tickets on spot. I didn't know whether he could get some discounts at the ticket offices.
The Snow Expo was not as large as we thought. If we had enough time, we would have walked in and out. Since we had to visit the Polar Land the Ice & Snow World, we went in and out by the sight-seeing bus. A round trip cost CNY 20.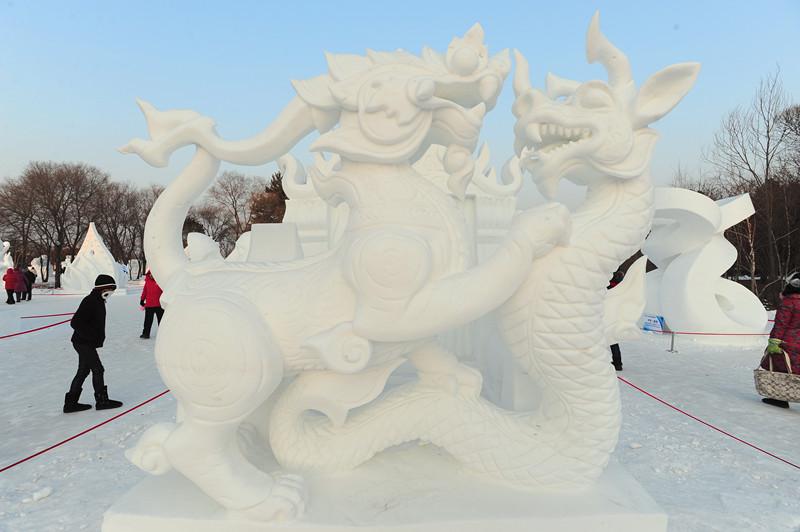 Snow scupltured dragon and kylin
We arrived at the Polar Land on time. Xiao Shi picked us up and took us to the Ice & Snow World directly. This time, I bought the tickets on my own. We were surprised by the colorful snow and ice sculptures after we entered. However, our excitement was gradually disappearing because it was too cold.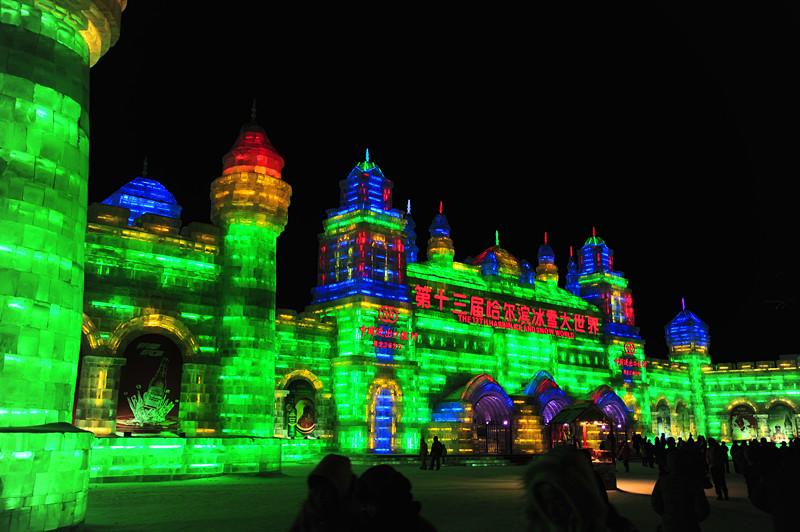 Ice & Snow World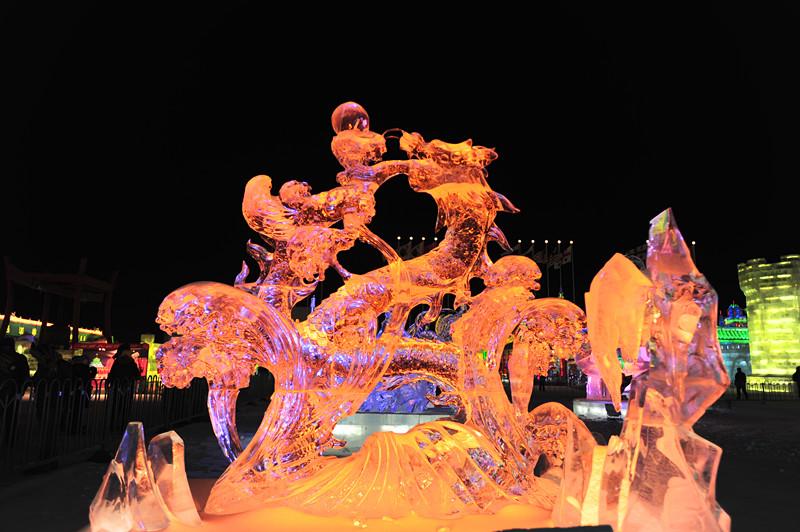 Ice scupltured fair lady and dragon
We stayed inside for more than 1 hour and went out because we wore too less.
Day 5 (Jan. 25)
Today we didn't have any arranged tour. We woke up at 08:33 and spent half an hour to get us dressed up. Then we walked toward north along the Shangzhi Road to seek the Oriental King of Dumplings. A few minutes later, we found that restaurant and ordered four kinds of dumplings. Very delicious! I highly recommended it to you.
We revived after eating the dumplings. Thus, we walked along the Shangzhi Road to its north ending, turned left, and passed the Youyi Road to reach the Central Avenue. Then we went through the underground passage to reach the Songhua River. The Stalin Park was located by the river. We stayed there for a while and went back to the Central Avenue. My wife and my little girl wanted to do window-shopping in the shopping malls on each side of the avenue. Honestly, I hated shopping but I didn't want to let them down. Thus, we three visited the shopping malls and then went to the St. Sophia Church for a visit.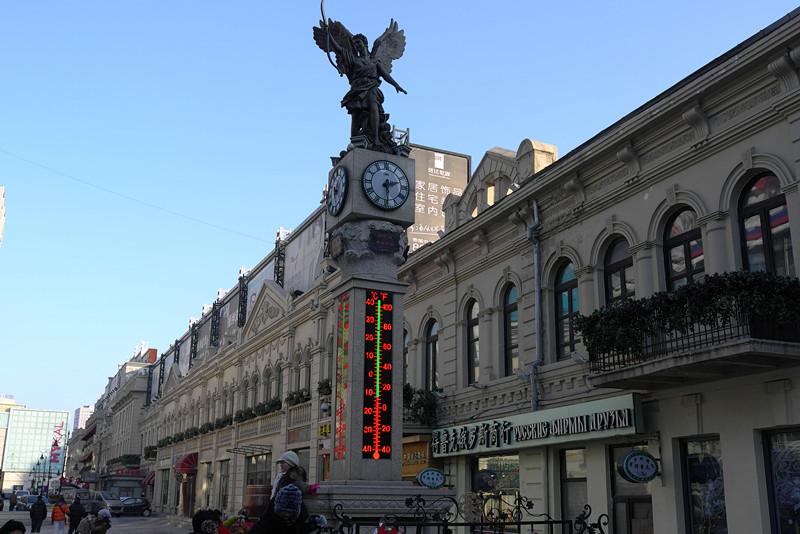 Central Avenue in daylight
My wife, my little girl and I all felt tired after visiting the St. Sophia Church because we walked too long. Then we decided to get back to the hotel to have a good rest and then go out to see the Central Avenue in night.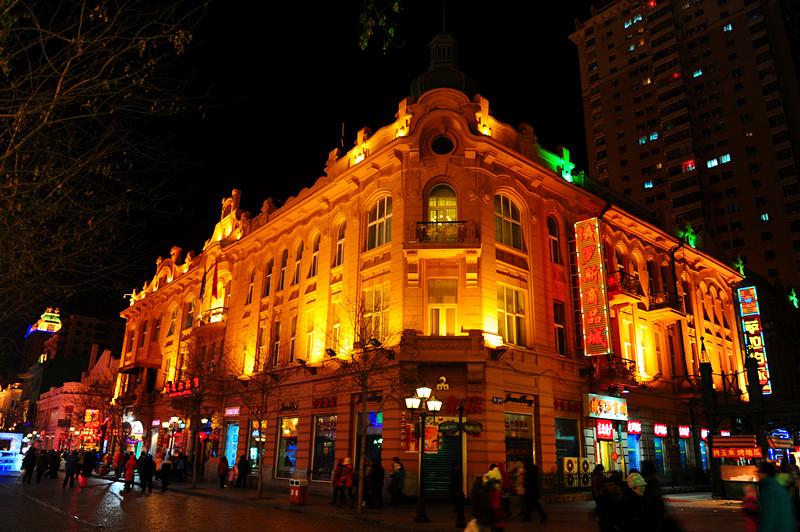 Central Avenue in night 3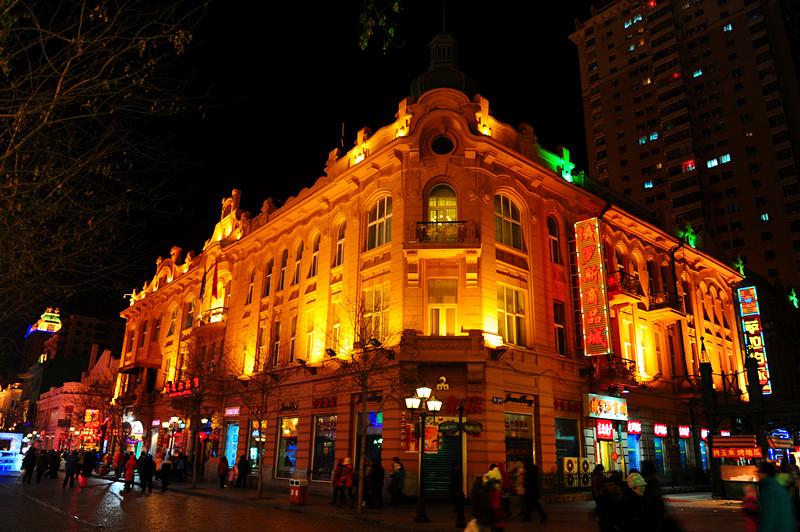 Central Avenue in night 3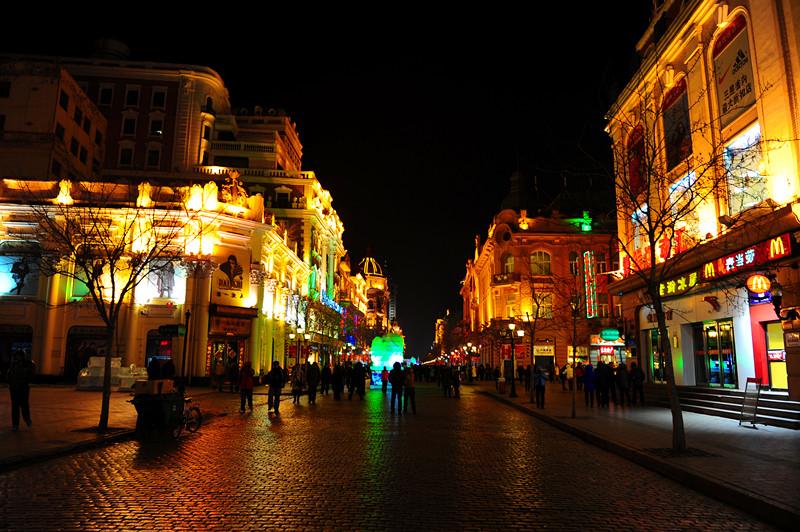 Central Avenue in night 2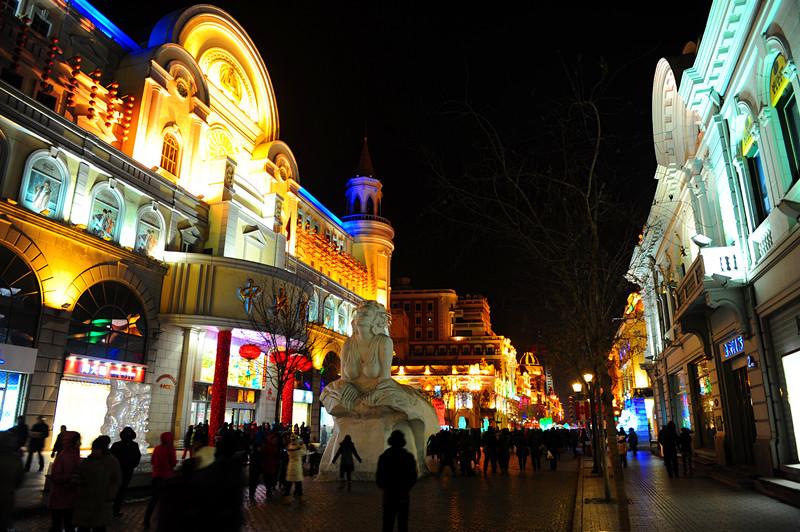 Central Avenue in night
Day 6 (Jan.26)
We did nothing in the morning in the hotel. Until 10:40, we checked out and went to the airport. At 13:50, our flight took off. It stopped in Jinan for a while and then took us back to Chongqing.
It was an unforgettable Chinese Spring Festival Holiday because we had an unforgettable trip to the northeast part of China.