A visit to Xian during the 2012 Spring Festival Holidays
My friend Huang says "You are crazy" after I tell him that I am going to Xian during the Spring Festival Holidays. Why? It is very cold, especially for a person who has stayed in southern China for 18 years.
So what? I don't care. I have bought the train ticket on Jan. 23. I guess that there will be plenty of people on the train because it is still during the Spring Festival Transportation Rush Period. But I am wrong after I get on the train. There are just a dozen people in the hard-berth carriage.
Good! It is very quiet and I have a sound sleep. At 07:30 on Jan 24, I arrive at the Xian Railway Station. Ten years ago, I came to Xian for a business trip. This time, I come here as a tourist. Thank goodness, it hasn't changed too much. I do not waste too much time finding the hostel booked on the internet.
I do not plan to write my travel log by date. It is boring. I am planning to write it differently.
Eating in Xian
I am a fan of snacks. No matter where I go, I will try the local snacks. Sorry, I do not come here alone. Miss Liang, my best friend, comes here with me after I do my best to persuade her successfully. Having heard of the Moslem Street many times, I eventually bring my best friend there to taste the local snacks. Sadly, the Moslem Street is not as busy as usual because many vendors come back home to celebrate the Spring Festival.
Don't get me wrong. The vendors on the street are not all Moslem people. Some people of Han nationality do small business on this street too. But I admit that we are lucky because the Moslem vendors's restaurants are still open. There we eat roast lamb shashlik, mutton soup with bread, Chinese hamburger, cold noodles and some other kinds of snacks.
A vendor tells me that the Moslem street will revive after the Lantern Festival (Feb.6, 2012) because all shops will be opened then. It is hard for a person from the southern to understand this. Don't they want to make money? The vendor says they are already busy for a whole year. It's time to take a rest during the Spring Festival. He asks me a question "How much money do you think is enough for you?" I pause and do not know what to say.
The vendor is right. Making a lot of money isn't the most important. The most important is to reunite with your families.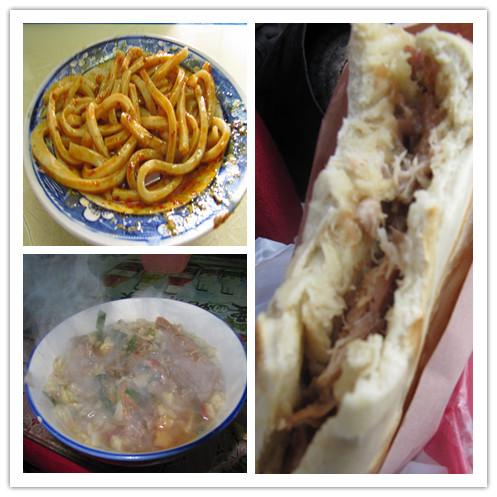 Cold noodles, Mutton soup with bread and Chinese hamburger
It is a challenge to eat cold noodles in winter. Remember that we come from the Southern China. My best friend can not help drooling when she see the cold noodles. Fine, we risk our lives eating two bowls of cold noodles. Very delicious! A bowl of cold noodles costs 4 RMB. Undoubtedly, we feel cold after eating cold noodles. Suddenly, I have a good idea to expel the coldness. Why not eat mutton soup with bread? We run into a restaurant and order two bowls of mutton soup with bread (30 RMB). The bowl is huge and I fail to eat it up. It tastes a bit salty. Surprisingly, my friend tells me that she isn't full. So I bring her to a restaurant and buy a Chinese hamburger for her. She keeps telling me it is delicious. I tell her "I know it. I know it."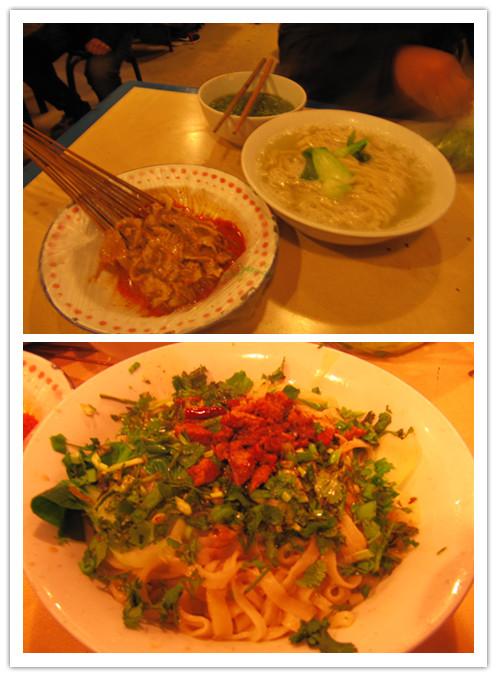 Bai Tang Mian and roast meat
I don't remember what we have done today. But it is already dark. Time to feed our stomachs. The restaurants are almost closed on the Moslem Street. As a result, we wander on the street in hope of finding a restaurant to feed ourselves. Eventually we come to a noodle restaurant. Fine, we have no choice but eat here. The waiter recommends "Pai Tang Mian" to us. We decide to give it a try. 10 minutes later, two bowls of Bai Tang Mian appear at our table. There are four bowls in all. The waiter tells us that we have to put noodles into the second bowl from the first bowl first. Second, we need to stir noodles in the soup and then eat it. It tastes nice. Except two bowls of noodles, we also order some roast lamb shashlik. Don't worry! We finish them all.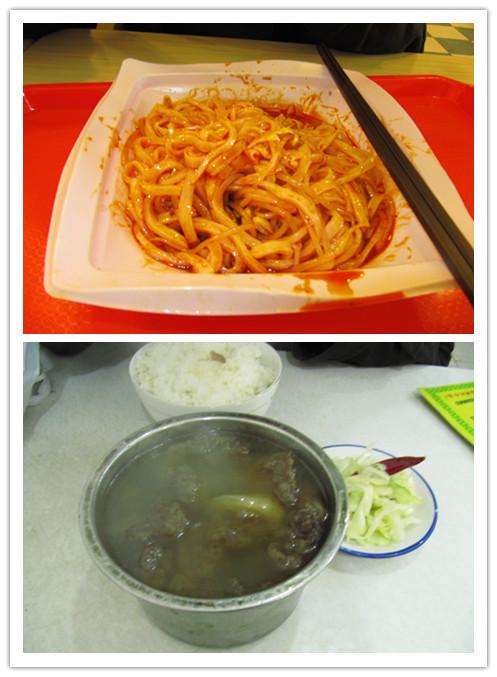 Weis cold noodles and steamed pork
Wei's Cold Noodles has many chains in Xian. We finish our lunch there. The ordinary cold noodles (5 RMB) tastes just so so. I suggest you try its secret cold noodles (8 RMB). It tastes better. My friend hears about Xiao Su Rou (steamed pork) a lot and wants to eat it. Thus, I bring her to a restaurant and order a bowl of steamed pork for her. She eats it up and then tells me that it isn't as delicious as she expected.
Of course we do not forget to buy dry-cured beef. It tastes a bit salty, no good for people who do not eat too much salt.
Traveling in Xian
Xian serves as the capital of 13 dynasties in history. It has many historical sites and amazing natural scenery. My friend has no interests in those historical sites because she has been attracted to the food delicacies. Since our time is limited, I just brought her to the following attractions.
The museum is open to the public for free. Thus, I tell my friend that we have to come there as early as we can. Otherwise, we won't get the tickets to enter the museum. We do come there early but a long queue is already formed in front of the ticket office. We do not have much time. Thus, I spent 40 RMB buying two tickets at the third entrance.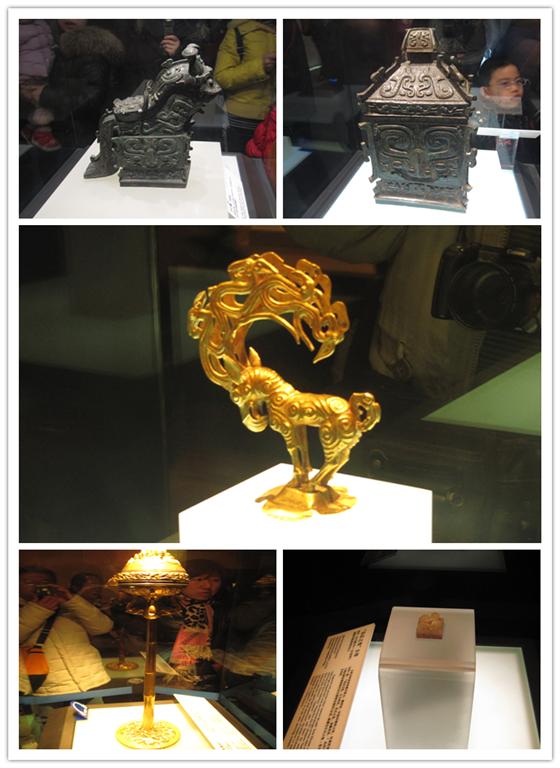 Shaanxi Provincial Museum
Clarification: The museum is free to visit but you have to get the free ticket. There is a treasure hall. To enjoy the treasures, you have to buy tickets (20 RMB for a ticket).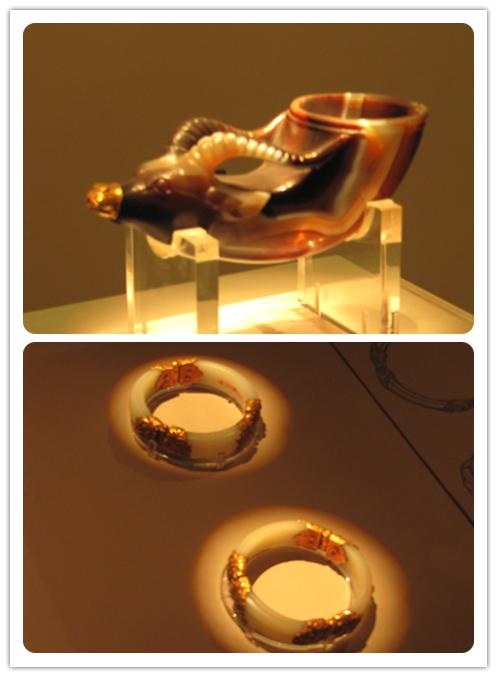 Shaanxi Provincial Museum 2
My friend tells me that she has no interest in the museums after she spent 7 hours queuing for visiting Pavilion of Japan during 2010 Shanghai Expo. Well, she is wrong. She is totally amazed by the delicate treasures in the museum. We spent almost 3 hours in the museum. Amazing!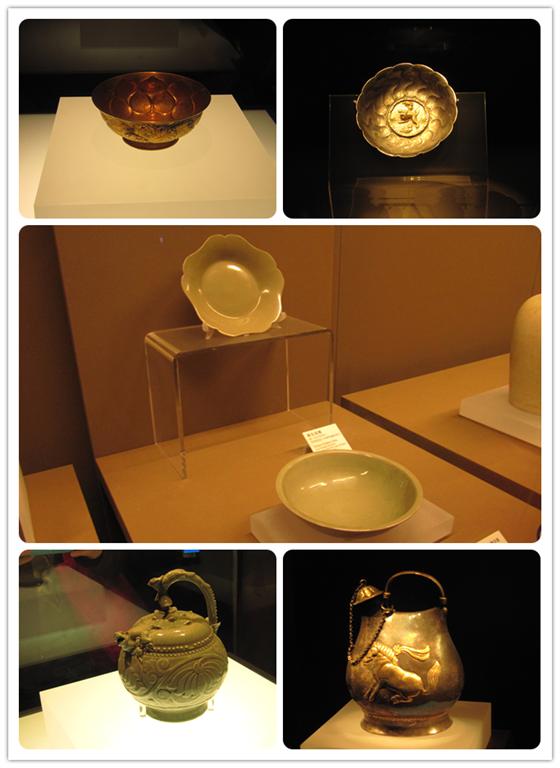 Shaanxi Provincial Museum 3
Terracotta Warriors and Horses is definitely on our schedule. My friend is amazed again by the eighth wonder of the World. She asks me many questions regarding of the terracotta warriors. Unfortunately, I have no answer because I am not an expert on it.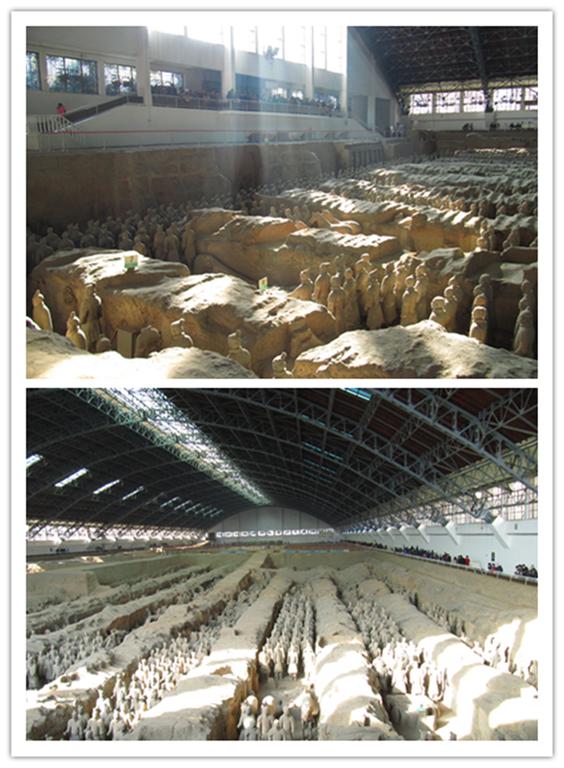 Terracotta Warriors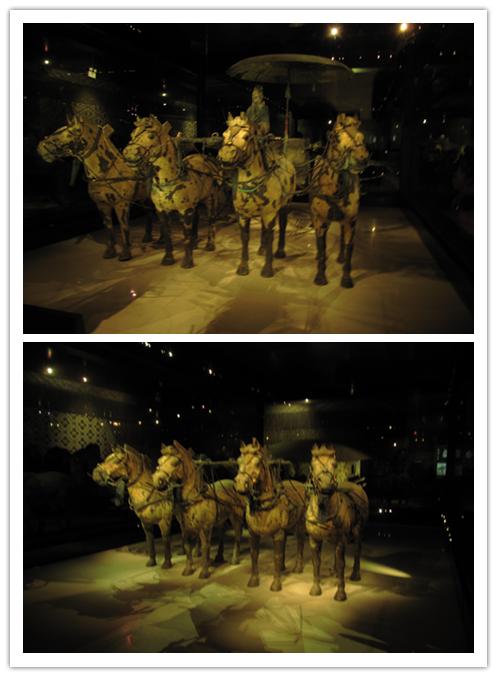 Terracotta Warriors 2
If you want to show your friends that you do come to visit Xian, please take a photo in front of the Bell Tower located at the center of the city. We do take a photo in front of the Bell Tower. The four busy and glamorous streets (North Street, East Street, South Street and West Street) extend from the Bell Tower into the distance.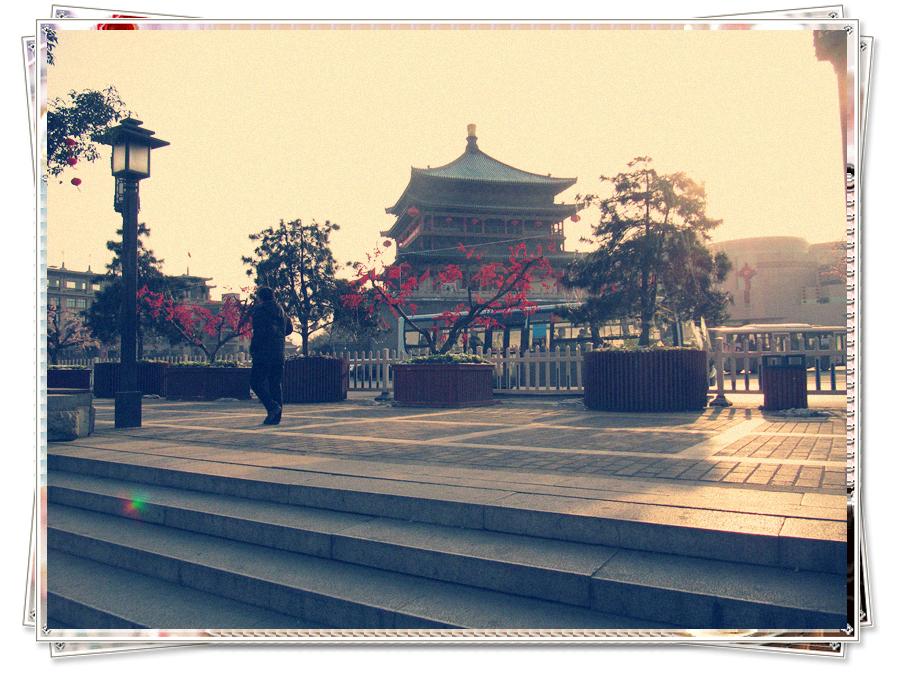 Bell Tower
If you have time, you should visit Big and Small Wild Goose Pagodas. The temple fair is held near the Small Wild Goose Pagoda every year. The entrance fee is 25 RMB. There is a large music fountain located at the north square of the Big Wild Goose Pagoda. Come there and enjoy the show. It is magnificent.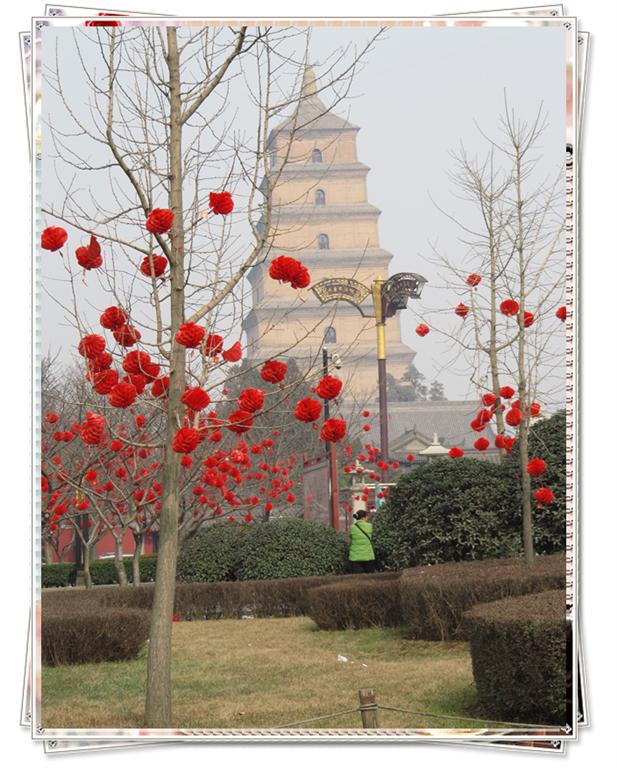 Big Wild Goose Pagoda
The City Wall is well preserved. The lantern exhibition is held on the city wall every year. We climb the city wall and appreciate the decorated lanterns. They are beautiful.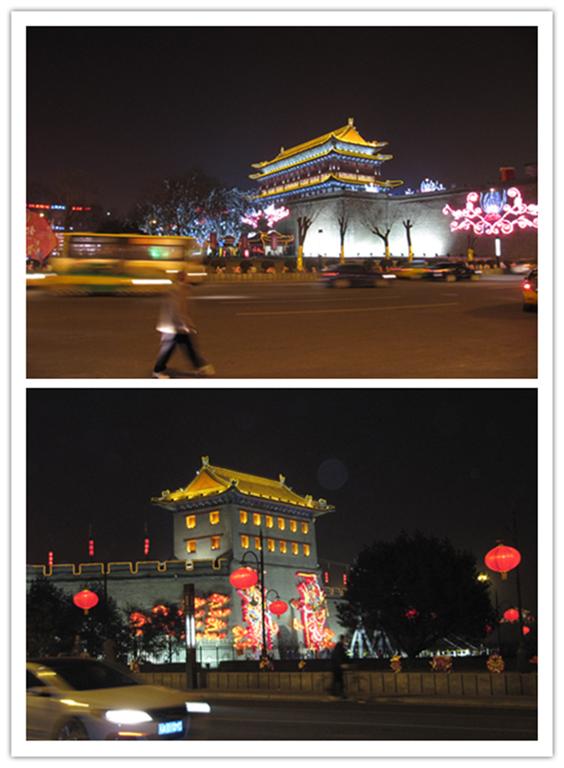 City Wall from a distant view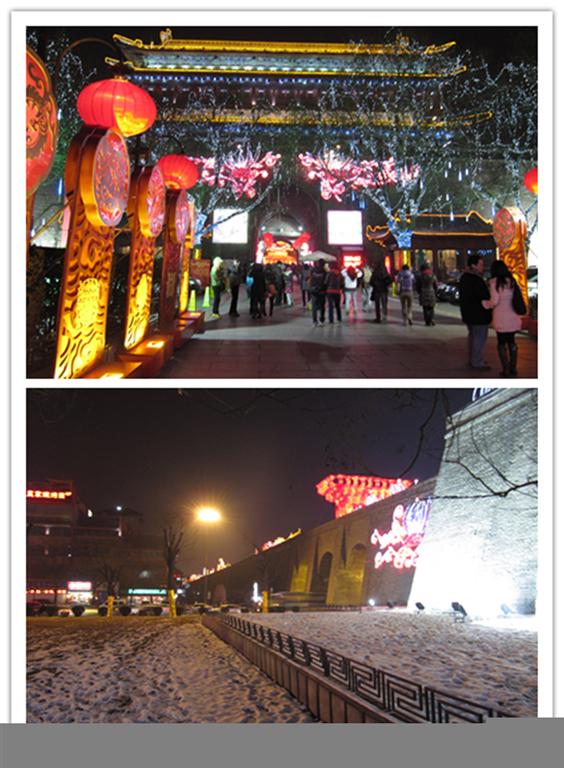 City Wall decorated with beautiful lanterns
Well, young guys love bars very much. There is a bar street called De Fu Xiang where bars are opened. You can go there and relax after a tiring day trip. The only thing you have to remember is that De Fu Xiang is not as good as San Li Tun in Beijing.
Accommodation
I am not fond of luxurious hotels. As you can imagine, I choose to stay at a hostel near the South Gate of the City Wall. It costs 160 RMB per day. The room is very small. If you are dreaming of big room, you will be disappointed. The public area inside the hostel is well decorated.
I love hostels because I can make friends with people and talk to them freely. Here I meet some foreign students. The colleges are closed during the winter vacation but they do not go back home like Chinese college students. So they stay here, have some drinks etc to kill time. Some of them just stay at the pub for a whole afternoon.
Seriously, it is very convenient to take bus or taxi at this hostel. The Bell Tower and Drum Tower are not far from here. That's why I choose it. But the space in the room is limited.
青年旅社配图
Thanks for reading my travel log.
Steven Lee

More
Xian Travel Reviews